Beauty Around the Clock: Luna Blaise
The 'Manifest' star on her six-step skincare routine, ice baths, and the Charlotte Tilbury product she refuses to gatekeep.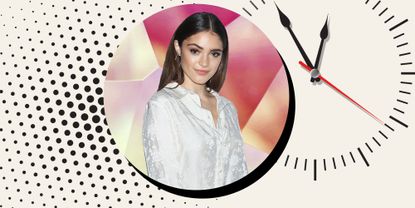 (Image credit: Future)
Marie Claire Newsletter
Celebrity news, beauty, fashion advice, and fascinating features, delivered straight to your inbox!
Thank you for signing up to Marie Claire. You will receive a verification email shortly.
There was a problem. Please refresh the page and try again.
Welcome to Beauty Around the Clock, Marie Claire's weekly peek into the daily lives of some of the most game-changing men and women in their industries. Ever wonder how they get it all done in a day? Here's your answer.
Dealing with hormonal acne isn't necessarily what Luna Blaise would call "fun", but for the actress, who spent the past five years playing Olive Stone on Manifest, it had a silver lining. "I had so many days of insecurity, but it was also this amazing-yet-unfortunate blessing to be going through this while in front of a camera. I did every remedy I could try to get rid of my hormonal acne. It was hard to be a 14-year-old girl and have to be on TV thinking, What if my crush sees this cyst?" she says. "But now, as a 21-year-old, I realize it grew my confidence and made me the person that I am now. I love the way my skin looks, even if I have a pimple or am feeling any sort of way."
Self-love stands at the forefront, but Blaise's beauty secrets run the gamut. She puts full faith in her dermatologist and "wizard" facialist, applies tinted sunscreen—even at night—for a dewy glow, and has found working out to be a powerful tool in dealing with body dysmorphia. To get the full down low actress' skincare tips, wellness rituals, and self-care secrets, read ahead.
Rise & Shine
Recently I've been waking up at 7:30—which, honestly, good for me. My own body alarm wakes me up, but if I'm sleeping in I'll set an alarm for 8:30 or 9. If I'm having a very sleepy day I can sleep until 11, but that's definitely a Sunday situation. Then I immediately go to my espresso machine. Coffee grids were always such a grownup concept for me. I don't know why, I just never really knew how to use coffee grinds. I never got the concept. But now? I have pre-ground coffee grinds that I put in my little Italian coffee maker and I steep my coffee. I'm getting more into the coffee realm of adulthood. Once I have my coffee, I'll go back into my bed and do some crossword puzzles.
Morning Maintenance
I have a six-step skincare routine that I do not miss. It's from my dermatologist and it's my holy grail. You know that the skincare is good when you can't pronounce the names. I start off with a repair cream. I don't know what is in this repair cream, but it almost has a eucalyptus smell to it. Once that's dry I put a mandelic serum on my face, a sulfur spot treatment, and then a niacinamide serum, moisturizer, and sunscreen. Within those steps, it changes. If I do the sulfur, I then have to wait 10 minutes and ice.
I also have a very secret facialist on the Upper East Side in New York City. She literally works in a closet behind a locker room of a private gym. It is the weirdest thing I've ever experienced, but she is a wizard. When it comes to the skin, I don't mess around. I definitely have some problem areas still, but everyone has problem areas, what are you going to do?
Power Start
I eat like a bird. I like to pick—I'm a picky person. If I do eat in the morning, I'll have Oatly oat milk yogurt with granola and raspberries or blueberries with some honey. Now if it's Sunday and I'm maybe a little hungover, I'll definitely do the pancake, the waffles—that whole situation. But I'm not a humongous morning person.
Fitness Fix
For five years now, because I've been filming Manifest, I've had a very, very challenging time going to the gym. I wouldn't know when I was going to be filming in a given week, so I didn't know when I could work out. I definitely saw my weight fluctuate a lot because I didn't have a routine. But ever since I moved back to LA, which was in November, I have been on a consistent workout regimen. I go to the gym three times a week. I'll do pilates, the sauna, the ice bath, yoga—the whole thing. Before Manifest, or kind of before acting in general, I was actually a trained Russian ballerina, so my body is very used to movement. I think without it for the past five years, it was very challenging. Now that I'm back in a routine, I feel amazing and so confident in my body. It's really, really hard these days with beauty standards and social media. You see how people are manipulating their bodies and for me, even though I'm happy with my figure, there's this sense of, Oh my god, that's how you're supposed to look? I got caught up in it like anyone else. Body dysmorphia is a very real thing and I still struggle with it every single day.
I've put time into my mental health and my body, so it's not about looking a certain way for me, it's achieving a state of energy. It also feels really great to see what I'm doing is paying off. I'm just a big fan of working out—if not for your body, for your mind and your soul.
Signature Look
If I'm being honest, I don't think I wear makeup because I have to wear so much when I'm on set. If I have a day off, I'm just a sunscreen-and-go type of person. I do have to shoutout Charlotte Tilbury though because I use practically every single one of her products. If I do put makeup on my face, it's from her. She has this amazing tinted sunscreen. It literally makes your face glow and it tightens it. It's also dewy. I should be gatekeeping it, but I'm not a gatekeeper, so whatever. I use it daytime and nighttime. People will stop me and be like, Oh my god, you're so glowy. I'll maybe put on Chapstick or do my brows, but unless I'm going out with friends, that's really it.
Self Care Ritual
It's hard for me to zen out—it's definitely a challenge, not only for me, but a lot of actors. I have trouble journaling, but I try to implement it as much as I can. Writing a bunch of stuff down and breathing after a long day lets me take in what the day brought me and shows me what to bring into the next day. It leads me into meditation.
Signature Scent
My perfume is from Whole Foods. It's a brand called Kuumba Made. I have Egyptian Musk, which is my favorite, and Water Goddess, which is also my favorite. They're two little fragrance oils that'll dab on and when I walk into a room it's like, Okay, Luna is here. They're my Whole Foods good finds.
Cheap-But-Chic
Every time I go to the drugstore I'm for sure getting hair scrunchies or hair ties or little headbands. I head immediately to the hair section.
Beauty Icon
Of course I want to say my mom. She has this beautiful olive skin and she's never wearing any makeup. She keeps it really light and just wears a staple red lipstick. But I definitely also think of Angelina Jolie. She's such a natural beauty—it exudes out of her. Anyone who takes in their natural beauty is an icon to me.
Backup Career
I'd run a flower shop. As a kid, I always wanted to own a flower shop and to this day I'll make bouquets for my friends or randomly for myself. I love gifting people flowers. It's still a dream of mine to open a store.
Daily Playlist
I've been listening to a lot of Mariah Carey, Janet Jackson, and Daniel Caesar. I have the Bee Gees, Marvin Gaye—so many different genres.
Hair Help
I have really curly hair and it's hard to keep up with so I shower every morning and night. At night, I don't put any products in. I'll just let it dry on its own.
Lights Out
I always have something on TV when I'm going to bed. Right now, it's Looney Tunes on MAX. Yes, I've been rewatching Looney Tunes—as a grown adult—before bed. Then, of course, every Sunday, I've been watching Succession.
Watch season 4, part 2 of Manifest on Netflix on Friday, June 2.
Celebrity news, beauty, fashion advice, and fascinating features, delivered straight to your inbox!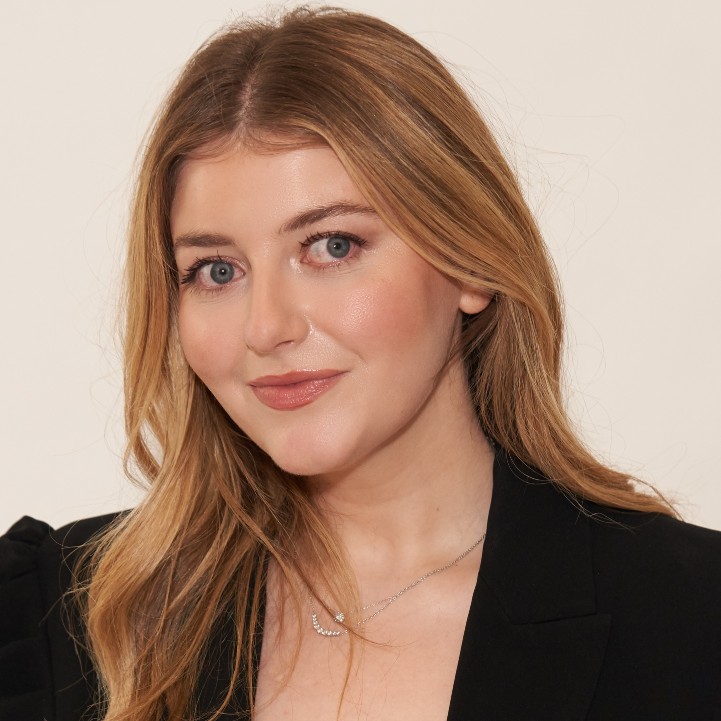 Samantha Holender is the Beauty Editor at Marie Claire, where she reports on the best new launches, dives into the science behind skincare, and keeps up with the latest trends in the beauty space. She has previously written for Us Weekly, Popsugar, Makeup.com, Skincare.com, and Philadelphia Wedding. Follow her on Instagram @samholender.