The Internet Says This Is the #1 Red Nail Polish
Code red.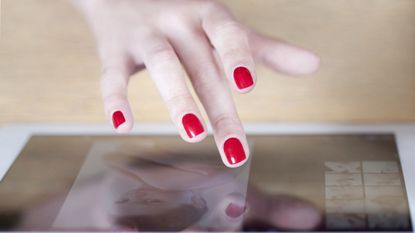 (Image credit: Archives)
Like the red lip, a shiny crimson manicure is a classic with which you can't go wrong. From dramatic blood red to fiery poppy or ruby hues, there's a shade for every season, occasion, and individual skin tone. But as MAC's Ruby Woo and NARS Heatwave have proven for lips, there are always those colors that come out on top as cult favorites in their category—and red nail enamel is no exception.
Rank & Style, a site that uses a unique algorithm to generate top ten lists for beauty and fashion buys, has released its lineup of the best scarlet lacquers on the market. Leading the pack is 'Big Apple Red' by OPI, a perfectly pigmented version that's as iconic as its namesake city, followed Butter London's tomatoey-red 'Ladybird' in second place and Essie's universally flattering 'Really Red', in third.
Did your color of choice make the cut? Scroll down for Rank & Style's full roundup of the winningest red polishes.
1. OPI Classic Nail Lacquer in Big Apple Red, $9.50, ulta.com.
2. Butter London Nail Lacquer in Ladybird, $15, nordstrom.com.
3. Essie Nail Polish in Really Red, $8.50, beauty.com.
4. Dior Vernis in Rouge, $27, dior.com.
5. Tom Ford Nail Lacquer in Smoke Red, $35, tomford.com.
6. Christian Louboutin Nail Colour in Rouge Louboutin, $50, sephora.com.
7. Revlon Nail Enamel in Revlon Red, $4.99, drugstore.com.
8. NARS Nail Polish in Jungle Red, $20, narscosmetics.com.
9. Chanel Le Vernis in Dragon, $27, chanel.com.
10. Essie Nail Polish in Fishnet Stockings, $8.50, beauty.com.
I am an experienced editor, writer, and creative strategist, specializing in fashion, beauty, and lifestyle content for digital media outlets, as well as video and social platforms. While I currently operate as a freelance contributor/consultant, with such clients as The Zoe Report, my 10+-year background in the industry was cultivated at the dot-coms of elite publications, including Harper's BAZAAR, ELLE, and Marie Claire.