How to Eat Your Way to Better Skin
Literally.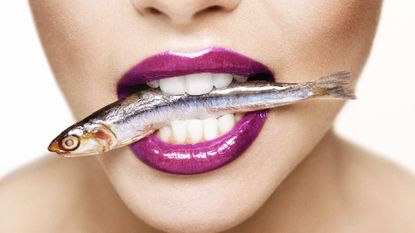 (Image credit: Getty)
Slathering on expensive lotions is one way to get the glowing skin of your dreams...but what if you could *snack* your way there? (Eating + getting prettier = the ideal scenario, always.)
We have great news: Scientists have identified specific nutrients that promote a better complexion, and we're telling you how to ingest them in the yummiest ways.
Plus, we've got recipes for two all-natural, glow-enhancing masks from S.W. Basics founder Adina Grigore (opens in new tab), who, no lie, cured her own skin ailments using only the ingredients in her kitchen. *leans in*
Rosemary
Herbs pack a ton of antioxidants, and some of them, like rosemary and mint, can reduce stress, a major acne aggravator. BRB, sticking, like, 76 stalks into a chicken breast.
Fish
The omega-3s and antioxidants in salmon, sardines, anchovies, and mackerel fight inflammation and hydrate, while the protein repairs skin cells.
Blueberries
Besides being delicious even when you're shoveling them in by the handful, they contain anthocyanin, which protects skin cells from free radical damage, which means youth.
Beans
Protein again, but also fiber, which, shall we say, keeps things moving. If healthy body = healthy skin, then congested body = congested skin. QED.
Almonds
Is there anything these nuts can't do? They're rich in vitamin E, which fights free-radical damage from pollution and sun, and selenium, which boosts infection-fighting white blood cells. They're *also* an MVP mood-elevating snack (opens in new tab), so even if your skin doesn't improve, you'll still feel great. (Sorry.)
Leafy greens
The vitamin A in veggies such as spinach and kale supports cell growth and turnover and strengthens blood-vessel walls. No more dark circles!
Tomatoes
Although it can't replace some liberally applied P20, studies have shown the lycopene in tomatoes does guard against that weather-beaten, worn look you get from being out in the sun sans proper protection.
And now for the masks...
Pumpkin Glow Mask
"This mask is great for removing dead skin and unclogging pores. The flaxseeds provide a gentle physical exfoliation while the pumpkin enzymes and lactose in the yogurt offer a chemical exfoliation. Add raw honey for super-charged hydration."
¼ cup full-fat Greek yogurt
1 tablespoon raw honey
¼ cup pumpkin purée (not pumpkin pie mix)
1 tablespoon ground flaxseeds or flax meal
In a small bowl, stir together yogurt and honey. Once the honey is fully incorporated, add in pumpkin purée and then stir in the flaxseeds. Use your fingers to apply and leave on until you feel it drying, then rinse with warm water. Makes a few uses, store extra in the fridge for up to a week.
Dessert Mask
"Cocoa powder (or cacao, for you fancy folks) helps repair and prevent cell damage because it is full of antioxidants. Sea salt kills bacteria and is great for blemishes. The olive oil will make the salt and cocoa gentler on your skin, while also leaving you moisturized after the exfoliation."
4 teaspoons cocoa powder
½ teaspoon sea salt
2 teaspoons olive oil
Mix cocoa powder and salt in a small bowl, then stir in olive oil to create a paste. Apply with your fingers and leave on for as long as you'd like. The sea salt may start to sting over time as it works its magic. Rinse carefully—this mask will stain a washcloth. Makes one to two uses and can sit out on your counter for a few days.
You should also check out:
Chelsea Peng is a writer and editor who was formerly the assistant editor at MarieClaire.com. She's also worked for The Strategist and Refinery29, and is a graduate of Northwestern University. On her tombstone, she would like a GIF of herself that's better than the one that already exists on the Internet and a free fro-yo machine. Besides frozen dairy products, she's into pirates, carbs, Balzac, and snacking so hard she has to go lie down.