I Tried a Celebrity Skincare Routine for a Month and Here's What Happened
Because vanity.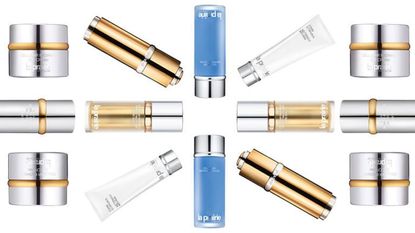 (Image credit: Courtesy of La Prairie; design by Katja Cho)
Why is it that celebrities always look so perfect? Is it their entourage of experts who follow them around daily? A team of nutritionists at their every beck and call? Or is it their access to the best skincare, treatments, facials, etc.?
Let's be honest, it's most likely all of the above. And since I, unfortunately, don't have the space in my tiny NYC studio apartment to board an in-house nutritionist, I decided to try a different route to achieve that covetable Beyoncé glow. For a whole month, I dedicated myself to a six-step skincare regimen using one of the most luxe lines out there: La Prairie.
The brand was created in Montreux, Switzerland in the 1930s by a doctor who believed that a combination of science and precious ingredients (like gold, caviar, and platinum) could unlock the fountain of youth (yes, please). Fast forward 85ish years, and their proprietary formulas have become favorites among celebrities like Chrissy Teigen, Anja Rubik, and January Jones.
For what it's worth, I'm not drawn to a line just because it reads like some fancy fashion-house label—I need *results*. I want to make sure that what I'm putting on my face is effective—especially if it boasts a hefty price tag.
So, for a full month, I put the best of the best to the test. My skincare regimen consisted of a La Prairie cleanser, toner, serum, moisturizer, eye cream, and SPF (you know, the basics) all of which add up to a grand total retail value of $2,185 (yes, you read that right). Here's to hoping I end up looking #flawless.
Week 1
On day one, I clear my mantle of all the products I've been using—various indie favorites from Sunday Riley face oil to RMS coconut oil makeup remover wipes—and replace them with my new (and super chic I might add) La Prairie regimen. Not going to lie, they look pretty fab on display in my apartment, but as soon as my boyfriend gets a glance at the bottles, he balks at the excess of beauty products I've accumulated over the years. I ignore him, per usual.
I begin with the Foam Cleanser. The consistency is smooth and you only really need a teeny tiny bit. (I made the mistake of using a quarter-sized portion on the first day and my sink ended up looking like a bubble bath.) Post-cleanse, my face feels fresh and clean but not stripped.
Next, I swipe on the Cellular Refining Lotion—AKA toner—with some cotton pads. I never use a toner for fear that it will strip my skin of its natural oils, and in turn trick my skin into over producing oil (look it up, it's a thing). This one did not seem to do that, though. The alcohol-free toner felt surprisingly refreshing, and not at all harsh like others I've tried in the past.
Next, I apply the Cellular Radiance Concentrate Pure Gold: A gold-infused (you can visibly see the flecks) anti-aging serum that evens skin tone and instantly illuminates the skin. I'm a little taken aback by the fragrance because it's quite potent, but the consistency feels like a very light oil that instantly absorbs into my face—a good sign.
Next up: La Prairie's brand new (launching today, actually) Cellular Radiance Perfecting Fluide Pure Gold moisturizer. The light cream gives off a matte finish and has reflective micro-particles that are specifically designed to give you that 5 p.m. glow you can only get during the sunset hour (I know you know what I'm talking about). To my surprise, I really do look instantly radiant after I put it on. It's almost a blurring effect where my redness is gone, and subtle imperfections seem to fade away. If you're impatient like me and want to see immediate results, this is the product for you. I almost—almost—decide to go foundation-free...but end up giving in to my crutch.
I quickly apply the Cellular Radiance Eye Cream. (A step I usually forgo.) It has a nice finish, but my initial thought was that it was nothing to write home about. I'm hoping to see more long-term results, though, because being an insomniac who sleeps 4-5 hours max per night, concealer has become my BFF.
Last but not least, the Cellular Radiance Emulsion Sunscreen SPF 30. For those of you who wear SPF daily, you know how hard it is to find a good one that doesn't feel greasy under makeup. It has literally been my mission in life to find the perfect sunscreen that glides on with ease, but isn't too chalky or oily. (I had still been searching until this very moment.) So, when I tell you that this is the best SPF I've ever tried, it's a big deal. The super light milky fluid absorbs to a pretty neutral finish (not too matte, and not too dewy) and smells delightful. (Yet another issue with most sunscreens, but not this one.) But is it worth the $480 price tag? You be the judge. I for one will likely be buying this for the rest of my life, or until I run out of money, whichever comes first.
By day seven, my skin feels great and I have weirdly been looking forward to doing my six-step routine twice a day. (Something I considered a mundane chore in the past.)
Week 2
I cannot report any noticeable difference this week with my uneven skin-tone, under eye dark circles, or fine lines (sad emoji). Though I still have hope! Skincare takes time, like any good thing in life. Right? Right.
Week 3
By week three I am starting to see a noticeable difference. My boyfriend even told me that my face "feels softer." Let's assume that's dude code for "you look pretty." Moving on.
My skin has clearly changed for the better. It feels significantly smoother and my uneven skin tone is starting to improve. So much so that I am using less and less foundation every day. Because let's be real, the ultimate goal is to actually rock no-makeup makeup.
Week 4
This is the first week that I am starting to see improvements to my undereye puffiness and dark circles, which is pretty incredible. (I officially retract what I said earlier—I will write home to mom about this eye cream.) My skin tone is much more even and visibly brighter with less redness around the cheeks and forehead in particular. (Note that I went on vacation—with my LP products, of course!—which is why I look slightly less ghostly in the final image above.)
In the end, I totally get why celebs love the brand: The products are effective, and actually do what they say they are going to do (which is really all a girl can ask for). I can't say I have Backstage Model Skin by any means, but by the end of the four weeks I feel confident knowing that my skin looks and feels better than it has in, like, forever. And while I know that the line might not accessible for everyone, I must say that if you're going to splurge on one thing, go for the Cellular Radiance Perfecting Fluide Pure Gold moisturizer—the instant glow is well worth it.
Now that I'm hooked, if anyone doesn't know what to buy me for Valentine's Days/Christmas/birthdays/any day in the future—consider this a subtle hint.
La Prairie Cellular Radiance Perfecting Fluide Pure Gold, $525
Follow Marie Claire on Instagram for the latest celeb news, pretty pics, funny stuff, and an insider POV.
Marie Claire email subscribers get intel on fashion and beauty trends, hot-off-the-press celebrity news, and more. Sign up here.