Georgia May Jagger on Cat-Eye Hacks, Bleached Brows, and Embracing Your Born-with-It Face
Because she's our beauty hero.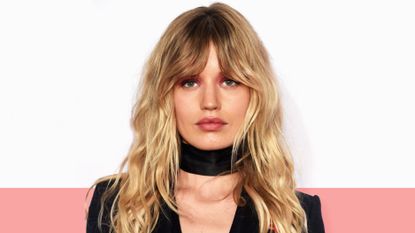 (Image credit: Design by Katja Cho)
Marie Claire Newsletter
Celebrity news, beauty, fashion advice, and fascinating features, delivered straight to your inbox!
Thank you for signing up to Marie Claire. You will receive a verification email shortly.
There was a problem. Please refresh the page and try again.
If scrolling through her Instagram is any indication, Georgia May Jagger is a beauty chameleon.
In the past year alone, she's dyed her hair rainbow, bleached her brows, and taken on The Gringe (more on that later!). But let's face it, her knack for experimentation is practically genetic, what with Rolling Stones frontman/androgynous icon Mick Jagger and supermodel Jerry Hall, as parents. So given the chance to get Jagger to divulge the secrets behind her statement smoky eyes and newly-minted fringe, well, did you think we'd pass that up?
Here, find our candid chat about British style, the XXL lip trend, skincare secrets, and her go-to getting ready song. (Hint: It's probably yours too.)
Marie Claire: As a longtime ambassador for Rimmel, how would you characterize British beauty?
Georgia May Jagger: I don't think it can be defined as one thing. It's more experimental. It's not one look or one kind of chicness that's the be all or the end all of it. For example, someone like my boyfriend's mom, she gets a lot of her clothes from car boot sales and vintage shops and stuff and she's always been that way. You know what I mean? I think it's about individuality.
MC: So it's more of an attitude?
GMJ: Exactly.
MC: Cara recently joined the Rimmel team. What's it like having one of your best pals by your side?
GMJ: It's amazing! Rimmel hadn't had anyone new signed for a long time, so to have Cara is really exciting. Hopefully we'll be together!
MC: So it's kind of like a trio with you guys and Kate Moss now?
GMJ: Yeah!
MC: Excellent company. Now, you've been known to rock a cat eye. What tips and tricks do you have for nailing the wings?
GMJ: I'm very bad at doing it on my own so I usually have to use Q-tips to do them. My mom does it by turning her head to get the straightest line.
MC: Wow. Have not heard of that technique!
GMJ: It's definitely a talent. [Laughs]
MC: And what about shadows? You seem to be all about the statement smoky eyes these days.
GMJ: At the DKMS Gala,we used hot pink lip liner on my eyes and that's what I do a lot. A lot of times you can mix your eyeshadow with lipstick or lipgloss and make it kind of shiny, which is my trick when I don't want to do cat eyes. That's the secret. When you're at a party and you're at the bathroom you can just fix it rather than having to spend ages doing the liner.
MC: We're obsessed with glossy lids. Have you tried Milk Makeup's Eye Vinyl?
GMJ: Yes, its a dream!
MC: Speaking of eyes, you recently bleached your brows! It really transforms the face. How did you adapt?
GMJ: I mean, for me, I never felt I had strong brows. I always wished I had, but I don't. So for me it kind of works when they're not really there. I definitely think you need to wear makeup because you look really weird without. And it also means you could bring your eye shadow higher.
MC: What's the biggest pitfall of the look?
GMJ: Your brows grow! It happens within like three days, so it's not really a look you can sustain. I would keep it all the time, but I have got such sensitive skin, I get rashes so easily from things, that if I kept bleaching my brows they would fall out.
MC: Bummer! Because you really wear 'em well.
GMJ: If I was going to have any dream makeup trend, it would be like when I had my brows bleach for Garage Magazine. They were colored pastel! I used to always say when I was a kid that I wanted purple brows and pink hair. I'm still kind of wishing that. [Laughs]
MC: Uh, well IMHO you're totally living your childhood truth. Even if it's temporary. So what about lips? They're kind of the feature du jour, but have always been one of your hallmarks.
GMJ: I always exfoliate or use hot flannels. And I think what's really important if you have red lips is to do a lip liner not too exactly line your lips, but to put it underneath just so it stays, and then if you want a super-super matte, you can put a translucent powder over the top.
MC: And plumped-up lips being the beast of a trend they are. How do you feel about that?
GMJ: I mean, I don't really mind the over lining. I'm not sure about everyone being super young and getting botox and fillers and stuff. I feel like if I got that sort of thing my family would kill me because they are all about the natural look.
MC: Yes, these days especially... it's an important message.
GMJ: You have to embrace your face. I think everyone ends up looking the same even though they try to look different! My parents always say the lines represent how much you've laughed.
MC: Absolutely! But good skincare doesn't hurt. How do you take care of your skin when your lifestyle is so busy and filled with travel?
GMJ: My approach is always non-natural beauty and natural skin care. [Laughs]
MC: It's all about balance!
GMJ: Yes! So whenever I'm in New York, I always go to Live Live & Organic. It's all organic skincare. I love that they have Simply Divine Botanicals there. I love this company called Living Libations, which you can only buy online and they're really really amazing. I try to keep it really simple. I like to experiment with stuff, but I try not to put too many things on at once because it tends to make me break out.
MC: And what about when you're traveling by plane?
GMJ: I've been on about ten flights this week. [Laughs] I usually just try to take my makeup off, wash my face off, and put on some face oil. That's pretty much it.
MC: Simple. And what about your hair? You're constantly changing things up, from dyeing it rainbow to getting bangs. What inspires you?
GMJ: One of my best friends Alex owns a salon called Bleach London. I never really cared much about my hair until she started doing it. She's been cultivating what she calls The Gringe, which is grown-up fringe.
MC: Ooh, that is clever!
GMJ: Kate Middleton does one and that's how they coined the term.
MC: Aha! The royal tick of approval. And how are you liking your gringe?
GMJ: It's funny because my hair is curly, but modeling takes the curl out. So I never thought I would be able to have a fringe. I love it.
MC: So when you're getting ready for a night out, what type of music do you like to listen to?
GMJ: I like any hip-hop. I always listen to more upbeat music when I'm going out. I like Lil' Kim, Ludacris, Biggie, Destiny's Child. It's more the music of my childhood, you know?
MC: Early 00's hip-hop always does the trick. Is there a certain song that always does it for you?
GMJ: Creep by TLC!
Follow Marie Claire on Facebook for the latest celeb news, beauty tips, fascinating reads, livestream video, and more.
Celebrity news, beauty, fashion advice, and fascinating features, delivered straight to your inbox!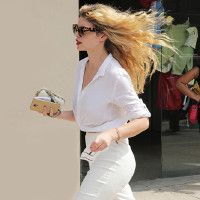 Lauren is the former beauty editor at Marie Claire. She love to while away the hours at coffee shops, hunt for vintage clothes, and bask in the rough-and-tumble beauty of NYC. She firmly believes that solitude can be a luxury if you've got the right soundtrack—that being the Rolling Stones, of course.