This Guy's Transformations into 'Game of Thrones' Characters Are Absolutely Incredible
😱😱😱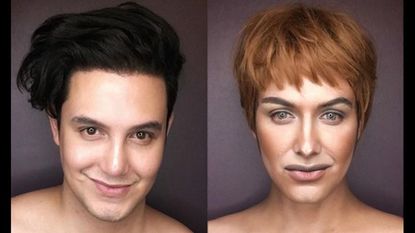 (Image credit: Marie Clare)
We've seen some amazing makeup transformations in our day, but Paolo Ballesteros is blowing us away with his unbelievable transformations into female characters from HBO's Game of Thrones. This 33-year-old Filipino actor and TV host has previously gone viral for transforming into other famous female celebrities, including the Kardashians, and now he's breaking the Internet once again by embodying some badass ladies with seriously signature looks.
Is this sorcery? Because it sure seems like it.
Arya Stark
Daenerys Targaryen
Cersei Lannister
Sansa Stark
Margaery Tyrell (RIP)
Melisandre
Follow Marie Claire on Facebook for the latest celeb news, beauty tips, fascinating reads, livestream video, and more.
My writing has regularly appeared in The New York Times, The Paris Review, Salon, VICE, Guernica, The New York Observer, BuzzFeed, Cosmopolitan, Seventeen, Esquire, Elle, Harper's Bazaar, and many more publications.

I was previously the Senior News Editor at Best Life Online and the Viral Content Editor in the Newsroom of Hearst Digital Media. My portfolio consists of a vast and diverse body of work that includes personal essays, lifestyle articles, breaking news posts, and viral content. My areas of expertise, however, are Russia, sex and relationships, and mental wellness.