I Tried the New Dyson Hair Dryer and There's No Turning Back Now
Praise be.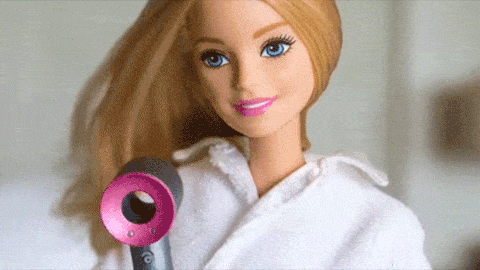 (Image credit: unknown)
I like pretty things. I love pretty things that work—and the hotly-anticipated, Jen-Atkin-endorsed Dyson Supersonic Hair Dryer does. It really, really does.
After months of dreaming what it would look like atop my vanity, I finally got my hands on the hot-pink-and-chrome little wonder and immediately put it to work. First, on my naturally-curly hair, then with a pro blowout because I'm a get-you-a-blowdryer-that-can-do-both kind of gal.
Now, I'll admit I usually let it air dry. But having heard great things about the diffuser, I set aside time after my shower to give it a try. First off, the dryer lived up to its hype as far as being incredibly lightweight and quiet—a godsend, as I have LOTS of hair that takes its time when drying. But at $399 it couldn't just be sexy, sleek, and practically silent. The results had to be remarkable too!
After prepping my hair with my go-to curl cocktail of the moment— Bumble's and bumble's Bb.Curl Pre-Style /Re-Style Primer and DevaCurl SuperCream Coconut Curl Styler—I fastened the Dyson's sizable magnetized diffuser attachment and began. I separated my hair into medium-sized sections, then keeping the speed and heat consistent, worked the prongs of the diffuser into my strands, from the bottom up, in a circular motion. It was nothing out of the ordinary of what I usually do, but what really struck me was how fast my hair was drying. It was taking *half* the time and my curls were looking just how I like them—defined, but not too perfectly-coiled and with lots of volume.
Curly girl to fellow curly girls, I was feeling it. The Dyson didn't just work faster and more methodical, it was graceful. It made what was always a tedious process feel less like a chore and simply put,the curls were so good it's made a seriously-convincing case for diffusing on the regular.
Because of my high-maintenance curls, and utter lack of skill, I leave my blowouts in the hands of professionals. While it's more costly than the D.I.Y. route, getting a great style is more affordable and convenient than ever before thanks to the upsurge of blowout bars and services like Glamsquad, an official partner of Dyson. All of the GS stylists are equipped with the Supersonics, AKA you can book an appointment and test one out before investing in your own.
When a Glamsquad stylist tackled my hair, it had been two days since I bleached it, which tends to leave it extra frizzy and limp in the days following. She definitely had her work cut out for her—although you'd never know it by the look of the flawless, bouncy waves she gave me. I was in awe. Especially because she was able to dry and smooth out my hair in 25 minutes flat. That's record timing for me and I didn't even notice at first because I was too busy having a clear-as-day conversation, despite being in the midst of blowout. When is that ever possible? All in all, I was floored by the time-spent-to-💯-results ratio. The future is now. And January Jones seems to agree.
During my blowout, I picked Glamsquad creative director Giovanni Vaccaro's brain on why it's a total game-changer for stylists. Here's what you need to now, whether you're in the industry or just have some serious pro-level skills.
1. It won't hurt you or the client. "The nozzle is magnetic, so you can move it however you want," he says. "Plus there's an extra layer of coating on the concentrator, which means that it won't burn your fingers."
And good news for long-haired ladies? "There's no grill on the back, therefore hair never gets caught in the dryer," he adds.
2. It's a relief for tired arms. "The dryer is more balanced because there's a motor inside of the handle as opposed to inside the head of the dryer," he explains. "It's not top heavy, which is very important for a stylist when we're doing 8-12 blow-dries a day."
3. It's a lot cleaner. "As a stylist and a consumer of a dryer, when your filter on the back of your dryer gets dirty, it's gross and very hard to clean," says Vaccaro. "With the Supersonic, the filter is at the bottom of the dryer. All you have to do is twist it, remove it, and remove the dust."
4. It's settings are super versatile. "Most dryers only have a couple settings." he says. "This dryer has three heat settings and three power settings. They are all very different, which is important when you consider women with fine hair versus thick, coarse hair in terms of maintaining the authenticity of the hair."
5. It's totally portable. "It fits very well in our stylist kits, as well as when you're traveling," explains Vaccaro. "Big, bulky dryers are so passé. It's all about these small-but-mighty dryers."
Needless to say, I'm obsessed. At $399, it's definitely a pricey luxury, but curly or straight, if you're confident you'll get good mileage out of it, it's well worth it. Sir James Dyson, nor Jen Atkin would not lead you astray...
But if you're a commitment phobe, you can always book as many Glamsquad blowouts as it takes to convince yourself there's no turning back now.
Dyson Supersonic Hair Dryer, $399; sephora.com.
Follow Marie Claire on Facebook for the latest celeb news, beauty tips, fascinating reads, livestream video, and more.
I'm the associate web editor at Marie Claire. I love to while away the hours at coffee shops, hunt for vintage clothes, and bask in the rough-and-tumble beauty of NYC. I firmly believe that solitude can be a luxury if you've got the right soundtrack—that being the Rolling Stones, of course.