This Internet-Famous Liquid Transformed My Skin, and I Need to Shout It from the Rooftops
The hills are alive...with the sound of my g'damn happiness.
Marie Claire Newsletter
Celebrity news, beauty, fashion advice, and fascinating features, delivered straight to your inbox!
Thank you for signing up to Marie Claire. You will receive a verification email shortly.
There was a problem. Please refresh the page and try again.
As someone with skin more sensitive, temperamental, and unpredictable than Trump and his Twitter account, I rarely ever heed someone's advice that begins with "ohmygosh, you need to try this product."
Because about 99-percent of the time, even when angelically handed to me by trusted dermatologists, my face ends up erupting in itchy, stingy splotches, which then inevitably leads to a smattering of irritation-induced breakouts. I truly am a beautiful specimen.
All of which is to say that I can't easily treat my zits, redness, dark spots, or fine lines with the normal concoctions of retinoids, vitamin C serums, or acne masks that most human beings can, and instead am relegated to Vaseline and quiet prayers to the beauty gods. Or at least I was, until I stumbled across a product with a cult-following on the internet, took a chance on it, and have been irrevocably hooked ever since.
Meet Paula's Choice 2% BHA Liquid, the most unassuming, unexciting-looking bottle that actually houses pure magic. And by magic, I mean a very, very short list of ingredients that include a low dose of BHA (beta hydroxy acid, an oil-soluble acid that deeply, yet gently, removes dead skin cells and dissolves gunk in your pores) and skin-soothing tea seed oil, all formulated with a near-perfect pH and zero additional irritating or pore-clogging ingredients—a true rarity in any skincare product, even those specifically designed for sensitive or acne-prone skin.
A quick search of the liquid on Google pulls up 700 insanely positive reviews on Amazon, and more than 2,000 five-star reviews on Paula's Choice. "Wowowowow," writes one reviewer, while another jokes, "This divine liquid is more powerful than any ancient spell to beautify. You will wake up looking years younger, blemish free, radiant and smooth. I warned you."

And I know, I know—you could probably find similar reviews for a Shamwow, and sure, internet strangers don't count for anything. But after reading through literally hundreds of reviews, and seeing the same phrases echoed again and again ("unclogged my pores," "cleared my blackheads," "reduced fine lines," "evened out my skin tone" "perfect for sensitive skin"), plus a few incredibly convincing before and after photos, like the one below, which one user uploaded 10 days after adding the BHA into their routine, I said f*ck it and tested it out.
I partially expected confetti and glitter to shoot out of the bottle when I unscrewed the cap, but instead, I was met with some lightly chemical-scented, water-like liquid. Because it's a chemical exfoliant (don't be freaked out by that phrase; even apple juice can be considered a chemical exfoliant), it can increase your skin's sensitivity to the sun, meaning it's best used at night.
So after removing my makeup and washing my face, I patted it completely dry, shook out a tiny puddle of the liquid into my palm, and smoothed it across my skin until it was fully damp. And then I waited. Because chemical exfoliation can only occur at a certain pH, you render your BHA useless if you apply another product too soon. BHAs are thought to self-neutralize after about 20 minutes, so most skincare experts advise letting it fully dry for at least 15 minutes before continuing with your regular skincare routine (i.e. essences, serums, moisturizers, spot treatments).
RELATED STORY
I set my timer on my phone, cleaned the dishes, scrolled through Instagram, and then slathered on the rest of my products. And that was it. My skin didn't look or feel any different, and I didn't wake up with a baby's face. But slowly, after using it every other night for a week, my skin started to transform.
The tiny blackheads on my nose were shrinking, and the dark spot on my cheek had started to fade. My skin was incredibly smooth, and noticeably glow-ier, and I never once felt itchiness, dryness, or flaking. It was, and I don't say this lightly, kind of a miracle.
It's been two years since I first swiped it on, and I've officially found the sweet spot for my dry, sensitive skin: Applying it every other night for 10 minutes. I rarely get whiteheads, my blackheads are nonexistent, my keratosis pilaris-covered cheeks are significantly less red and bumpy (though, sadly, not cured), and any new post-breakout redness I get now fades insanely fast.
Since then, I've (lovingly) forced the BHA onto my entire friend group, and gotten each one of them hooked: "It has seriously made my skin so smooth and even. I rarely even wear concealer anymore," wrote one friend in a group text. "IT IS ACTUAL MAGIC," wrote another.
RELATED STORY
Of course, don't expect miracles overnight, though yay for you if it happens. Chemical exfoliants simply weaken the bonds between your dead cells so they fall off a little sooner, giving you smoother, fresher, and happier skin, and the Paula's Choice formula happens to do it without the irritation or dryness.
Basically, if the apocalypse happens, and I still happen to really care about what my skin looks like, a bottle of this will be safely tucked into my survival kit. Until the zombies come and destroy us all, etc.
Follow Marie Claire on Facebook for the latest celeb news, beauty tips, fascinating reads, livestream video, and more.
Celebrity news, beauty, fashion advice, and fascinating features, delivered straight to your inbox!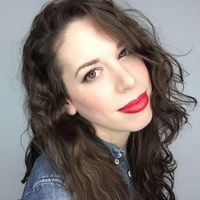 Chloe Metzger is the deputy beauty director at Cosmopolitan, overseeing the editorial content and growth strategy of the hair, makeup, and skin space on digital, while also obsessively writing about the best hair products for every hair type (curly girl here; whattup), and the skincare routines that really, truly work (follow her on Instagram to see behind-the-scenes pics of that magazine life). She brings nearly a decade of writing and editing expertise, and her work has appeared in Allure, Health, Fitness, Marie Claire, StyleCaster, and Parents. She also has an unhealthy adoration for Tom Hanks and would like to please meet him one day, if you could arrange that. Thanks.