The 20 Best Winter Nail Colors for 2023, According to Nail Pros and Editors
Valentine's Day reds and thermal colors that'll get you out of your cold-weather slump.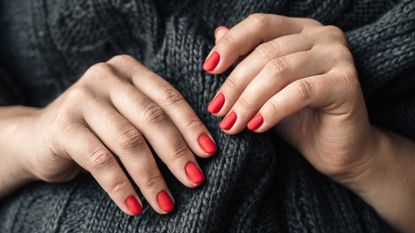 (Image credit: Getty Images)
As the temperatures dip, so can the desire to utilize your beauty arsenal. The thought of bundling up and emerging from home can be repellant in the coldest weeks of the year, and getting all dolled up to do so sounds even less appealing. Snowflakes in your lashes are a major look killer, and the icy winter wind is going to turn your cheeks the ruddy color of blush anyway, right? But there's good reason to add a little color to your look, even when your inner chill runs deep. And your winter nails are the perfect place to start when it comes to dressing up—or down—this winter.
In 2023, nail trends are all about the return to minimalism. Long gone are the days of bright, cosmic colors, and long coffin shapes made popular by nail artists in 2022. Instead, we're turning to fun finishes, shorter lengths, and more classic styles this year. As for which specific colors to reach for in winter 2023, we turned to LeChat Nails Educator and California-based nail tech, Hemi Park, for her expert opinion on winter 2023's trendiest shades. From lovey-dovey reds to cool, mood-based shades, here are the best winter nail colors to lift you from your cold-weather slump.
Valentine's Day Red-y
The early winter season is all about the day of love, so reds take over the season's nail trends, says Park. You can't go wrong with a classic red shade, or change it up with added shimmer.
Jelly Toppers
As previously mentioned, one of the biggest nail trends of 2023 are fun and easy finishes. Sure, we've seen the glazed donut look take the internet by storm, but why not try something new this winter with a jelly topper? "Jelly colors are super fun to layer over chrome, foil, glitters, or cat eye nails, and it instantly transforms any light color bases," says Park. When you want to spice up your mani, throw on a layer of one of the shades below for an instant fun look.
Mood Changers
Do you remember those rings from the early aughts that changed color depending on your mood? Well in 2023, your childhood favorite ring is now in nail form and Park loves the style. "Mood colors are becoming my favorite for chilly winter season because they are temperature-activated and super fun to watch the colors turn into different shades based on whether you're hot or cold," she explains. Be prepared to do a double-take when you go step out into the cold with these fun color-changing polishes.
Neutrals Nudes
In the past few years, you may have noticed nudes and pale pinks on the hands of every celebrity and influencer, and according to Park, that trend has no sign of slowing down. "As for an overall winter trend, it seems like everyone is still into nude and sheer pinks, and it's very much expected given the fact that French nails are still leading the nail trend," she explains. For your go-to nude shade, look for a polish close to your natural skin tone. If sheer pink is more your vibe, Park says to "look for a very sheer peachy pink color, which is absolutely perfect color as a base, layering nude, or by itself."
Dark Classics
When it comes to seasonal nail colors, there are some shades that are considered staples during the wintertime. Year after year, you can expect to see midnight blues, wine reds, eggplant purples, and simple blacks once the weather gets cold. These dark and moody colors perfectly capture the aesthetic of winter, hence why we turn to them again and again.