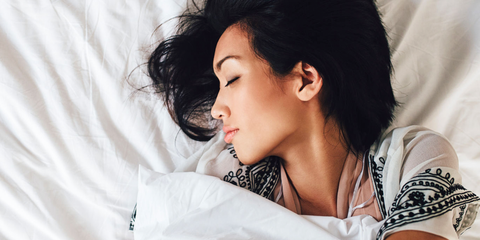 Fast fact: Your skin does most of its repairing and restoring while you sleep. (That's why they call it beauty sleep.) Hence, the best time to treat all of your dry, sensitive, oily, aging, and acne-prone skin issues is not, in fact, in the morning when you're running late for work, but at night, when you can pile on an ingredient-rich night cream, fall asleep, and let your body do its thing undisturbed.
To help you find the perfect formula for your face, I outlined the seven best night creams for every single skin issue, below. Find your new favorite, and get slathering—you'll thank me in the morning.
1
For Dry, Acne-Prone Skin
L'Oréal Age Perfect Hydra-Nutrition Night Balm, $20
The magical ingredient in this creamy balm? Pure Manuka honey, a natural antibacterial known for its gentle acne-fighting and inflammation-calming powers. Apply this balm nightly and let the moisturizing honey, apricot oil, and passion fruit oil soften dry patches and fine lines while you rest.
Murad Youth Renewal Night Cream, $82
Hey, there's wrong with aging (wisdom!), but if you're not into your new fine lines and wrinkles, try a night cream that's packed with retinol, like this favorite from Murad. The light, creamy formula blends three retinols to smooth lines and brighten skin with consistent use.

3
For Oily, Acne-Prone Skin
Avène TriAcnéal Night Smoothing Lotion, $60
If you've got oily, breakout-prone skin, the last thing you want to do is slather on a heavy cream before bed. Enter: this lightweight, skin-clearing night lotion, which uses retinaldehyde (a gentle retinoid) and Diolenyl (a bacteria-attacking ingredient) to smooth wrinkles, regulate oil production, fade acne scars, and stop breakouts. A dream in a bottle.
4
For Dull, Wrinkled Skin
Peter Thomas Roth Un-Wrinkle Night Cream, $110
Warning: This night cream is strong (so stay away, sensitive-skin types). It's filled with exfoliating glycolic acid, a hefty dose of wrinkle-softening retinol, and a bunch of skin-enhancing peptides and vitamins to essentially resurface your face by speeding up your cell turnover over the course of a few months.
Farmacy Sleep Tight Firming Night Balm, $48
If your skin hasn't been looking its brightest and freshest, try this restorative night balm. The all-natural formula is stuffed with plant extracts, nut and seed oils, and echinacea extracts that work together to moisturize and brighten sensitive skin, while also leaving it with a (temporary) toned, firm feel.
6
For Dry, Sensitive Skin
Korres Greek Yoghurt Nourishing Sleeping Facial, $46
Finally, a time when it's okay to play with food. If your regular moisturizer isn't cutting it for your dry skin, try swapping it for this incredibly rich moisturizer, which uses hydrating Greek yogurt, jojoba oil, and hyaluronic acid to smooth rough patches and flakes, fast.

7
For Aging, Acne-Prone Skin
Verso Night Cream, $110

If magically erasing crow's feet, fine lines, and adult acne is your goal—ta-da!—here's Verso's Skincare Night Cream. It features a vitamin A and retinol hybrid that work together to maximize its skin-smoothing, zit-clearing powers without drying out your face.