Beauty Around the Clock: Paige DeSorbo
The 'Summer House' star on the foundation Instagram convinced her to buy, TikTok makeup hacks, and why she missed her calling as a dermatologist.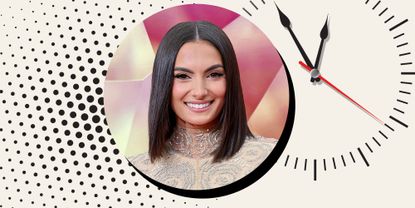 (Image credit: Future)
Marie Claire Newsletter
Celebrity news, beauty, fashion advice, and fascinating features, delivered straight to your inbox!
Thank you for signing up to Marie Claire. You will receive a verification email shortly.
There was a problem. Please refresh the page and try again.
Welcome to Beauty Around the Clock, Marie Claire's weekly peek into the daily lives of some of the most game-changing women in their industries. Ever wonder how they get it all done in a day? Here's your answer.
Bravo confessionals are equal parts about the drama and the glam—and rest assured Summer House star Paige Desorbo delivers on both. You'll have to watch the show for the former (it airs every Monday at 9 p.m. EST), but for the beauty recs? Just read on. The fashion expert talked exclusively to Marie Claire about her love for makeup and skincare, which are heavily influenced by her TV career. "I've always been very girly and I've always loved anything pink and pretty and sparkly. But being on Summer House has actually made my relationship with makeup and beauty healthier," she says. "I would see myself on TV and I'd be all done up—that's just not realistic. I don't wake up like that. I started to film more in the summer with no makeup on, which got me a lot more into my skincare routine."
Now, she has a pretty lock-and-key regimen, complete with oil cleansers, moisturizer, jade rollers, and of course, SPF. She's a FaceGym die-hard, loves a good drugstore beauty find, and through trial and error has found the best air dry hair cream out there. From the "lazy girl" workout she does from the comfort of her couch to her go-to fragrance, the reality star is sharing everything you need to know about her daily routine below.
Rise & Shine
I'm not a morning person whatsoever. So my days are all very different in terms of what time I can wake up. The latest I will let myself get out of bed now that I'm 30 is 9:30, maybe 10 o'clock. I'm not a snoozer though. I have a very good internal alarm clock.
Morning Maintenance
The first thing I do is splash water on my face. I'm actually not a morning face washer. My mom says that if you wash your face in the morning, it gets rid of all of the oils that were naturally coming out in the middle of the night. And I'm Italian, so I have a lot of those natural oils. I just do water in the morning and I feel like it's good for my skin. Then I immediately grab my NuFace. I do moisturizer. I switch it up between Dr. Dennis Gross and Youth to the People. My favorite sunscreen right now is the Dr. Dennis Gross one. It's so lightweight and I like when my sunscreen smells like sunscreen.
Power Start
I always have a hot water lemon first. Sometimes I'll do yogurt with granola, but other times I'll do full eggs, bacon, toast, and an iced coffee. It really depends on my mood.
Signature Look
During the day, I'll just use my bronzer as my eyeshadow. I'm always using Charlotte Tilbury, but I actually just got a new foundation that I love. I kept getting ads for it on Instagram—it's the Il Makiage one and it's full coverage. If I want something lighter, I use Ilia that I get on Amazon. For mascara, I switch between two: It's either Essence, which is only $4. But the only thing is it's sometimes hard to wash off, so then I'll use Thrive—it slides right off.
Fitness Fix
I hate any workout classes. I am too anxious to be in a group of people working out. I do try and walk everywhere in New York City though and I have so many Pilates things saved from TikTok. There's actually one called Lazy Girl Workouts and I love 'em. You can literally be sitting on your couch. Just type in TikTok " lazy girl workouts." I'm the face of fitness—a pillar of the health community.
Self Care Ritual
I just started doing this really weird thing that my boyfriend [Craig Conover] has now picked up on. I breathe in for seven seconds. Hold it for seven seconds. Let go for seven seconds. I was on the couch one day doing it and I could feel him trying to see what I was doing. Now he does it.
I also love going to Face Gym—it's probably my number one treat to myself. Hannah [Berner] and I travel a lot for Giggly Squad and she has zero routine in terms of anything ever. So I feel like I've gotten her into sitting in the bed and at least ice rolling or gua sha-ing.
Signature Scent
Baccarat Rouge is my go-to perfume.
Cheap-But-Chic
Honestly, I'm a big Maybelline girl. I feel like they really do have the best drugstore products. Their mascara that's in the pink tube with the green top is great. It reminds me of being little and my mom always used it—it's probably crusty and still in her drawer.
Beauty Icon
I have a few in terms of fashion and beauty. My overall is Audrey Hepburn because I just think she's so timeless. I'll see her outfits from the sixties and be like, I need to wear that. A more modern day icon? Victoria Beckham. She always looks so good.
Backup Career
I probably would have gone into psychology and been some type of therapist. In high school, though, my mom tried to get every boyfriend I ever dated to be a dentist. I think she probably would have pushed me to be a dentist too. I always loved wearing a white lab coat—they're so cute. Ooo, but I also love pimple-popping videos, so I feel like there could have been a world where I was a dermatologist.
Hair Help
A lot of people think that my haircut is high maintenance. But I feel like because my hair's actually so straight that it's very low maintenance. It doesn't hold a curl though—I can't curl my hair at all. I would say my go-to products though are all from IGK. I love anything IGK. They have this foam that I put in when it's wet and it really does give me volume. And then there's a JVN air dry cream that I'm obsessed with. Most recently I got the Dyson hair straightener. I love it because I can charge it and throw it in my suitcase.
P.M. Routine
First I'll start with the Elemis Cleansing Balm, followed by the Dr. Dennis Gross cleanser. After that it depends. Sometimes I'll use the Paula's Choice exfoliator, but if I don't—I'll use a retinol. Tretinoin cream is a really big secret of mine. I think everybody should have it. I'll finish with the Dennis Gross eye cream and the Youth to the People overnight mask. That's my favorite nighttime moisturizer and my number one moisturizer to bring on vacation. I feel like when I get tan, I get so dry and that's the only moisturizer that really brings me back.
I will go to bed without washing my face sometimes though. Honestly, I feel like when I do too much skin care, I break out more and sometimes I give it a rest. In the summer, there are a lot of times when I'm in full makeup and falling asleep. But I wake up and my skin is better—my mom always says I put too much stuff on my face.
Lights Out
I am such a night owl. I will be doing things at 12 o'clock that people are doing at 11 in the morning. I will go all night, which is probably why I wake up so late.
Shop Paige's Favorite Products
Youth to the People Superfood Air Whip Moisture Cream
NuFace Trinity Facial Toning Device
Elemis Pro Collagen Cleansing Balm
Dr. Dennis Gross Lightweight Wrinkle Defense Broad Spectrum Sunscreen
Youth to the People Superberry Hydrate + Glow Dream Mask
Maison Francis Kurkdjian Paris Baccarat Rouge 540 Eau de Parfum
Ilia Super Serum Skin Tint
Maybelline Great Lash Mascara
Thrive Causemetics Liquid Lash
Celebrity news, beauty, fashion advice, and fascinating features, delivered straight to your inbox!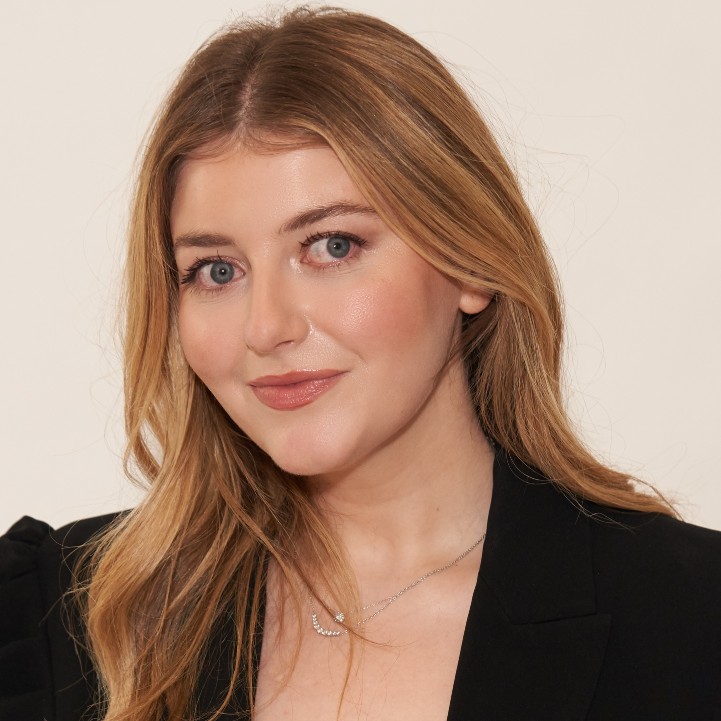 Samantha Holender is the Beauty Editor at Marie Claire, where she reports on the best new launches, dives into the science behind skincare, and keeps up with the latest trends in the beauty space. She has previously written for Us Weekly, Popsugar, Makeup.com, Skincare.com, and Philadelphia Wedding. Follow her on Instagram @samholender.