Beauty Around the Clock: Scarlett Johansson
The Outset founder on minimal makeup, her obsession with Pilates, and why she believes taking naps is the key to longevity.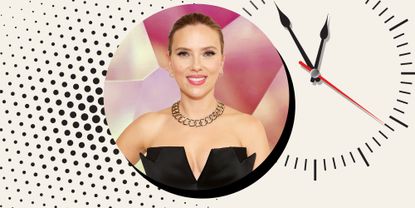 (Image credit: Future)
Welcome to Beauty Around the Clock, Marie Claire's weekly peek into the daily lives of some of the most game-changing women in their industries. Ever wonder how they get it all done in a day? Here's your answer.
Minimalist makeup is in, and if there's one woman who swears by that trend it's Scarlett Johansson. You may see her on the red carpet looking glamorous with a bold eye or lip, but in her free time, the box office juggernaut looks polished and natural, with as little makeup as possible.
"I'm so minimal and clean," says the Marriage Story actress. "I'm never glammed up. If I'm going out to meet friends or something, or going on a date with my husband, then I'll put on makeup, but I don't typically wear a lot." Johansson practices what she preaches, and this was made evident when she launched skincare brand, The Outset on the belief that clean and effective skincare should be radically simplistic. As one of the highest-paid actresses in Hollywood celebrates the one-year anniversary of her beauty brand, there's one thing she wishes women would embrace: skincare should be as effortless as slipping on your favorite white tee.
To find out her go-to products and understand how the busy mother of two always looks polished, read ahead.
Rise & Shine
I usually wake up at 6:30 a.m. I have an eight year-old daughter and she has to get on the bus by 7:18 a.m or I'm on the train taking her to school. She loves taking the bus and it's great for her, but it's very early. I treasure those times because it's meaningful for her, and it's quality time we get to spend together even though it's only, whatever, 35 minutes in the morning. It's our little thing and we both laugh about how we have to book it to the bus. We just get in the elevator, it's like, 'Are you ready? Me too. Let's go.'
For breakfast I drink a glass of water. And then when I get back from the bus I'll usually have a coffee. And then, I sometimes don't eat breakfast. It just depends on how I feel. Sometimes I'll have a piece of toast. The baby is usually awake around 8:30 a.m, so he eats everything. Sometimes I make him oatmeal. He likes yogurt, too. Then, I head to the gym.
Morning Maintenance
When I wake up in the morning I wash my face and apply The Outset firming serum. My skin is addicted to it. I was talking to our co-founder Kate Foster about it and was like, 'Did we put some kind of ingredient in there that makes your skin feel bad when you don't use it?' Afterwards, I usually apply the day cream, or if it's really cold and dry, I'll use night cream.
Signature Look
My look is very minimal and clean. I'm never glammed up. If I'm going out to meet friends or something, or going on a date with my husband, then I really love to put makeup on and stuff like that. But day to day, I don't wear full coverage foundation. I wear so much makeup for my job and for months and months at a time. I just came off a job that was four months long and I wore full foundation, eyelashes, a wig, all that stuff. My character was so glamorous that at the end of the day I just wanted to take all my makeup off and reset.
But, when I wear makeup, I usually wear a concealer. I've been back into the Yves Saint Laurent Touche Éclat All-Over Brightening Concealer Pen. I like the Anastasia Beverly Hills brow gel, too. Oh, I'm also a MAC Cosmetics girl. I've used their eyebrow pencil and prism blush for years. And I've recently been into Tower 28 lip glosses. I love all the makeup from Natasha Denona Cosmetics, too.
Fitness Fix
I do Pilates on the reformer and I love it. I usually do a 50-minute class. It's the time that I have to focus on myself and not think about work and everything else. I feel so energized afterwards. I always lifted heavy weights and did a lot of plyometrics and all that stuff. I love that kind of exercise—high weight, low reps. But as I got older, the wear and tear on my body became too much. And so that's how I ended up finding Pilates. And just the feeling of being exhilarated after a workout instead of exhausted was really an eye-opener for me. Like, I could actually be invigorated by my workout instead of depleted. And so I've stuck with Pilates for years.
Self Care Ritual
I am a huge believer in a mid-afternoon nap. I prioritize them. You need rest! If I'm home, I'll nap for 15 minutes and just say, like, 'I'm going in my room. Please don't knock, I need 15 minutes to nap.' It's, I think, the key to longevity. Or at least to sanity, in my household. I used to be able to nap for two hours. But that was before I had a lot of people knocking on the door with tiny little hands.
Signature Scent
You know what's funny? When I first started developing The Outset, I created a fragrance and I have some of it left, which is a miracle. I wear that fragrance now. It's a very gourmand-y scent. Other than that, I like D.S. & Durga's Cowboy Grass. I switch between those, but I don't wear fragrance every day.
Cheap-But-Chic
For regular, everyday makeup I like NYX. It's so accessible, fun, and trendy. If you want a glossy eyeliner or a matte eyeliner? They've got it!
Body TLC
I'm not a huge facial person. I guess I haven't had such great experiences with facials. And I'm always a little nervous to have people extracting and touching my skin. I just have very sensitive skin and I'm always afraid that things are going to break me out. Because my skin can be acne-prone, so I get a little weirded out by that.
I like to take a bath and do all my online shopping. I actually don't use bubble bath while taking a bath. I drop the boosting oil in my bath because my skin is so dry. Honestly, I bath and shower a lot—probably more than I should for my skin. I've always been in the habit of showering many times a day, especially when it's hot.
I usually end up doing more therapeutic treatments instead of massages, but I love a massage. I'd get one once a week if I could. But I don't have time for it, I would have to give up one of my naps!
P.M. Routine
When I get home, the kids are also winding down, so I usually do bath time. They're still little so they'll bathe together, which is a great time saver. And maybe my husband will take care of that part and I'll do dinner for the kids or dinner for our family, cook dinner for everybody, which I love. That's part of my wind down, is just being at home with our family.
And it's nice, especially after a long day. My daughter likes to watch a fun Disney show, and then my husband and I watch movies and TV shows. Right now we're watching The Last of Us and it's crushing us. I love The Bear. We also loved White Lotus. We watch all that stuff.
And sometimes we read in bed. I just finished Prince Harry's memoir. It was great.
Lights Out
I try to be in bed by 11:30 p.m. I have a white noise machine that I've used forever. My mom always had a white noise machine. And so, I don't know whether I inherited this addiction, but I have to have some kind of background noise, it's comforting. So my room is a dark, cold, room with a noise machine. When my husband and I first started dating he liked no noise machine, blinds open, no air conditioning. And I said, 'You have to come over to the dark side, because I can't sleep!'
Deena Campbell is the Beauty Director of Marie Claire where she oversees beauty and health content on all platforms. Deena joined Marie Claire after a decade-long career as an editor in print and digital media. Before joining the brand, she managed editorial content for L'Oréal owned Makeup.com and Skincare.com. In 2015, she launched Essence.com's hair channel where she received Time Inc.'s Henry R. Luce Award, shortly before joining Allure.com's staff as Senior Beauty Editor. Along with her editorial positions, she also consulted on content and marketing strategies for beauty companies including DevaCurl and Dove, and has appeared at various speaking events and live television segments.