50 Times Women Dominated in 2017
A woman may not be in the White House, but there were myriad other female-driven victories to celebrate this year.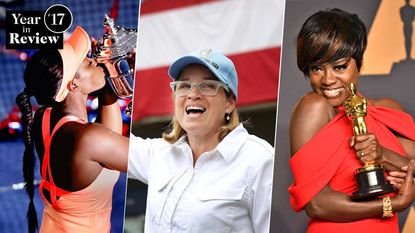 (Image credit: Getty Images)
1.
JAN. 3
With the swearing in of four new female senators—Catherine Cortez Masto (D-NV), Tammy Duckworth (D-IL), Kamala Harris (D-CA), and Maggie Hassan (D-NH)—the U.S. Senate is more female than ever. Better still, the number of women of color quadruples; women also hold a historic 24.8 percent of state government seats. #RepresentationMatters
2.
JAN. 4
NASA announces that astronaut Jeanette Epps will be the first African-American space-station crew member when she blasts off on her maiden spaceflight in May 2018.
3.
JAN. 5
Three women enlist as the Marines' first female infantrymen. Oorah!
4.
JAN. 11
The world's cutest bookworm, Daliyah Arana—who read 1,000 books before age 3—plays "librarian for a day" at the Library of Congress.
5.
JAN. 19
Overcoming death threats and those who think music is immoral (it was banned under Taliban rule), Afghanistan's all-female orchestra debuts on the global stage, playing at the World Economic Forum in Davos, Switzerland.
6.
JAN. 21
The day after President Donald Trump's inauguration, an estimated 3.2 to 5.2 million people in 600 cities nationwide take part in the Women's March, making it likely the largest single-day protest in U.S. history and the ultimate display of girl power.
7.
JAN. 24
Joi McMillon is the first black woman nominated for a film-editing Oscar, for her work on Moonlight.
8.
JAN. 28
Federal Judge Ann Donnelly blocks Trump's order preventing people from seven Muslim-majority countries from entering the U.S.; within hours, three other female judges also block the ban.
MORE BEST OF 2017
9.
JAN. 29
ImeIme Umana is elected as the first African-American woman to serve as president of the Harvard Law Review in its 130 years.
10.
JAN. 30
Acting U.S. Attorney General Sally Yates orders the Justice Department not to defend Trump's travel ban, writing, "I am responsible for ensuring...this institution's solemn obligation to seek justice and stand for what is right." She was fired later that day.
11.
FEB. 3
Sweden's deputy prime minister, Isabella Lövin, tweets a photo of herself signing a climate bill surrounded by female colleagues, apparently referencing a photo of Trump from his first full day in office, in which he was surrounded entirely by men as he signed the global gag rule, blocking federal funding for NGOs that provide abortion counseling or referrals.
12.
FEB. 4
Melissa McCarthy nails her impersonation of then–White House Press Secretary Sean Spicer on Saturday Night Live; "I came out here to punch you in the face, and also I don't talk so good!" shouts the comedian, who goes on to win an Emmy for her performance.
13.
FEB. 7
Senator Elizabeth Warren (D-MA) is silenced by a Senate vote for reading from a letter written by Coretta Scott King criticizing then–Attorney General nominee Jeff Sessions' record on civil rights; explaining the vote, Senate Majority Leader Mitch McConnell says, "She was warned. She was given an explanation. Nevertheless, she persisted," which women adopt as a rallying cry.
14.
FEB. 12
Adele wins five Grammy Awards, including Album of the Year for 25; she is the only artist to win Album, Record, and Song of the Year twice.
15.
FEB. 19
Susan Fowler, a former engineer at Uber, publishes a 3,000-word blog post exposing the hostile culture for women at the ride-share company; four months later, Uber CEO Travis Kalanick resigns and the company announces that it has fired 20 employees as part of a wide-ranging harassment investigation.
16.
FEB. 24
Giselle Burgess, a homeless single mother of five, starts Girl Scout Troop 6000 for girls living in NYC shelters, embodying the scout promise to "help people at all times."
17.
FEB. 26
With an Academy Award for Best Supporting Actress for Fences, Viola Davis becomes the first black actress to win an Emmy, Oscar, and Tony.
18.
MAR. 3
An all-female flight crew circumnavigates the globe on Air India, becoming the first to do so on a passenger plane (the engineers, ground staff, and air traffic controllers are all women, too); in July, the airline names pilot Anny Divya, 30, commander of a Boeing 777 (the youngest female ever!).
MORE BEST OF 2017
19.
MAR. 15
The U.S. women's national hockey team announces plans to boycott the world championship after its members are unable to secure fair pay from USA Hockey; within weeks, the team negotiates a raise and wins its eighth world title.
20.
MAR. 16
Clare Waight Keller is named the first female designer of storied fashion house Givenchy.
21.
MAR. 17
Nancy Abu-Bonsrah signs on as Johns Hopkins Hospital's first black female neurosurgeon; there are only 219 board-certified female neurosurgeons in the U.S.
22.
MAR. 31
After its coach discovers a loophole in the rules, a girls' soccer team in Spain joins a boys' league and defeats all 13 teams to win the championship.
23.
APR. 10
Cressida Dick assumes office as the first female police commissioner in Scotland Yard's 188-year history.
24.
APR. 17
Kathrine Switzer, the first woman to run the Boston Marathon (five years before women were officially allowed), does it again, 50 years later, at age 70.
25.
APR. 25
OK, ladies, let's get in formation: Beyoncé sets up a scholarship fund for female college students "who are unafraid to think outside the box and are bold, creative, conscious, and confident"; two weeks later, Nicki Minaj tweets her plan to pay college tuition fees, student loans, and school-supply costs for straight-A students; Minaj also will start a charity to help students financially.
26.
MAY 1
Sixteen-year-old Girl Scout Lucie Myslikova stares down a right-wing protester at a May Day counterprotest in the Czech city of Brino; "I wasn't afraid," Myslikova says.
27.
MAY 22
The Bachelorette's 13th season premieres, starring Rachel Lindsay, the race-challenged show's first black lead.
28.
MAY 24
Kim Reynolds, a Republican, becomes the first female governor of Iowa; just
six states are led by women.
29.
JUNE 4
In a historically low-earning summer for Hollywood, Wonder Woman brings in a record $100.5 million in its opening weekend; the film, directed by Patty Jenkins, goes on to earn more than $821 million worldwide. Ka-pow! Er, ka-ching!
30.
JUNE 5
At 82, Masako Wakamiya is the oldest attendee at Apple's developer conference; frustrated by the lack of mobile games for the elderly, Wakamiya taught herself to code and released a game based on the Japanese Doll Festival, which celebrates the well-being of girls.
MORE BEST OF 2017
31.
JUNE 9
Lt. Col. Megan Brogden takes command of the U.S. Army's 3rd Special Forces Group Support Battalion, the first woman to lead a battalion within any of the Army's Special Forces.
32.
JUNE 26
Sound the trumpeters: Megan Couto is the first woman to lead the Changing of the Guard at Buckingham Palace.
33.
JUNE 29
Ana Brnabić becomes the first female prime minister of Serbia.
34.
JULY 16
The BBC casts Jodie Whittaker as the 13th incarnation of the Doctor on the 55-year-old TV series Doctor Who.
MORE BEST OF 2017
35.
AUG. 14
Simone Askew makes history as the first black woman to hold the highest cadet leadership position at West Point.
36.
AUG. 16
Days after white supremacists marched on Charlottesville, Virginia, to protest the removal of a Robert E. Lee statue, Baltimore Mayor Catherine Pugh orders the removal of the city's Confederate monuments in the middle of the night.
37.
AUG. 17
Tracy Oliver is the first female African-American screenwriter to bank $100 million at the box office; the film, Girls Trip, is the first with an all-black team on and off camera to earn that much.
38.
SEPT. 2
Astronaut Peggy Whitson returns to Earth with three records: first woman to command the International Space Station twice, most space walks by a woman (60 hours), and woman who has spent the most time off the planet (more than 600 days).
39.
SEPT. 9
Sloane Stephens—ranked 957th—wins the U.S. Open, her first Grand Slam title; asked if the victory made her want to chase another title, she says, "Of course, girl. Did you see that [$3.7 million] check?"
40.
SEPT. 11
Beth Mowins is the first woman to play-by-play call a Monday Night Football game. (It's also the first time a woman has called a nationally televised NFL game in 30 years.)
41.
SEPT. 12
A chain-saw-wielding nun cuts through trees in her Miami neighborhood after Hurricane Irma; viral sensation Sister Margaret Ann says she was just trying to "do what [she could] to help."
42.
SEPT. 13
After being repeatedly interrupted during a conversation with the president and nine male lawmakers, House Minority Leader Nancy Pelosi interjects to say, "Do the women get to talk around here?"; the group reportedly falls silent and doesn't interrupt again.
43.
SEPT. 17
Lena Waithe, star of and writer for Netflix's Master of None, is the first black woman to win a comedy-writing Emmy.
44.
SEPT. 17
Ana Carrasco, a 20-year-old from Spain, becomes the first woman to win a world-championship motorcycle race.
45.
SEPT. 20
Angela McQueen, a teacher at Mattoon High School in Marshall, Illinois, tackles a 16-year-old student gunman as he opens fire in the school's cafeteria; "Lives were saved by [her] quick response," says Police Chief Jeff Branson.
46.
SEPT. 25
Senator Susan Collins (R-ME) says she will vote no on the GOP's latest attempt to do away with the Affordable Care Act, dealing a fatal blow to the bill known as Graham-Cassidy; Collins, along with Senator Lisa Murkowski (R-AK), also opposed two earlier versions of legislation to repeal Obamacare.
47.
OCT. 3
Second Lt. Mariah Klenke is the first female officer to lead an assault amphibian vehicle platoon in the Marines.
MORE BEST OF 2017
48.
OCT. 4
After Stephen Paddock killed 58 and injured more than 500 in Las Vegas—the deadliest mass shooting in modern history—Senator Dianne Feinstein (D-CA) introduces a bill to stop the sale of "bump stocks," devices that enable rifles to fire faster. Twelve of the guns found in Paddock's hotel room had such devices.
49.
OCT. 4
San Juan mayor Carmen Yulin Cruz, who was critical of the federal government's response to Hurricane Maria, wears a t-shirt emblazoned with "nasty" after President Trump used the word in a tweet bashing her; "what is truly nasty is that anyone would turn their back on the Puerto Rican people," Cruz says.
50.
OCT. 8
After a New York Times story written by Jodi Kantor and Megan Twohey reveals decades of sexual harassment by Hollywood mega-producer Harvey Weinstein, the board of his company fires him. Actresses Ashley Judd, Gwyneth Paltrow, and Angelina Jolie are among those who come forward. The scandal ultimately prompts a powerful outpouring of women revealing instances of sexual harassment and assault, using the hashtag #metoo.
This article appears in the Holiday 2017 issue of Marie Claire, on newsstands now.
Celebrity news, beauty, fashion advice, and fascinating features, delivered straight to your inbox!
Kayla Webley Adler is the Deputy Editor of ELLE magazine. She edits cover stories, profiles, and narrative features on politics, culture, crime, and social trends. Previously, she worked as the Features Director at Marie Claire magazine and as a Staff Writer at TIME magazine.