Shan-Lyn Ma Is Here to Save Your Wedding
The cofounder and CEO of Zola is using tech to make your big day a little more joyful—and a lot less painful.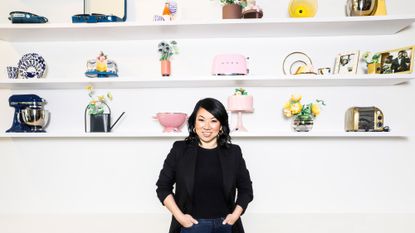 (Image credit: KRISTA SCHLUETER)
While her younger brother, Jung, planned his wedding, which took place in August, Shan-Lyn Ma did her best to sit on the sidelines. As the 42-year-old cofounder and CEO of Zola, the now-ubiquitous wedding-service platform, Ma's something of a matrimony guru—but she didn't want to overstep. She casually asked about his registry (had he published it yet?) and what he was doing for flowers (had he confirmed the reception restaurant would provide them?). When the entire Ma family was in Bilbao, Spain, for the festivities and Jung said he had to sneak away to write place cards, Ma couldn't stay quiet.
"He has the worst handwriting!" she tells me a few months later. We're sitting in Zola's "townhouse," a spacious showroom with floor-to-ceiling windows at the company's headquarters, in downtown Manhattan, which Zola moved into last year. "I spent the next two days learning calligraphy from YouTube," Ma says, laughing.
That's so her: the superhero swooping in to fearlessly save couples from any number of the stresses and inconveniences of the $76 billion wedding industry. When we meet, Ma's look is less cape (though you can find a cathedral-length silk-chiffon one on Zola) and more business-chic: a jewel-tone green Roland Mouret dress and black pumps. The townhouse is where the company hosts partner events, panel discussions, and cocktail parties; it's also a space to showcase a selection of favorites from the 80,000 products available on its website, from shiny KitchenAid mixers to baby-blue Smeg appliances, and some of Zola's more than 3,000 designs for paper products, including invites, save-the-dates, and, its latest, holiday cards.
Zola started in 2013 as a registry website. Ma, like the bulk of her customers, had been a wedding guest many times over. She observed the entire process, particularly getting a gift for the couple-to-be, who often registered at multiple places, and found it clunky and time-consuming. Her first four years at Zola were spent perfecting the registry experience. But Ma's ambitions for Zola have never been small. It has raised $140 million since launch, and nowadays it's way more than a registry site, evolving along with its initial customers—the early squad of millennials who said "I do"—into a place for all things wedding planning, including services to build wedding websites, manage guest lists, and order invitations. Now, Ma is looking at what happens after the wedding. (Keep an eye out for Zola honeymoons, coming soon!) Her question: How do you get a customer for life?
As a kid, Ma didn't dream about her wedding. She was born in Singapore and moved to Sydney, Australia, when she was four. There, her dad fought for Southeast Asians' labor rights at a nonprofit. Her mother was an entrepreneur at heart; in Singapore, she worked as an adviser for a luxury hotel, visiting competitors to find out what was great about them. In Australia, where she took a job as an office manager, "we'd walk past an office building and she'd say, 'Look at all these people. If only I could put in a coffee cart right there,'" Ma remembers. "'That would do X, Y, Z in sales, and it would only cost this much.' A lot of what she talked about was that opportunities are everywhere." The walls of Ma's college dorm featured a poster of Jerry Yang, cofounder of Yahoo. Ma worked her way through her undergraduate commerce degree at the University of New South Wales with three jobs: pizzeria waitress, econ tutor for high school students, and call-center employee, which taught her a lot about "having to randomly call people and ask them to take a survey."
After graduation, Ma set her sights on Silicon Valley. She got her MBA at Stanford and worked at Yahoo for two years—even spotting her idol, Jerry Yang, when she was an intern at the company ("I passed him in the hallway. I was so starstruck, I practically stopped in the middle of the hall," says Ma)—then moved to New York in 2008 to build the product team for a fledging e-commerce startup called Gilt Groupe. There she met her future Zola cofounder and chief design officer, Nobu Nakaguchi, who worked with Ma on building Gilt's mobile platforms. They dreamed of starting a company and, in 2013, after both had left Gilt, planted the seeds for Zola, recruiting Gilt cofounder Kevin Ryan as the company's first and sole investor at launch.
Getting other investors on board wasn't so easy. There'd never been a multibillion-dollar disrupter in the wedding industry, they told Ma, so there was probably good reason to believe there couldn't be one. (In 2013, the parent company of the Knot, one of the largest players in the space, had a market cap of nearly $400 million.) Another problem: The vast majority of investors were male, and it was hard to get them to feel a personal connection to Zola. "These folks—old, white, male—would be like, 'What's wrong with [registering at] a department store?'" says Nakaguchi. "They didn't do any of the planning for their own weddings."
But the users started coming. People were busier and getting married older; they wanted a one-stop shop for weddings. Zola's option to create a wedding or honeymoon cash fund (of which Zola takes a small percentage) sparked even greater interest, as did the "Add to Zola" button, which let couples add any item on the Internet to their Zola registry (and provided Zola with free market research on potentially lucrative brand partners).
While Zola doesn't disclose its current valuation, its massive pool of venture-capital cash, which includes an investment from Ma's idol Yang, has put it on unicorn watch lists. More than a million couples have used Zola, and the company now has more than 200 employees. Ma's approach to it all is simple yet modern: "There is no single right way to get married," she says. "You do you, and it will be great because that's who you are."
Ma isn't married, though who needs a spouse when you have a startup? (She does have a domestic partner. Her name is Noe, and she's an 11-year-old Cavalier King Charles spaniel.) She and the leadership team still sit "in the wild" among the Zola staffers. Zola's conference rooms are named after wedding movies (Ma's favorite is Bridesmaids: "The characters are not cliché, and it's hilarious") and wedding traditions (Kola Nut, Chuppah, Stefana, Mehndi), staffers' wedding pictures are framed on walls, and a "no asshole policy" sign hangs in the kitchen.
Ma is, by all accounts, not one, and she expects the same of the Zola staff. I'm told there's no pointing fingers, no politics, no games—which means everyone has more time to get the work done. Ma was in a serious car accident in 2016, and the entire experience helped her determine what really matters. "Everybody has moments that force clarity. I learned to live life more in the present," she says. "It gave me a new mentality. My schedule is tough, the demands are high and increasing, but I get to actually do what I love every day with people I love working alongside, and I'm alive to do this another day." Ma is "a rare gem," says Rachel Jarrett, Zola's president and COO, who wants the company to do well to help its customers but also "to prove to the world that you don't have to be an asshole to have a multibillion-dollar company."
As in any successful marriage, the conversation about how Ma and Zola can keep evolving continues well past the wedding itself. And while she doesn't have all the answers, she's loving the journey. "There's nothing that I enjoy more than building things that the world has never seen before, but once they see them, they're like, 'How did we live without it?'" she says. "It brings them genuine joy. That is the thing I want to keep doing forever."
This story appears in the February 2020 issue of Marie Claire
RELATED STORIES
Celebrity news, beauty, fashion advice, and fascinating features, delivered straight to your inbox!
Jen Doll is a freelance journalist and the author of the memoir Save the Date: The Occasional Mortifications of a Serial Wedding Guest.