Kim Kardashian Shared Stories From Her Wedding
"Love journey."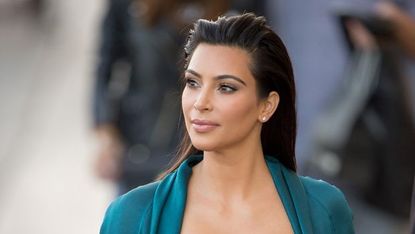 (Image credit: Archives)
Kim Kardashian appeared on Jimmy Kimmel Live last night and shared some juicy details from her extravagant wedding to Kanye West in May. She gushed over the success of the event and finally explained the reason for having the rehearsal dinner and ceremony itself in two different countries. "We kind of wanted everyone to be on this love journey with us, because we fell in love in Paris and then I got pregnant with our daughter in Florence," Kim said. "So we kind of wanted to share our love story with all of our friends and family, and I think everyone just really had an amazing time."
Kimmel asked if everyone behaved themselves at the affair, and Kim revealed that her sister Khloe had a little too much to drink in Versailles the night before the wedding — she got her makeup done for the wedding while laying down and sleeping. How luxurious! Kim added, "I was praying she'll get up in time to walk down the aisle."
Kim also commented on a tabloid that was published before the wedding, recreating the big day with some Photoshopped disasters, including Kim's wedding dress not fitting. "That's kind of wrong," Kim said, explaining that she felt it was "lame" for a magazine to do a recreation like that.
Despite the bumps along the way, Kim was totally glowing, which makes us think things are still going well in Kimye land (they've already passed the 72-day mark!). Watch the interview, below:
UPDATE: That's not all Kim revealed about the Kimye nupitals. She also spilled some details about the reception, from the seating arrangements to the talked-about toasts. It was during this toast that he explained the reasoning behind the seating place cards, which weren't as much cards as they were engravings into the marble table. Only Kimye, right? Watch more below:
Related:
The Most Insightful Kim Kardashian Quotes
Kim Kardashian and Elizabeth Taylor, Two Women Who'll Never Apologize for Their Success
Kimye Partied With Celebs Galore in Ibiza This Weekend
Which Type of Wedding Dress Should You Wear?
The Kardashian Sisters Expand Their Ever-Growing Empire
Photo Credit: Getty Images
Celebrity news, beauty, fashion advice, and fascinating features, delivered straight to your inbox!