Game of Thrones Author Spills Secrets about New Book
Westeros trivia we didn't know.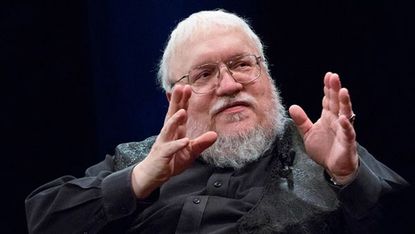 (Image credit: ARCHIVES)
Marie Claire newsletter
Celebrity news, beauty, fashion advice, and fascinating features, delivered straight to your inbox!
Thank you for signing up to . You will receive a verification email shortly.
There was a problem. Please refresh the page and try again.
Last night in New York City, George R.R. Martin hit 92Y (opens in new tab) to talk shop with Salon.com staff writer Laura Miller (opens in new tab), and Esquire had no choice but to attend. The focus of the conversation: The World of Ice & Fire: The Untold History of Westeros and the Game of Thrones (opens in new tab), a lavishly illustrated reference tome for the fantasy novelist's sprawling book universe that he assembled with superfans Elio M. García Jr. and Linda Antonsson. Martin treated attendees and those who watched the event on streaming video (opens in new tab) to some surprising revelations — and hilarious off-the-cuff remarks — about his epic fantasy world, including:
1. Martin credits his readers for bringing Westeros to life. "It was a magician's trick," Martin said of his world-building at the beginning of the book series, describing how he'd make reference to characters and events he'd yet to flesh out. It was only when sharp-eyed readers like García, Jr. and Antonsson, "with obsessive knowledge of my world," contacted Martin to ask about anachronistic events and conflicting facts that Martin realized he needed to carefully fill in the details.
2. There is a transsexual horse. Among the earliest mistakes brought to Martin's attention by his fans was the changing sex of a horse.
3. The artwork in the book represents the most faithful renderings yet of how Martin envisions the world he has created. Martin worked closely with the illustrators so that the details of the places and people depicted were accurate. On a magnificent painting of a mounted Robert Baratheon and Rhaegar Targaryen fighting in an important scene from the history of Westeros, Miller pointed out how the lean and imposing figure of Robert made one understand why he was still popular at the beginning of the series, even though he'd become fond of drink and was no longer at his fighting weight. Looking at the young Robert, Martin quipped: "Robert was like me when I started writing this!"
4. The book was initially supposed to include a "Who's Who" of Westeros. There was an entry for everyone, Martin said, even the characters who just said "Ouch, I'm wounded." But as the list of characters stretched into the thousands, and the number of words into the hundreds of thousands, the idea was abandoned for the book, and the Who's Who was turned into an app.
5. The book was supposed to be primarily written by García and Antonsson. Martin said that he'd signed on to supply sidebars to the main text, but instead turned in about 300,000 words — more than four times as many as García and Antonsson had provided for the main text. "My editor's head exploded," chuckled Martin. The author's contribution had to be trimmed for space reasons, but fans will be relieved to know that much of the remaining material will appear in a forthcoming volume focused on the history of the House Targaryen, a book Martin refers to as his GRRMarillion, in reference to Tolkien's Silmarillion.
6. "Deadline? What deadline?" Martin's answer to the question "What are the words of House Martin?"
7. The World of Ice & Fire is written in the voice of a Westerosi historian named Maester Yandel. The book is also a sly comment on history writing: Yandel dedicates his book to his "esteemed and gracious lord" King Tommen (written over the visibly smudged-out name of Joffrey), so the book's presentation of history understandably flatters the current ruling House. The book also makes references to disputed sources, and relies heavily on a history written by a Maseter Gyldayn, who has his own unique interpretation of events.
8. Martin settled the urgent question on everyone's mind: Who wins in a dragon-vs.-dragon duel between Tolkien's Smaug and Danaerys's Drogon? Smaug. Drogon's too young and small, and Smaug talks, giving him a presumed intellectual advantage.
9. I, Stannis? Martin said that the character of the grim, unloved Lord Stannis Baratheonwas in part inspired by George Baker's performance of Tiberius Caesar in the BBC's famous production of I, Claudius.
10. The worship of the Lord of Light in the books was inspired by real-world dualistic religions like Zoroastrianism and the medieval Cathar sect of Christianity.
11. Laura Miller noted that the image of the mountain fortress, the Aerie, looks like it was inspired by the magnificent Neuschwanstein castle of King Ludwig II of Bavaria. Martin quipped, "King Ludwig didn't think of the sky cells."
12. After millions of words, an author is bound to have a few regrets, and one thing Martin would change today is Tyrion Lannister's first appearance in the books, in which he somersaults off a door-high ledge on to his hands, before vaulting back onto his legs. (A feat beyond even Peter Dinklage's impressive gifts.)
13. One of the biggest challenges of the book was, Martin described, "what to tell, and what not to tell." Some mysteries will be cleared up, but don't expect to read everything — Martin wants to keep some surprises for the forthcoming books in the series.
Via
Related Links:

Marie Claire's Game of Thrones 'Fire & Ice' Cocktail (opens in new tab)


The Hot Guys of Game of Thrones (opens in new tab)


The Emotional Stages of Watching Game of Thrones (opens in new tab)


Which Game of Thrones Character Are You? (opens in new tab)