10 Books You Must Read if You Loved Gone Girl
All written by women, to boot.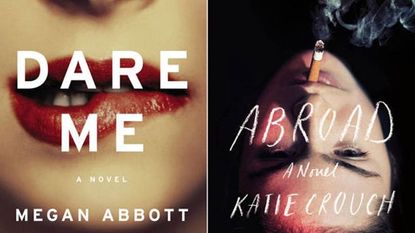 (Image credit: Archives)
Like every person I knew during the summer of 2012, I read Gone Girl as if my life depended on it. I read it at the beach, I read it while eating a salad at work, I read it past my bedtime, falling asleep with my glasses still on my face. I read it in big, hungry chunks, because it was that good. When it was over, I wanted more of what Gillian Flynn served in Gone Girl — suspenseful mysteries that excavated the female mind (or at least attempted to) in a way that I had never before read in literature. With a Gone Girl adaptation in theaters this Friday, now seems like a good time to either reread Gone Girl, or immerse yourself in a new set of satisfying psychological thrillers. Here are 10 to get you started, all of them written by women.
1. Dare Me, by Megan Abbott
Abbott lights up the murky, nefarious inner workings of cheerleader best friends Addy and Beth, who compete for the attention of their cheerleading coach, a woman who expertly plays the girls' insecurities against each other, letting one into her adult world while keeping the other out. When a suspicious suicide brings attention to the coach and her team, the mystery-solving fun begins.
2. Cartwheel, by Jennifer DuBois
v
Based on the real-life story of Amanda Knox, this novel centers around Katy and Lily, two roommates abroad for a semester in Buenos Aires. When Katy is found brutally murdered in their home, Lily is the prime suspect, but no one really knows just who Lily is, including the media, her family, or you.
3. Reconstructing Amelia, by Kimberley McCreight

Kate's daughter Amelia is dead of an apparent suicide; authorities say the girl jumped from the roof of her private school. But when Kate receives an anonymous text saying, "Amelia didn't jump," she tries to uncover the truth about what really happened to her daughter, plunging deep into the seedy underbelly of secret teen-girl societies. Despite the occasionally awkward handling of how a teenager actually speaks in our modern times ("I mean, we know the chick's a dancer and she has a fly body and all, but do we seriously need to see her cha-cha?"), the book is a solid read. It's gripping and kept me guessing until the very end.
4. Dark Places, by Gillian Flynn 

My first instinct after racing through Gone Girl was to find everything else that its author had ever written. Dark Places focuses on Libby Day, the sole survivor of a gruesome Satanic cult massacre. (She escaped through a window as her mother and two sisters were murdered in front of her.) The suspect? Her teenage brother. Twenty-five years later, she begins an investigation of the killing spree herself, exploring the meaning of family and grief in the face of unspeakable horror.
5. Abroad, by Katie Crouch
Narrated from beyond the grave by a girl named Taz, this book also riffs on the Amanda Knox case, unraveling the mystery of Taz's death, which is of course wrapped in scandal. There's a dead girl, a roommate who might have done it, drugs, sexy Italian men, and a cabal of rich, pretty young things, bound together by a dark secret. Add strange ties to Etruscan mythology that involves ritual sacrifice, and you've got one zippy read.
6. The Silent Wife, by A.S.A Harrison

This story of a husband's murder at the hands of his wife is less of a nail-biting thriller than some of these other picks. Instead, it's more of a quiet meditation on what happens when two people become exceedingly comfortable — then complacent — in their relationship. There's cheating, misanthropy, and a lot of long-winded recounts of fancy dinners and expensive vacations. The book, narrated by the husband and wife in alternating chapters, is more of a character study than a twisted thriller, but that's part of its appeal. Sometimes the people behind the horrendous acts are more interesting than the acts themselves.
7. The Wicked Girls, by Alex Marwood

Twenty-five years ago, Bel and Jade committed one very bad crime, causing the death of another, younger child. After their release from juvie, they're given new identities and released into the world. When journalist Kristy (formerly Jade) is sent to investigate a series of brutal killings, she runs into Amber (formerly Bel), recognizing her instantly as her partner in their alleged crime so many years ago. What unfolds is a story chock-full of secrets and lies, and an exploration of the pains one goes to in order to conceal a salacious past.
8. The Secret History, by Donna Tartt
This is a classic of the genre, a book that I reread once every year or so, even though I know exactly how it ends. The book starts out with a murder that has torn apart a group of close-knit friends at the fictional Hampden College, in Vermont. What follows is a look back at the events leading up to the murder and how it has affected the lives of each individual. Donna Tartt is a master at creating the feeling of unease, and this book moves quickly despite its size.
9. In the Woods, by Tana French

Prior to the murder that opens the novel, a little boy and his friends went into the woods and never came back. After a search, one of the little boys, Adam, was found clinging to a tree with blood on his shoes, unable to explain what happened to his friends, who were never found. Now, 25 years later, Adam has grown up to be Detective Robert Roy, investigating the gruesome murder of a 12-year old girl found in the very same woods. If you like the satisfying "whodunit" of a solid episode of Law and Order: SVU, then this blend of police procedural and psychological thriller is your top pick.
10. The Cuckoo's Calling, by J.K. Rowling as Robert Galbraith

Hey, remember when that juicy detective novel came out a couple years ago by some unknown author that everybody really loved? Remember how excited you were when you found out that it was actually J.K Rowling, slaying the hard-boiled detective story? The best thing about this book is that it's nothing like Harry Potter, and I say that as a devoted Harry Potter fan. The mystery is standard detective fare, but Rowling manages to put her own spin on the genre, making for a highly entertaining read.
Via Cosmopolitan
Related:

The Much-Anticipated Gone Girl Soundtrack Has Dropped!


Watch the Most Harrowing Gone Girl Trailer Yet

Photo via Reagan Arthur Books/Sarah Crichton Books
Celebrity news, beauty, fashion advice, and fascinating features, delivered straight to your inbox!