Kit Harington Won't Take Pictures with Rose Leslie for 'Game of Thrones' Fans and We Might Cry
The actor opens up about needing some privacy.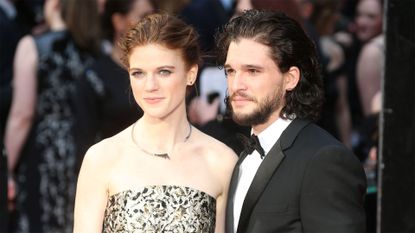 (Image credit: Getty Images)
It must be pretty hard being Jon Sno—sorry, we mean Kit Harington. Yes, he's a successful actor and has a really cool fiancée (we hear Game Of Thrones pays a pretty penny too), but he also has to deal with people going up to him the whole time asking for pictures.
RELATED STORY
So we suppose it's fair enough that the 30-year-old actor wants a little privacy, as he told the Guardian, admitting that he doesn't really like taking photos with fans.
In his interview, he claims that the first season was probably his favorite, saying, "Maybe the most special year was the first. We weren't being recognized in the street, we didn't know what we were doing, we were having a great time."
He sets aside times when he will refuse photos with fans, but he always refuses them with his fiancée and former costar Rose Leslie.
He explained, "you just have to, otherwise you start feeling like a mannequin. Especially me and Rose, we never do a photo together. Because then it makes our relationship feel like…puppets. Like we're a walking show."
RELATED STORY
The London-born actor wants to keep his relationship on the down-low, saying, "I don't believe in talking about one's relationship in the press because it's…I strongly believe it's her relationship and mine, and anything I say here, she may not want me to say. So I just don't say it. I genuinely think it's our private life."
We suppose we understand, though, perhaps he'll make an exception for us?
Daisy Murray is the Digital Writer at ELLE UK, writing articles on vintage shopping to Melania Trump and everything in between. After four years of studying English Literature she has a good knowledge of everything Virginia Woolf as well as a much-needed keen eye for Ebay bargains. After a day at ELLE HQ you can find her drinking wine, watching SATC and talking to anyone who will listen about Chris Kraus.