Binge-Read All These Books Before They Hit the Big Screen in 2018
These movie adaptations are going to be insanely awesome.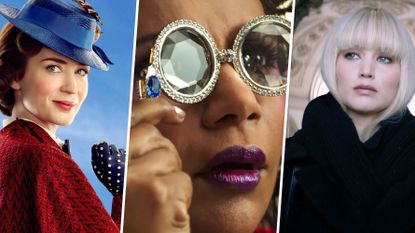 (Image credit: DISNEY/ WALT DISNEY PICTURES / 20TH CENTURY FOX)
The year 2018 is going to be a memorable one for movie adaptations of books. Besides continuing sagas, such as the Maze Runner series, the year will also bless us with plenty of exciting standalone novels to be played out on the big screen. From YA to espionage thrillers to sci-fi adventures, we are in for a seriously fun ride.
But before you grab your MoviePass and hit the theater, be sure to binge-read all the amazing stories that inspired these sure-to-be hits. Note: All premiere dates listed are tentative; you know how Hollywood is.
James Dashner's thrilling conclusion to his Maze Runner trilogy will finally hit the big screen. The film suffered a major setback during production when star Dylan O'Brien was injured on set (opens in new tab) and forced to take time off to heal. He returned a year later (opens in new tab) to finish working on the movie about kids fighting against an evil corporation called WICKED in a post-apocalyptic world.
Based on Beatrix Potter's classic children's books, this adaptation stars James Corden as the rebellious title character who wants to sneak into Mr. McGregor's vegetable garden. Daisy Ridley and Margot Robbie also lend their voices to this animated and live-action hybrid.
David Levithan's YA novel tells the story of Rhiannon (Angourie Rice), a teen who falls in love with a spirit that inhabits a different person's body every day. Debby Ryan and Colin Ford co-star.

Jennifer Lawrence stars in the first film of Jason Matthews's espionage trilogy. JLaw plays a Russian spy trained in the art of seduction.
The first in Madeleine L'Engle's "Time Quintet" series, A Wrinkle in Time follows heroine Meg Murry (Storm Reid) as she strives to find her missing father with the help of her genius brother, her friend, and three mysterious women.
Based on Becky Albertalli adorable YA novel, Simon vs. the Homo Sapiens Agenda, this film is about a closeted teen named Simon (Nick Robinson) who doesn't know how to come out to his family and friends. He develops a crush on his anonymous, online pen pal, and tries to figure out who the mystery guy of his dreams is. 13 Reasons Why star Katherine Langford co-stars, playing Simon's best friend.
Ernest Cline's sci-fi smash hit will transport you to the '80s faster than you can say "Stranger Things." After the creator of a virtual reality world dies, people go on a pop culture-inspired scavenger hunt to win the dead man's fortune. Steven Spielberg directs, with Tye Sheridan and Olivia Cooke co-starring.
The adaptation of Peter Bognanni's novel originally premiered in April 2017 at the San Francisco International Film Festival, but it's finally getting a wider release a year later. Two unlikely teens become friends, bonding over music, angst, and a bizarre house. Alex Wolff and Asa Butterfield co-star.

Supernatural creator Eric Kripke wrote the film adaptation of John Bellairs's spooky novel — which is only fitting, since Eric tweeted (opens in new tab) the book inspired Supernatural. A young orphan named Lewis (Owen Vaccaro) works with his uncle (Jack Black) to save the world by locating a magical clock that can bring about the end of humanity.
Ryan Gosling stars in this biopic as Neil Armstrong, aka the first man on the moon. The film is based on James R. Hansen's nonfiction novel, First Man: The Life of Neil A. Armstrong. La La Land's writer-director Damien Chazelle is directing this biography.
We may never have gotten an American film version of the second and third books in the "Millennium" saga following 2011's The Girl with the Dragon Tattoo, but we're soon going to see the fourth novel on the big screen. While Stieg Larsson wrote the original Girl with the Dragon Tattoo trilogy, he died in 2004. David Lagercrantz continued his franchise about hacking genius Lisbeth Salander with The Girl in the Spider's Web and its follow up, The Girl Who Takes an Eye for an Eye. In this film, Lisbeth (Claire Foy) finds herself dealing with "spies, cybercriminals, and corrupt government officials (opens in new tab)."
While we just had another Jungle Book movie from Walt Disney Pictures, Andy Serkis's adaptation of Rudyard Kipling's classic story will go down a different path than Jon Favreau's 2016 film (opens in new tab). Andy told Vulture (opens in new tab) his version "is for a slightly older audience," adding, "it's a PG-13, more a kind of [Planet of the Apes] movie, a slightly darker take, closer to Rudyard Kipling's."
Before y0u freak out and wonder, "Why TF are they remaking the amazing Jim Carrey movie?!," this most recent adaptation of Dr. Seuss's beloved Christmas classic will be animated. Benedict Cumberbatch is providing the voice of the Grinch.
P.L. Travers's book series gets the big screen treatment once again with Emily Blunt playing the title character. The film follows a grown Jane and Michael Banks — the children characters from the 1964 Disney classic — and Michael's three kids as they are revisited by Mary Poppins, who hopes to bring joy back into their lives. Lin-Manuel Miranda co-stars.