Meghan Markle's 'Suits' Dad Says They Used to Talk in Code About Prince Harry
Wendell Pierce opens up about keeping *that* secret.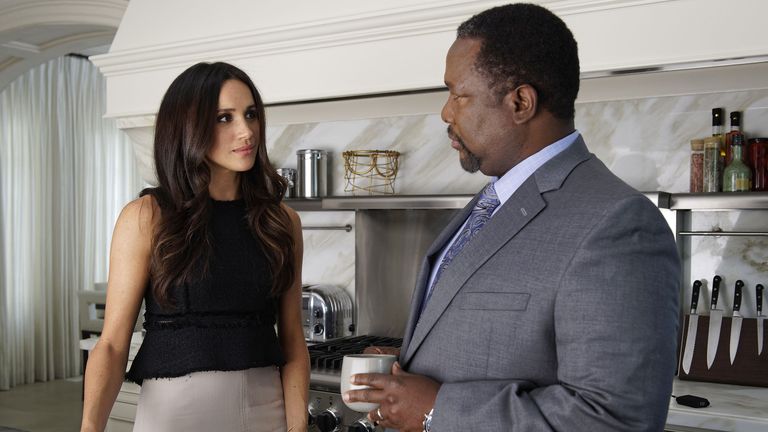 (Image credit: Getty Images)
Meghan Markle has officially filmed her final season of Suits. The legal drama will continue in its eighth season without her, since she's off to marry Prince Harry and join the royal family, after all. Now, one of her costars says he knew about their relationship early on—but had to stay hush-hush about it.
Wendell Pierce, who played Rachel Zane's father, Robert, on Suits, opened up on Harry Connick Jr.'s talk show, Harry, about his relationship with Markle. And he said he knew about her dating Prince Harry before it became public, but kept it a secret.
"She met this nice guy and we always talked about him in code really," Pierce said, according to Entertainment Weekly. "You know, 'How you doing?' 'Oh, I'm going to London, coming from London, whatever.'"
Since Markle has left the show, Pierce talked about what his so-called "last words" were to her as her fictional dad. "I had a really wonderful moment as we were coming to an end of her time on the show," he said. "It was just she and I in the room and I said, 'I know your life is going to change but always know, no matter where you are, I will always be your loving fake father.'"
Pierce said something similar when Markle and Prince Harry announced their engagement. "Robert Zane approves," Pierce tweeted. He said on Harry that he didn't know if he's invited to the royal wedding, but said, "I hope so."
Congratulations to my TV daughter Meghan Markle and Prince Harry on the news of their wedding engagement. Harry you have her TV Father's blessing. Robert Zane approves @Suits_USANovember 27, 2017
See more
Watch the interview below: