Cardi B Spent $800 on Butt Injections and 5 Other Shocking Revelations From the Rapper Herself
She's also really into presidential history.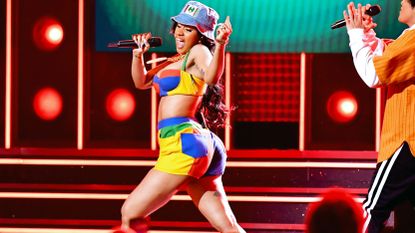 (Image credit: Getty Images)
Cardi B is in a giving mood. Over the weekend, she revealed her baby bump during a live performance on Saturday Night Live, and on Monday, the "Finesse" rapper spilled some very juicy details about her personal life in an interview with GQ.
In the profile, titled "Cardi B's Money Moves," the 25-year-old was candid about her use of plastic surgery to enhance her curves, her previously distrustful relationship with rapper Offset, and her insecurities as a bilingual Latina with a heavy accent.
Below are some of the most surprising revelations from her GQ interview.
She loves Presidents.
Specifically, Franklin Delano Roosevelt. "First of all, he helped us get over the Depression, all while he was in a wheelchair," she told GQ, raving about the 32nd President of the United States. "Like, this man was suffering from polio at the time of his presidency, and yet all he was worried about was trying to make America great—make America great again for real."
But don't expect Cardi to take on a career in politics in the future. The rapper clarified that although she is interested in the topic, she would not consider running for office. "I'd be wrong a lot of times," she said.
She got butt injections in a basement for $800.
Cardi revealed that around age 21, she decided to get butt injections because her boyfriend had just cheated on her with a woman with a bigger butt, and she had noticed that her curvier stripper colleagues were making more money than her.
"It was the craziest pain ever," she said of the procedure, which took place in a basement in Queens, New York. "I felt like I was gonna pass out. I felt a little dizzy. And it leaks for, like, five days."
When she went for touchups, Cardi said she couldn't get them because the lady who had administered the fillers was incarcerated. "The lady got locked up 'cause she's supposedly killed somebody. Well, somebody died on her table," Cardi said.
She's insecure about her accent.
Cardi talked about being raised bilingual in a home with a Trinidadian mother whose English she describes as "broken," and Dominican father, who speaks to her exclusively in Spanish. Because of this, she records songs multiple times.
"That's my biggest problem, that takes me a long time in the booth," she said. "I be trying to pronounce words properly and without an accent. Each and every song from my album, I most likely did it over five times, because I'm really insecure about my accent when it comes to music. In person, I don't care."
She joined the Bloods gang in high school.
At first, Cardi said she didn't want to talk about her affiliation with the street gang out of fear of losing endorsements or her record deal, but she finally admitted to being part of the Bloods in the interview.
"When I was 16 years old, I used to hang out with a lot of Bloods," she shared. "I used to pop off with my homies. And they'd say, 'Yo, you really get it poppin'. You should come home. You should turn Blood.' And I did. Yes, I did. And something that—it's not like, oh, you leave. You don't leave."
According to Cardi, stripping eventually helped her escape the gang life. "Stripping changed my life. When I was a stripper, I didn't give a fuck about gangs, because I was so focused on making money," she said.
She wanted to "shit" herself when she met Beyoncé.
Cardi revealed that the first time she ever met Beyoncé, she was extremely nervous.
"When I met Beyoncé, people be like, 'How that felt? I bet you was mad happy," she said. "It's like, 'Actually, I wanted to shit on myself.' It was a very scary thing. All she was doing was like, 'Hi. I love your music.' And I was like, 'UHHHN!'"
She and Offset didn't really trust each other until they got engaged.
"For a long time, we was in love with each other but we didn't really trust in each other," she said. "It was just too much playing games. He would look for me; sometimes he would take a jet to me. And it was just like, 'Let's stop playing. We really love each other. I'm scared to lose you, and you scared to lose me.'" The couple got engaged in October 2017, and are expecting their first child together later this year.
I'm Eileen, the digital news reporter at Hearst Digital Media. As a member of the newsroom, I report on a wide range of news, including entertainment, politics and lifestyle. I also cover red carpet events for over 20 of Hearst's magazine brands. I previously held positions at CNN, Facebook and MTV, where I worked as a digital producer, writer and on-camera host. Fun facts: I'm fluent in Spanish, a BU alum, and love fashion and travel.