Meghan Markle Hits the Gym One Month Before the Royal Wedding
Royals work out too.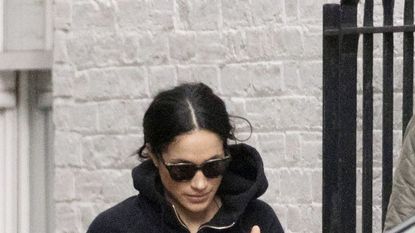 (Image credit: Image Direct)
If you've ever thought, "Does the royal family work out?," Meghan Markle just answered: yes. Just one month before the royal wedding, she was spotted leaving the gym, sporting a black hoodie and dark sunglasses.
While it's unclear what kind of workout class Markle attended, or if she has a personal trainer, or if she just listened to podcasts on the treadmill, she's been known to love yoga because of her mom, Doria Radlan.
"My mom was a yoga instructor so that practice is in my blood. I love an intense vinyasa class—and even better if it's blasting hip-hop and done in a dark room with candlelight," Markle has said before in an interview.

Before she was engaged to Prince Harry, Markle had a website called The Tig, where she would regularly document her workout routines.
RELATED STORIES