The Weird Detail You Might Have Missed About Prince Harry's Wedding Reception Car
Is it a nod to Meghan Markle?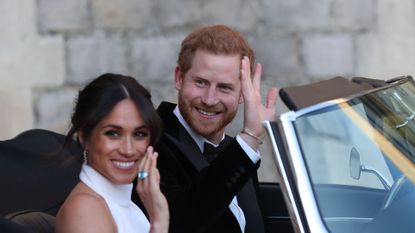 (Image credit: Getty Images)
Marie Claire Newsletter
Celebrity news, beauty, fashion advice, and fascinating features, delivered straight to your inbox!
Thank you for signing up to Marie Claire. You will receive a verification email shortly.
There was a problem. Please refresh the page and try again.
After the royal wedding ceremony on Saturday, Prince Harry and Meghan Markle made a stylish entrance to their private wedding reception on the grounds of Windsor Castle. Decked out in brand-new outfits, the two stepped into a vintage Jaguar E-Type convertible and made their way to the Frogmore House venue.
The Duke and Duchess of Sussex depart Windsor Castle for a reception hosted by The Prince of Wales at Frogmore House, in a silver blue Jaguar E-Type Concept Zero. This vehicle was originally manufactured in 1968, and has since been converted to electric power #RoyalWedding pic.twitter.com/hRrxEUlFlJMay 19, 2018
See more
The Concept Zero convertible, first built in 1968, was recently refitted to run as an electric car. According to Road & Track, the car started as a Series 1.5 E-Type, and then was given an electric engine at the Jaguar Land Rover Classic Works in Coventry.
But there's one odd detail about the car, and that's the steering wheel. It's on the left side, and cars driven in the U.K. have the steering wheel on the right. According to the Daily Mail, that's likely because the car was originally built to be exported to a different country. At one point, the car had been fitted with an American V8 engine, according to Auto Classics, so perhaps it was designed for the U.S., a fitting tribute to Meghan's home country.
"Jaguar built all E-Types at its factory in England," Road and Track Digital Director Travis Okulski tells Marie Claire. "The steering wheel was on the left or right depending on where the car was intended to be sold; cars for England, Australia, Japan, etc would be on the right, US, Canada, continental Europe on the left.
"The car Harry and Meghan drove was based on a version of the E-Type, the Series 1.5, that was only sold in the US and Canada," he explains. "That's why the steering wheel is on the left!"
Some royal watchers and car obsessives alike couldn't help but notice the car was a left-hand drive model.
Wait - left hand drive? On a classic Jaguar, in England. Is that even legal? #Jaguar #RoyalWeddingMay 19, 2018
See more
Definitely passed the test. But, did everyone not notice what side he was driving on? It was Jaguar, and English car, made for American roads, being driven in England!! I mean it's the Royal Family, didn't they have enough resources to find one that drives from the proper side?😎 https://t.co/yYGDsb8cDFMay 19, 2018
See more
E Type Jaguar ... Tick!Electric drive ... Tick!Left hand drive ... Political comment?May 20, 2018
See more
Totally unimportant, but does anyone know why this British-made, Jaguar, that's in Britain being driven by a British royal has the driver's seat/steering wheel on the left, like here in the states? #RoyalWedding https://t.co/JQxkUGsJf5May 20, 2018
See more
The Sun reported the couple rented the car specifically for the day, and the car sells for a whopping £350,000 ($471,000). The fact that it was a left-hand drive model probably didn't affect them too much, since they were possibly only using it for the day.
Another detail you might have missed? The license plate, which features their wedding date. Since the car was only being driven on private property and not on public roads, they were allowed to get a bit creative.
Celebrity news, beauty, fashion advice, and fascinating features, delivered straight to your inbox!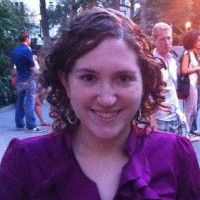 Megan Friedman is the former managing editor of the Newsroom at Hearst. She's worked at NBC and Time, and is a graduate of Northwestern's Medill School of Journalism.