Oprah Winfrey Spills the Details About Her Friendship With Meghan Markle's Mom
Name a more iconic duo.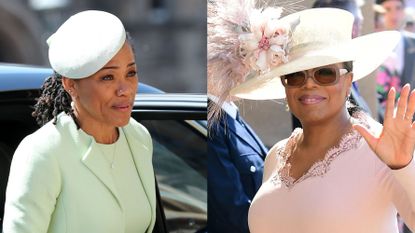 (Image credit: Getty Images)
Ready for some wholesome Tuesday content you didn't know you needed? In an exclusive interview with Entertainment Tonight, Oprah Winfrey just dished about the time she casually hung out with Meghan Markle's mom, Doria Ragland.

Apparently, Winfrey met up with Ragland a few weeks before the royal wedding to chat over snacks and yoga (because, obviously). Shutting down rumors that Winfrey "showered" the Duchess of Sussex's mom with gifts (as Oprah does), she explained that the entire affair was actually quite low-key.
"The story was that Meghan's mom had come to my house and she left laden with gifts," Winfrey explained. "You know what the gifts were? First of all, she's great at yoga, so I said, 'Bring your yoga mat and your sneaks in case we just want to do yoga on the lawn.' So one of the bags was a yoga mat and the other was lunch."
RELATED STORY
And if the thought of these two legends bonding over yoga wasn't sweet enough, Winfrey added that they snacked on one of Ragland's favorite fruits, kumquats:
"She said, 'I love kumquats,' and I said, 'I have a kumquat tree! You want some kumquats?' So it was a basket of kumquats, people," said Winfrey. "For all of the people who said I am getting her gifts and I'm trying to bribe her for an interview—they were kumquats. If kumquats can get you an interview, I'm all for it!"
Well that settles that—Oprah is not here for rumors. Here's praying—no, pleading—that this isn't the last epic tale of Oprah and Gloria.
RELATED STORY
Ruby was the beauty editor at Cosmopolitan, where she covered beauty across print and digital. Her work has appeared on The Zoe Report, Fashionista, and StyleCaster. Follow her on Instagram.