The Original Girl Crush: Sheryl Crow
Marie Claire talks to Sheryl Crow about her Home for Christmas CD from Hallmark.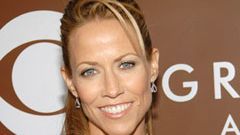 (Image credit: Archives)
A new Sheryl Crow is rising with a Home for Christmas CD from Hallmark, a jeans line, and a world tour. She spoke to us from her bus, traveling with a guy finally worthy of her: 18-month-old son Wyatt.
MC: Whoa, is that Wyatt yelping?
SC: I take him on tour. I can't leave him home — not that I want to.
MC: He sounds ... excited about it.
SC: My tour manager is playing him Sesame Street episodes I appeared on. It's funny watching him try to figure it out — "You're here, but you're also with Elmo...."
MC: Is he the reason you decided to do Home for Christmas?
SC: Everything I've done since he's come along is influenced by him.
MC: When did you record it?
SC: We did it in June. We put up a Christmas tree with lights in 100-degree L.A. weather and recorded it in my living room.
MC: You're unabashedly political.
SC: Detours is my first record that's been so politically minded, but that's really due to the fact that I'm older now. It's the elephant in the room that artists aren't writing about.
MC: Do you ever read the tabloids?
SC: Out of boredom I've checked them out a couple of times, and it makes me feel like crap. Celebrating other people's embarrassments is just a nasty mind-set to have.
MC: Why the move to Nashville?
SC: It's slow-paced, and a lot of my musical influences are there. I love it. I can raise my son and be close to my family, which makes a huge difference. [Wyatt screams] There he is now.
Marie Claire email subscribers get intel on fashion and beauty trends, hot-off-the-press celebrity news, and more. Sign up here.