Here's Why People Think Prince Harry and Meghan Markle Will Have Kids Soon
More royal babies!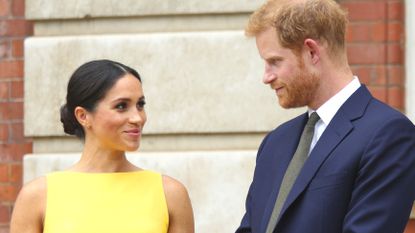 (Image credit: AP)
Although Prince Harry and Meghan Markle (opens in new tab) tied the knot less than three months ago, the world is anxiously awaiting for the Duke and Duchess of Sussex to start a family (opens in new tab). Welp, Meghan's pregnancy announcement may be on the horizon, folks, as the latest hint that the royal couple are preparing for children has surfaced. According to BBC (opens in new tab), the prince has put his sports car up for sale—a move that hopefully means the Duke and Duchess are in the market for a family-friendly car.
The car in question is Harry's Audi RS6 Avant—which the prince reportedly has used within the last year (he even drove it to Pippa Middleton's wedding reception (opens in new tab)). And for any interested parties, Auto Trader has listed the car for a cool £71,900 (opens in new tab). "17 reg and low mileage, so it begs the questions why is the prince selling so soon?" Auto Trader's editorial director Erin Baker says. "Maybe he's on the market for a bigger family car."
This isn't the first time it's been speculated that Harry and Meghan are ready for children. A mere few weeks after their wedding, a source close to the royals said the Duke and Duchess are looking to start a family ASAP. "She'll start trying as soon as she can...But they won't rush into anything," the source says (opens in new tab). "They both think that when the moment feels right, that will be the time to go for it."
Here's hoping that moment comes sooner rather than later—the world needs another royal baby (opens in new tab)!
RELATED STORY
Ruby was the beauty editor at Cosmopolitan, where she covered beauty across print and digital. Her work has appeared on The Zoe Report, Fashionista, and StyleCaster. Follow her on Instagram.