Kim Kardashian and Kourtneys 'KUWTK' Fight Continued Live on Twitter as It Aired
Can't we all just get along?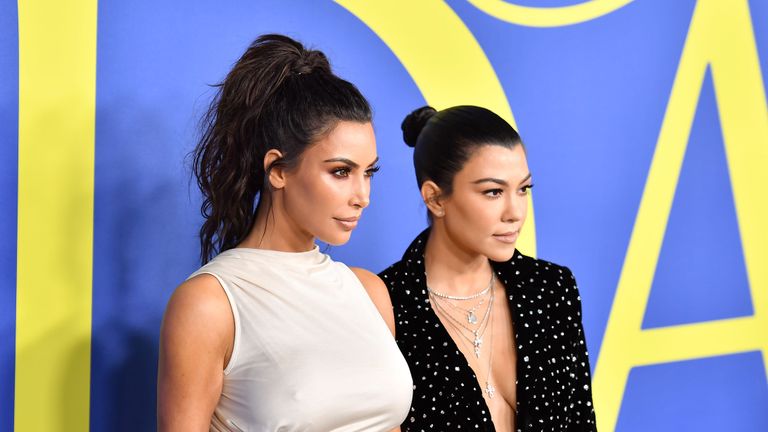 (Image credit: ANGELA WEISS)
Last night's season 15 premiere of Keeping Up With The Kardashians saw Kim and Kourtney Kardashian go head to head in one of the show's most brutal arguments to date. Kim transformed into a furious Disney villain as she labelled her sister "the least exciting to look at," while Kourtney wept real tears over being "mistreated by my f**king bitch family," thanks to a clash in schedules which affected the legendary Kardashian Christmas card. Ahh, family love.
But for anyone who was thinking that the drama had just been played up for the cameras, Kim and Kourtney made it clear that this feud was absolutely the real deal. While the whole thing unfolded on E!, the sisters continued their vicious argument IRL over on Twitter—and things got nasty.
Kourtney made it clear that her opinion on the matter (Kourtney refused to change her plans with her kids to fit around the family photoshoot, Kim was like, "Rude"), as she tweeted: "Watching this fight actually gives me chills. It's not normal to have to relive this stuff."
Arguing that her decision was for the benefit of children, Mason, Penelope and Reign, she continued: "We all have our own priorities. Mine is being a mother."
Funnily enough, the dig didn't go down too well with mom-of-three Kim, who responded: "And mine is not? The shoot was with our kids!!!!! My #1 priority is being a mother as well and I can work too, so can you!"
Kourtney hit back: "And i do. But i wasn't wanting MORE work, i already felt spread thin. Being a good mother also has different meaning to each of us. You're an amazing mother, I'm not taking that away from you," later adding: "We're ride or die. But i don't accept the way we criticize and judge each other anymore. My personal growth doesn't allow it."
But don't panic. The reality stars made it clear that, while the fight might have looked like end of days to the rest of us, it wasn't something that they couldn't figure out. As any sisters know, you hate each other one minute and then you're BFFs again the next. That's just how it works. Khloe chimed in to add: "Sisters fight but we love even harder than we fight," while Kim stated: "Dont ever get it twisted, me, Kourtney and Khloe are GOOD! ALWAYS!!!! Never question that!"
Let's be honest, the arguments are always one of the best parts of Keeping Up With The Kardashians. Remember that time Kim slapped Khloe around the head with her purse? Iconic.
Lucy Wood spends most of her time writing about celebby things, reading books, and waiting for the glorious day that she have enough millions for a pet sloth. Also has a YouTube channel on the go where she pretends to know things about fashion and life advice.