Prince Harry May Be Missing Meghan Markle, According to This Sweet Sign
Ah, young love.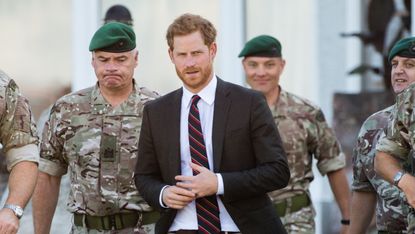 (Image credit: Samir Hussein)
If we know anything by now, we definitely know that Prince Harry is in love with Meghan Markle. I mean, remember when they got engaged and he said this to the BBC? "The fact that I fell in love with Meghan so incredibly quickly was a confirmation to me that all the stars were aligned, everything was perfect. This beautiful woman literally tripped and fell into my life, and I fell into her life."
It's been almost a year, and I'm still not over it. He's never been one to mince words about his feelings for the Duchess herself, but now it appears he's even showing his affection for her without using his words. Yesterday, Harry arrived via helicopter to The Royal Marines Commando Training Centre to inspect the troops in his duties as Captain General of the Royal Marines.
It's the first time fulfilling his duties in this position, so I totally get the stress and pressure he must have been feeling, and that's why I found it so romantic that he might have been sending his wife a message through ~body language~ that he missed her by fiddling with his wedding ring on his finger.
Don't believe me? The Express spoke with body language expert Judi James, who explained that ring-fiddling isn't uncommon: "Men are often seen fiddling with their wedding rings," she shared. "In Harry's case this looks like a self-comfort ritual performed for two reasons, when he's feeling under pressure or lonely." Hey, it's a big day for him, we totally get the pressure and why he might turn to his wife for comfort.
James continued, saying "It allows him to create a barrier with his arms but by seeking out his wedding ring to touch and play with it suggests he's missing the back-up and support of his wife here." But then she gave a bit of information that'll be helpful in the future, in case you're looking to make Reading Prince Harry's Body Language a hobby of yours: "The ritual would take on a different meaning if the ring were being pulled up and down the finger or even on and off when it would be much more likely to signal a rift or potential divorce!"
This is so romantic. Alexa, play 'I Will Always Love You.'
RELATED STORIES
Amanda Mitchell is a writer and podcaster with bylines at Marie Claire, OprahMag, Allure, Byrdie, Stylecaster, Bon Appetit, and more. Her work exists at the apex of beauty, pop culture, and absurdity. A human Funfetti cake, she watches too much television, and her favorite season is awards season. You can read more of her work at amandaelizabethmitchell.com or follow her on Instagram and Twitter @lochnessmanda.