This Week in Timothée Chalamet, September 28 Edition
I'm going to be honest with you: I don't think I can do this right now.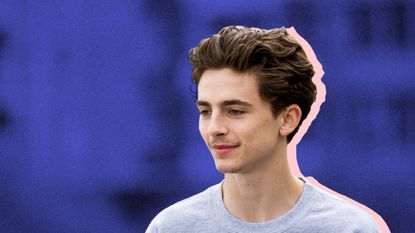 (Image credit: Getty Images)
Because being a person in the world is hard and you deserve something nice, this is MarieClaire.com's semiregular column on everything talented young man Timothée Chalamet did that week. You can catch up on last week's here.
Hello, rainbow lorikeets, and welcome back to another edition of This Week in Timothée Chalamet. I'm going to be honest with you: I don't think I can do this right now.

As much as I adore Timmy, and as often as I've expressed the importance of meditating on nice things in times of tumult, I don't know how to listen to my own advice at the moment. I've been covering the Brett Kavanaugh Supreme Court nomination hearings, and the last few days have been some of the hardest I've ever experienced as a journalist. I know countless women around the country feel the same way right now.
Listening to Dr. Christine Blasey Ford's brave testimony for over four hours—and then seeing the ways in which many of the men who run this country chose to ignore her anyway, despite the fact that she had nothing to gain from coming forward—affected me in ways that I haven't fully taken stock of yet, because to do so would maybe impede my ability to report on it. As a result, writing cute jokes about an actor (yes, even one I stan as hard at TimCha) feels a little bit beyond me right now.
Timothée did his usual thing this week—was stylish, nice to fans, a promising young actor, etc.—but this was not a usual week in any other regard. In light of that, I will get back to our regularly scheduled TimCha programming next week (and you can catch up on all of our past Timothée coverage here).
The truth is, I'm mad. And really, really sad. But mostly so, so tired. Which is why today I want to focus on the strength and bravery of women, because that's really what this week was about.
Below, I've shared some of the stories we've been working on here at MarieClaire.com for the last week, stories that showcase that strength and bravery. I hope they will serve as your meditation on niceness this week instead.
Remember, if you're having a hard time with this news cycle, you can always call the National Sexual Assault Hotline at 1-800-656-4673.

Until next week, then. Stay strong, friends.

Celebrity news, beauty, fashion advice, and fascinating features, delivered straight to your inbox!
Cady Drell is a writer, editor, researcher and pet enthusiast from Brooklyn.