Dakota Johnson Responds to Reports She's Pregnant With Chris Martin's Child
The actress and singer have been dating for about a year.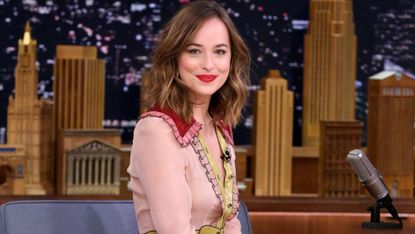 (Image credit: NBC)
Today, TMZ reported that Dakota Johnson and Chris Martin—a very lowkey couple that does very lowkey things like go out to dinner together and get matching infinity tattoos and probably listens to a lot of Coldplay together—were expecting their first baby together. According to their report, the couple (who have been together a year) celebrated with friends including Julia Roberts, Sean Penn, and Dakota's parents, Melanie Griffith and Don Johnson, this weekend, throwing a gender reveal party in Chris Martin's backyard.
The big giveaway according to the outlet: Pink and blue balloon arches decorating the event.
Looks like Don was last to arrive ... because about 10 minutes after he got there, the string of blue balloons were released into the sky. So, all signs point to them having a boy, unless someone screwed up the release.
But it turns out someone did, perhaps, screw up the release, because according to Dakota Johnson's rep, the actress is not pregnant and the party was to celebrate her birthday, which was October 4, not a gender reveal, PEOPLE reports. Surprise! Or at least that's probably what Dakota Johnson felt this afternoon when she looked at her phone and saw the news that she was supposedly pregnant.
Anyway, happy birthday, Dakota!
RELATED STORIES