Meghan Markle and Prince Harry's Baby's Last Name Might Surprise You
The Queen would have to step in.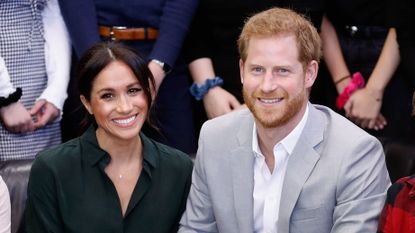 (Image credit: Chris Jackson)
Now that the royal pair have announced that they're expecting their first child, let's start thinking about titles. We all know that Harry and Meghan are the Duke and Duchess of Sussex, but what would Meghan and Harry's baby's title be? Would they be Prince or Princess New Baby, or something else entirely?
The answer is a little complicated. Since the baby will be the Queen's great-grandchild and seventh in line to the throne, according to The Evening Standard, that would put him or her a little bit too far out on the line of succession to get the automatic HRH (His/Her Royal Highness) title.
Instead, the baby would likely get one of the subsidiary titles that the Queen gave Harry on the day of his wedding. If he's a boy, that means the baby would be the Earl of Dumbarton, which has, um, a nice ring to it, and if it's a girl, she may be Lady (Her Name) Mountbatten-Windsor. Any sons they have after that would, likewise, get Lord (His Name) Mountbatten-Windsor.
Writes the Standard:
This is because King George V limited titles within the royal family in 1917 when he stated: "the grandchildren of the sons of any such Sovereign in the direct male line (save only the eldest living son of the eldest son of the Prince of Wales) shall have and enjoy in all occasions the style and title enjoyed by the children of Dukes of these Our Realms."
The only way the baby could become a prince or princess is the Queen chooses to issue what's called a Letters Patent, which she did for Prince George. That's because it would signify that, when Charles reigns, the baby would eventually be further up in the lineage and therefore a prince or princess.
Only time will tell if the Queen decides to do that—but, either way, that kid is entering into one incredibly impressive family.
RELATED STORIES
Celebrity news, beauty, fashion advice, and fascinating features, delivered straight to your inbox!
Cady Drell is a writer, editor, researcher and pet enthusiast from Brooklyn.