Meghan Markle Has Revealed The First Side Effects of Her Pregnancy
The royal baby is already keeping her awake.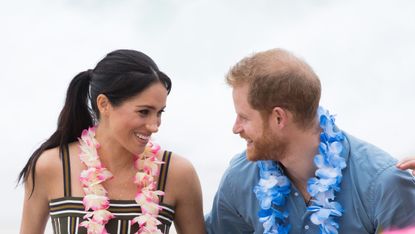 (Image credit: Getty Images)
It's hard to believe that it's only been four days since Meghan Markle and Prince Harry (opens in new tab) confirmed that they're expecting their first child (opens in new tab). Can anyone even remember a life that didn't include the future royal baby? According to a social media post (opens in new tab) from a singer who recently met Meghan on the royal tour, the Duchess of Sussex could even be as far along as four months. But, how ever many weeks into the pregnancy she is (opens in new tab), Meghan has revealed that she's already feeling some less than appealing side effects to expecting their first baby.
As well as juggling the crazy, hectic schedule of the tour (opens in new tab)through Australia with Harry, Meghan is now also dealing with a serious lack of sleep thanks to the royal baby. When the Duke and Duchess met beachgoers at Bondi Beach earlier today, Meghan admitted that she'd had a particularly early start, having woken up at 4:30am. Royal family fan Charlotte Waverley, who is also expecting, talked to the Duchess about pregnancy and later revealed: "Meghan told me that pregnancy was like having jet lag. She said she was up at 4.30am this morning doing yoga in her room as she couldn't sleep. It's a bit of a double whammy for her, she said, as she has both the baby and jet lag to contend with."
I mean, that might just be actual jet lag from traveling to the other side of the world, but still. Meghan also added that she's still a huge fan of yoga (opens in new tab) (even at 4:30 in the morning), explaining that it's "so good for healing your mind".
While Meghan seems to be adjusting well to the early stages of pregnancy, her sister-in-law, Kate Middleton, didn't have quite such a smooth ride. It's well known that the Duchess of Cambridge struggled terribly with Hyperemesis Gravidarum (opens in new tab) (extremely severe morning sickness) through each of her pregnancies. The condition was so intense during Kate's first pregnancy, while carrying Prince George, that she was hospitalized for the condition.
A 4:30am wakeup call for pregnant Meghan, followed by a lively trip to the beach, a visit to a busy high school (opens in new tab) and then two formal meetings with government MPs made up Day 4 of the royal tour. Oh, and there's still three weeks to go for the Duke and Duchess's trip. Anyone else need a nap after just thinking about it?
RELATED STORY
Lucy Wood spends most of her time writing about celebrity news, reading books, and waiting for the glorious day that she have enough millions for a pet sloth. She also has a YouTube channel on the go where she pretends to know things about fashion and life advice.