This Week in Timothée Chalamet, Week of August 2
Bowl cuts, tweets, and a short film history lesson.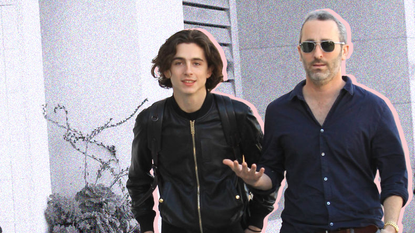 (Image credit: SMXRF/Star Max)
Because being a person in the world is hard and you deserve something nice, this is MarieClaire.com's regular column on everything talented young man Timothée Chalamet did that week. You can catch up on last week's here.

Hello, double crested cormorants, and welcome to another edition of This Week in Timothée Chalamet. Can I say something controversial? I am glad it's August. Summer has gone on too long. I'm sick of sweating my makeup off and traveling too much and having to brave the reek of New York City when it gets hot.
Okay? There, I said it. Now let's kick this month off right by talking about how Timothée Chalamet broke his social media silence!
Hére we go:
Timmy tweeted!
It's the Italian flag! We'll take it!
Presumably this is because of his looming attendance at the Venice Film Festival later this month, where the long-awaited Netflix film The King will FINALLY get its premiere.
Here's something interesting about the Venice Film Festival: Around 1938, the festival runners started getting cosy with fascists, allegedly ignoring jean Renoir's The Grand Illusion as a result. By 1940, this cosiness got more overt and for the 8th, 9th, and 10th years of the Venice International Film Festival's life, it was largely a propaganda festival for the Nazis and their Axis buddies (albeit smaller than Venice Festivals past and future, and with only participants from Italy, Germany, and Hungary). The three years of that smaller, pro-Nazi festival are now considered "void" by critics, festival runners, and filmmakers because...well, maybe it's better to pretend they never happened. Turns out, fascists don't tend to make good movies.
More fun film facts: In response to Venice getting all Axis of Evil in 1939, France became pissed and decided to throw its own international film festival in Cannes. For this first iteration, only the film The Hunchback of Notre Dame—William Dieterle's ode to equality, based loosely on the Victor Hugo novel—was able to be screened. That's because the festival was shut down when Germany invaded Poland on September 17. Cannes would not get another iteration until 1946, which is considered the first formal Cannes International Film Festival.
TL;DR: Cannes was basically invented as a reaction to Venice getting too pro-Nazi.
Anyway, now that we've mentioned The King, we should chat about bowl cuts. You know what I'm talkin' 'bout:
Timmy's bowl cut got memed!
I love Timmy memes so much, and I think I'm even into his bowl cut (very few people above the age of 6 can pull this off, but he's one I guess) and I'm not alone in thinking this because after last week's exciting peek at The King, lots of Twitter users started meme-ing the heck out of him.
Here's what they had to say:
someone has to say it... timothee chalamet bowl cut lowkey hot? pic.twitter.com/oCLkOYGXGPJuly 25, 2019
See more
Agree.
This movie better be good if we have to watch Timothee Chalamet in a bowl cut for two hours pic.twitter.com/lbfgV8U8nJJuly 25, 2019
See more
I don't agree with this but I see where you're coming from.
timothée chalamet's bowl cut is this year's bradley cooper's jackson maine's tan and beardJuly 25, 2019
See more
Whoa.
Sorry, but Stormy Daniels ruined this comparison for me. (Link SFW, but click at your own peril if you don't know what I'm talking about.)

And that's the news! Have a beautiful wéekend.
For more stories like this, including celebrity news, beauty and fashion advice, savvy political commentary, and fascinating features, sign up for the Marie Claire newsletter.
RELATED STORY
Celebrity news, beauty, fashion advice, and fascinating features, delivered straight to your inbox!
Cady Drell is a writer, editor, researcher and pet enthusiast from Brooklyn.