The Best Netflix Original Movies
You + your couch + these movies = the perfect day.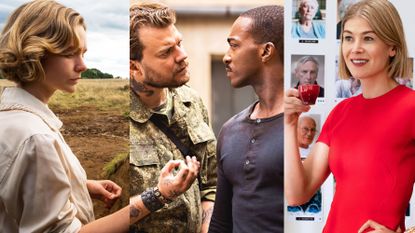 (Image credit: Netflix)
Ahhhhh, Netflix. It's there for us when we need a good cry, laugh, jump scare, or just a mindless escape from everything going on in the world. Last year, the service and I got really comfortable. There was so much to watch, from documentaries that ruled the early stages of quarantine like Tiger King to swoon-worthy romance dramas like Virgin River and Bridgerton. But that was then, and you're here to talk about the now. We've got good news: In 2021, our good and holy savior has a whole bunch of original films in store. From historical dramas to mystery thrillers set in a tropical paradise, Netflix's new original movies will satisfy all kinds of tastes. Some of your very favorite actors of all time ever—hello, Idris Elba! I missed you, Anna Kendrick! Yes please, Dolly Parton!—have made the move to the streaming service, which by this point is making some of the most innovative content in the game. So pop some popcorn and learn about the best original films you can catch on Netflix in 2021—and don't forget to check back in later as we update this article with some more movie goodness throughout the year.
'The Dig'
Release date: January 29
Starring: Lily James, Carey Mulligan, Ralph Fiennes, Johnny Flynn, Danny Webb
In this romantic drama set in 1938, a wealthy widow (Mulligan) hires an unknown archaeologist (Finnes) and his team to, you know, dig around her vast estate in hopes of finding something. Spoiler alert: They do, but it's the last thing they expect—a wooden ship from the Dark Ages that needs to be removed before World War II starts. Who knew mud and artifacts could be so swoon-worthy?
'The White Tiger'
Release date: January 22
Starring: Priyanka Chopra Jonas, Rajkummar Rao, Mahesh Manjrekar, Adarsh Gourav, Paras Gola
Balram Halwai (Gourav) is used to staying in the background. As a servant to one of India's most wealthy families, he likes to fly below the radar as much as possible. That mantra is soon tossed out the window after his so-called loyal employers betray him. Wanting to get even, he decides to abandon a life he knows for one he's always sought.
'Pieces of a Woman'
Release date: January 7
Starring: Vanessa Kirby, Shia LaBeouf, Ellen Burstyn, Iliza Shlesinger, Benny Safdie, Sarah Snook, Molly Parker
Vanessa Kirby brings on the tears as a pregnant woman, Martha, whose home birth unexpectedly ends in tragedy. Unsure what to do next, she begins a year-long journey that challenges her relationship with her partner and mother as she comes to face with her midwife (Parker) in court.
'Red Dot'
Release date: February 11
Starring: Johannes Kuhnke, Anastasios Soulis, Nanna Blondell, Kalled Mustonen, Tomas Bergström
I feel like the first thing you do when you find out you're expecting would be to chill, right? Definitely not take a trip to Sweden for a hiking trip, but then again, who's to say no to romance? Well, Nadja (Blondell) and David (Soulis) should've because their dreamy weekend away goes south quickly when an unexplained deadly red dot keeps following them.
'Outside the Wire'
Release date: January 15
Starring: Anthony Mackie, Damson Idris, Pilou Asbæk, Emily Beecham, Michael Kelly, Kristina Tonteri-Young
This action-packed film is sure to get your blood pumping. Set in the future, a drone pilot (Idris) is sent on a top-secret mission with another officer (Mackie) tasked with finding a doomsday device before the enemy does.
'Penguin Bloom'
Release date: January 27
Starring: Naomi Watts, Andrew Lincoln, Jacki Weaver, Rachel House, Leeanna Walsman, Gia Carides
Recovering from an accident that paralyzed her from the chest down, once adventurous Samantha Bloom (Watts) starts to form an attachment to a baby magpie bird her children found. Fair warning: Have a box of tissues next to you before pressing play.
'Finding 'OHana'
Release date: January 29
Starring: Kea Peahu, Alex Aiono, Lindsay Watson, Owen Vaccaro, Brad Kalilimoku, Chris Parnell, Marc Evan Jackson, Ricky Garcia
Longing for warmer days on the beach with your best friends? Us too, which makes Finding 'OHana the perfect getaway watch. City kids Pili (Peahu) and Ioane (Aiono) ditch Brooklyn for a summer on the island of 'OHana, where they just happen to find a journal filled with cryptic notes pointing to long-lost treasure.
'I Care A Lot'
Release date: February 19
Starring: Rosamund Pike, Dianne Wiest, Eiza González, Peter Dinklage, Chris Messina
Pike plays Marla Grayson, an uber-successful con woman whose favorite trick is becoming the legal guardian of elderly individuals and then taking control of their assets after putting them into care facilities. Things crank up a notch when she finds out her latest client has a living relative who happens to be the most notorious gangster (Dinklage) around, so like, casual.
'Concrete Cowboy'
Release date: April 2, 2021
Starring: Idris Elba, Caleb McLaughlin, Jharrel Jerome, Byron Bowers, Lorraine Toussaint
"The world of urban horseback riding" (you read that right) is a subculture that you've probably never heard of. It comes to gorgeous life as Cole (yes, that's Stranger Thing's McLaughlin) goes to live with his dad (Elba), with whom he's estranged. Horse-riding ensues.
'Dolly Parton: A MusiCares Tribute'
Release date: April 7, 2021
Starring: Dolly Parton, Miley Cyrus, Katy Perry, Shawn Mendes, Yolanda Adams
I mean—who doesn't love Dolly Parton?? Watch talented singers pay tribute to the musical icon as she receives the MusiCares Person of the Year Award. We'll likely get to hear from the Queen herself (and witness her perfect reactions to listening to her songs performed). This is the next best thing to a live concert.
'Thunder Force'
Release date: April 9, 2021
Starring: Melissa McCarthy, Octavia Spencer, Jason Bateman, Bobby Cannavale, Pom Klementieff
Accidental superheroes and BFFs Lydia (McCarthy) and Emily (Spencer) are the offbeat dynamic duo I've always wanted. Judging by the trailer, this is basically the superhero equivalent of Spy as the two women kick some serious supervillain ass. I am absolutely here for it.
'Ride or Die'
Release date: April 15, 2021
Starring: Mizuhara Kiko, Sato Honami, Maki Yoko, Suzuki Anne, Taneka Tetsushi
This LGBT romantic thriller is also the first Japanese Original movie of 2021 on Netflix. Two former classmates are still friends—one's still in love with the other, and vows to save her from domestic violence at the hands of her husband. Messiness (and sweetness and sexiness) ensues.
'Stowaway'
Release date: April 22, 2021
Starring: Anna Kendrick, Toni Collette, Daniel Dae Kim, Shamier Anderson
Um, so this sounds like nightmare fuel?? A man working on a shuttle gets knocked unconscious...and wakes up after it's taken off for a two-year mission to Mars. As if that's not enough, their life support systems are damaged and there's not enough oxygen for them all to survive. Guess what the other crew members are thinking of doing? Anderson (Wynonna Earp) looks very up to the task of the fish out of water land; I'm also delighted to see Kendrick back on my screen in a role that's out of her normal wheelhouse.
'Things Heard & Seen'
Release date: April 29, 2021
Starring: Amanda Seyfried, James Norton, Natalia Dyer, Rhea Seehorn, Alex Neustaedter
Also nightmare fuel: A couple moves from the city way out into the country, and then deep, dark, terrifying secrets begin to emerge. Newly nominated for best actress for Mank, Seyfriend is riveting as a woman who begins to lose trust in her husband—and everything else around her.
Marie Claire email subscribers get intel on fashion and beauty trends, hot-off-the-press celebrity news, and more. Sign up here.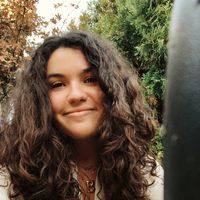 Bianca Rodriguez is the Fashion & Luxury Commerce Manager at Hearst Magazines, covering fashion, beauty, and more for Cosmopolitan, Elle, Esquire, Harper's BAZAAR, and Town & Country. She likes lounging about with a good book and thinks a closet without platform sneakers is a travesty.