Paris Hilton Is the Hardest-Working Woman in the Game
No, really. The aughts-era reality star is now a multitasking mega-mogul with 18 product lines, her own hotel, and a gig as the world's highest-paid female DJ.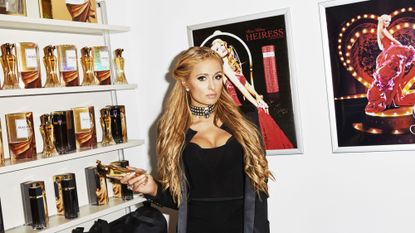 (Image credit: Aaron Richter)
Joy Room is waiting for Paris Hilton to start having fun. But inside this throbbing club in Mexico City, at around 3 a.m. on a Saturday morning in November, Hilton isn't feeling very fun. Nothing, not even a velvet rope, separates us from the hovering paparazzi and the selfie takers pointing their phones down at our booth. Hilton tells me she feels like an animal in a zoo. "This is why I wear sunglasses," she says, as I blink at the flashing bulbs surrounding us.
Hilton has been unfailingly polite and patient for the dozen hours I've seen her promoting her latest fragrance, Gold Rush. (For about 1,000 Mexican pesos, or around 50 bucks, it smells like the "warmth and radiance of gold and the rush of two hearts colliding," according to marketing materials.) That's why she's here, by the way—Mexico represents a big market for Hilton's fragrances, and it's time to launch her 22nd. Tonight, though, logistics have been flubbed, starting with a missing microphone, and it has thrown her off. Earlier, as we crouched on a balcony waiting for her grand entrance, Hilton lit a cigarette and complained in my ear, "This music really sucks."
Still, she knows she has a job to do. There are, after all, sparklers bursting from champagne bottles. Hilton climbs up on the banquette, stilettos digging into black velvet. She dutifully reels a Maraschino cherry into her mouth. "That was so awkward," she whispers as she slides down.
By now, some friends of hers, sons of the Mexican elite, have shown up to party, urging a ride to Cabo on a private plane. (She declines.) The vodka shots have barely made their way into our systems when Hilton is abruptly transformed. Suddenly, she turns into the Paris Hilton you remember, and two of her fragrance reps hold her by the waist as she dives into the crowd. By the time I leave, not much later, she is woozily hugging me and telling me she loves me.
"I had to turn it on," she says coolly, when I ask about it a few weeks later. "The area was not secure. Usually they put us somewhere up higher. We were just in, like, a pit. Then I felt bad. I started thinking, All of these people are so happy; they're so excited. We can't just sit here feeling sad or annoyed. It's mean. Just be happy; just get up there and give them what they want.
"So I just said to myself, Paris, go into the character. Then I just, like, light up. I'm sweet. I make everyone feel good, and then I end up feeling good."
If you still think about Paris Hilton, you probably don't imagine a dogged work ethic, or any generosity at all, including to strangers. But there's no way around it. The woman whom South Park once condemned as a "stupid spoiled whore," and whose 2003 breakout reality show, The Simple Life, documenting Hilton and her then–best friend, Nicole Richie, taking on (and often failing spectacularly at) various manual and service jobs, relied on the assumption that she and Richie had nothing useful to contribute to the labor force, is a diligent and productive businesswoman. The mid-aughts-era misdemeanors, jail time, and on-again, off-again engagements have given way to "optimizing her time"—meaning stacking her schedule with monetizing opportunities.
Her former assistant Kim Kardashian West may have perfected Hilton's formula of turning sex-tape and reality-show notoriety into global self-branding as a way of life, but never forget (she hasn't) that Paris Hilton did it first. She bypassed the traditional rules of Hollywood stardom by gaining fame for showing up to the party. She was at this game before social media even existed the way it does today (no Instagram) and is still at it at age 36. The tiny dogs (six of them as of this writing), the Barbie-doll hair, the blandly exaggerated, hip-jutting poses are still part of the repertoire. But the performance of brattiness is gone. "I want people to know that I'm grown-up," she says. "I'm a responsible businesswoman. I work very hard. I'm down-to- earth. Nothing has been handed to me."
OK, so strictly speaking, a lot was handed to her, including her famous last name, sundry genetic blessings, enough money not to worry. In fact, probably enough money not to work as hard as she still is working, 14 years into the career of being Paris Hilton.
According to her fragrance partner, Parlux, in a dozen years, Hilton's 25 fragrances (including four for men) have brought in almost $3 billion globally. That's about 50 million bottles. (Gold Rush, by the way, went on to win Fragrance of the Year at the Hollywood Beauty Awards earlier this year.) She has 18 product lines, including clothing and accessories for kids and pets, sold in at least 63 countries. Based in Los Angeles, she spends more than 250 days a year on the road. She is gearing up to open her second hotel property in the Philippines and is exploring other potential property sites. She's writing and producing music for other musicians. ("Some newcom-ers," Hilton says. "I've also been in the studio writing with Snoop Dogg. And Charli XCX wants to get into the studio, too.") Her latest single, "Summer Reign," dropped in July with the launch of her newest fragrance, Rosé Rush. Though she's never publicly exhibited or sold her paintings, she says she's had offers to present her work at Art Basel in Miami next year. (She describes her aesthetic as "Warhol-esque of now.") And despite being snubbed by an annual Forbes list of the richest electronic dance music DJs and being dismissed as a dilettante by über-DJs like Deadmau5 and Skrillex, it turns out she's the highest-paid female DJ in the world, scoring what she has said is a million dollars a night for a gig. (Hilton's performances feature a lot of fuchsia: on the space-age logo sticker that adorns her laptop, on animated roses and diamonds in the visuals she provides to be played behind her.) She spins atmonths-long residencies in Ibiza, private events in Russia and Dubai, and even the odd bar mitzvah in Switzerland. She loves doing bar mitzvahs, she says brightly. "I don't just DJ; I will also take pictures with everyone, make everyone feel good," she says. "Make the person who hired me look cool and be like a guest. Other DJs will just go in, won't talk to anyone or take a photo, play songs for an hour, and leave."
Hilton knows you think she's dumb, entitled, "famous for doing nothing," even a relic of the past. She has shrugged off recurring declarations that her career is over, criticisms, even being named one of America's most disliked celebrities in a 2011 poll.
"People love to talk shit," she says. "I'm used to it, over the years. I love how, anyone I meet, I always change their mind right away. I'm not what people think. It's fun to kind of laugh with it and say I'm in on the joke."
Says her sister, Nicky Hilton Rothschild, "She didn't get this far by being dumb." Her father, Rick Hilton, proudly quotes to me President (and Hilton family friend) Donald Trump's assessment of Paris: "Dumb like a fox."
Hilton doesn't want to be mean. This is why, the day after her nightclub appearance at Joy Room, she has to be physically dragged, wailing, from the fans assembled where the Sears department store in Tlalnepantla, Mexico, meets the mall. Five hours ago, as we'd left the bulletproof SUV for the in-store meet and greet, Hilton had adjusted her gold lamé dress and instructed the photographer to capture not just her, but also the fans. She had a message, too, for the security guards: "Tell them not to be mean to the people."
A couple hundred onlookers, including toddlers hoisted on the shoulders of parents shouting, "Paris!" and men easily in their 50s with work-worn faces and carefully trimmed mustaches, still wait. Hilton has smiled and signed almost everything put in front of her, not just bottles of her Gold Rush perfume that people began lining up at 5 a.m. to purchase, but also dozens of smartphone cases, one favorite wallet, several hastily torn-off pieces of paper reading I <3 Paris, at least two drawings of herself, and a T-shirt emblazoned with her face alongside Britney Spears' and Lindsay Lohan's worn by 24-year- old Cristian, who observed, with some disappointment, "She still likes to party, but she's not so escandalosa [scandalous] as before." Between signings, she ducks her head under the table to sneak bites of a Starbucks sandwich away from the cameras.
Ivan Guerrera, a skinny 30-something with a crew cut, took an eight-hour bus ride from the Mexican state of Zacatecas to see Hilton. Standing next to her, I flinch as Ivan takes advantage of the chance to reach hungrily into her hair during a hug. Hilton insists it's fine.
"I would rather talk to some of those people than other people sometimes"—those other people being famous people, presumably—she says. By now she's been coaxed back into the black SUV. "I will let people hug me, kiss me, take pictures, do whatever they want, just to make them happy. And I feel like they feel my love for them."
As she tells it now, Hilton was just a tomboy who moved to New York from L.A. and started getting photographed at parties with her sister, which she discovered she could get paid for. She began modeling, signing to Trump's agency, T Management. In Tokyo, where she and her sister launched a handbag line and stores that would spread across Asia, "We would squeeze a month of work into a week," she recalls. "My sister, Nicky, and I were waking up at 6 a.m.; every hour was a different magazine shoot."
Then came The Simple Life in 2003, which ran for five seasons. Hilton learned that being on a reality show was a little bit like getting what she wanted from her parents. It all started with the baby voice, the one she used "when I was little, anytime I wanted something." The producers wanted the baby voice and then some. "I was really kind of shy in the beginning," she says. "So the producers just said, 'Act spoiled, a kind of blonde airhead.' I did that and then I realized it was a brand, so I played along with it. And when I felt shy, I would just do it." Her voice sounds different now: husky, like a chain-smoker's, with a little vocal fry for good measure. "Now I actually think it's cuter to be intelligent and to have a normal, low, sexy voice," Hilton says. "Now when I hear the baby voice, I want to punch myself."
If any of this rings a bell, then you'll remember that weeks before The Simple Life's debut, her sex tape hit the Internet—but you probably don't remember that she says she never consented to the tape's being public; that she was only 18 and her then-boyfriend, Rick Salomon, was 33; or that she sued the company distributing it for invasion of privacy. (Salomon sued the Hilton family for defamation, accusing them of "a cold, calculated, and malicious campaign to portray Salomon as a rapist." Both cases were reportedly settled out of court, and the terms were never made public.)
Sure, the tape made her more famous, but she denies she participated in the video's release for fame or profit; according to TMZ, Salomon reportedly earned $10 million from the tape in the first year. "That's one thing that really pisses me off when I hear it, because I never, ever received one dollar from that video," she says. "That is the last thing that I would want out there."
It's dark in the armored car, but not so dark that I can't see that tears have welled up in her eyes. "It's really hurtful, because my whole life I really looked up to Princess Diana, all these elegant, amazing women, and I feel like [Salomon] just took that all away from me," she says. "I could have been like that, but because of that tape, I will always be judged and thought of as whatever they say about me because of a private moment between my boyfriend and me. I wish I had never met him. That is actually the one regret in my life. I wish that I had never met that guy. I could not leave my house for months. I was so depressed, humiliated. I didn't want to be seen in public."
Eventually, she did leave the house and appeared on Saturday Night Live's Weekend Update, where a young, winking Jimmy Fallon asked her, "So ... your family, the Hiltons ... they own hotels all over the world, right? Is it hard to get into The Paris Hilton?" She replied, amid applause, "Actually, it's a very exclusive hotel—no matter what you've heard."
There are so many ways to ask Hilton if her life has no meaning without a man or babies in it, and I hear almost all of them while sitting through her promotional interviews in the Hyatt Regency Mexico City. In the words of one Univision reporter, "How does man conquer you?" Another on-air journalist asks, "You want to be mom near?" The meaning is not lost in translation.
"Not yet," says Hilton patiently. "I'm single. One day."
In the past, she tells me, "I would always need a boyfriend. I just felt like I needed to be with someone." But it wore her down. "I feel like I cannot trust anyone. As soon as I start dating a guy, all of a sudden they become this guy that all the girls want." Worse, now she sees how it hurt her career, how she turned down opportunities out of fear. She was afraid to leave L.A. because her boyfriend at the time and his friends would go out, and "TMZ would film them doing something stupid, and I would be humiliated and hurt." There was the time she released her debut single, "Stars Are Blind." (The track—which debuted at 18 on the Billboard Hot 100 in 2006— plays over every entrance she makes in Mexico and closes out every DJ set.) "I hired a whole dancing team, and we practiced for six months to go on tour," she remembers. "But I was too scared to leave, because I thought my boyfriend would cheat on me. I canceled the entire tour, which was so dumb for this guy." It's hard to say how much exactly that decision cost Hilton, but her publicist points out that "the music label said it would have been a multimillion-dollar deal."
Now, she can focus on touring as a DJ and hawking her fragrances—and on herself. "I love that I have no one to worry about," she says. "Hopefully, one day I'll find someone who is really sweet and normal, who is from a small town, who is obsessed with me, who would never hurt me, who would be my best friend—but I haven't met that person yet. And with my work, I never really meet anyone who I want to date." (Weeks later, she would make it Instagram official with The Leftovers star Chris Zylka. As of summer, the couple was still going strong.)
In the car that night, I read Hilton a tweet that circulated before the presidential election. It says, "Friendly reminder that Paris Hilton grew her inherited wealth at 5 times the rate and 3 times faster than Donald Trump." (We can't vouch for the math on this, but you get the idea.)
Hilton laughs. "I read that, too," she says with some satisfaction. "I had no idea that was true, but it's pretty flattering to hear that, so it makes me feel proud." She said she is a feminist now—though her definition of the word is decidedly vague and apolitical. "I just feel it's about women's empowerment and girl power, and I'm very into that," she says.
Contrary to news reports, she says she didn't vote for Trump—she didn't vote at all. And she doesn't agree with everything he's said. "I love the people here, and I don't think that they should be talked about like that at all," Hilton says of Trump's claim that Mexico was sending rapists and criminals over the border. Still, she says, her old family friend, whom she calls "an incredible businessman," will be a good president.
"I've known him since I was a little girl. And he's always been so nice, so respectful and sweet," she says.
But...what about the time he said, "I've known Paris Hilton from the time she's 12. Her parents are friends of mine, and the first time I saw her, she walked into a room, and I said, 'Who the hell is that?'" Oh, and he said he watched your sex tape. Doesn't that creep you out?
She shrugs it off: It was on Howard Stern's show.
So, too, Hilton dismisses the infamous "grab them by the pussy" line. "I've heard guys say the craziest things ever, because I'm always around guys, and I listen to them speak," she says. As for the women who allege that Trump sexually assaulted them, "I think that they are just trying to get attention and get fame," she shrugs, staring out the window.
The next time I see Hilton, three weeks later, she's wearing turquoise-trimmed, teardrop-shaped Fendi sunglasses, for strategic reasons. "I have no eyelashes on, and I'm scared I'm going to see one of my ex-boyfriends," she says. The lobby of the W South Beach hotel in Miami at the height of Art Basel is not the Sears outside Mexico City. This is Hilton among the people she came from, glossy and hard-edged. It's like a family reunion.
Since I last saw her, Hilton has criss-crossed through Australia, Bali, Singapore, Dubai, Abu Dhabi, and New York. Later that night, I'll watch her from a distance at Wall Lounge, the club inside the hotel down among the sweaty masses: Hilton is up in the booth, performing fun. Nothing will smudge her slick veneer, her practiced look of blissfully loosing herself in the music.
But hours before that, in the hotel lobby, she's stroking her latest tiny dog, Diamond Baby, a miniature Chihuahua puppy that is about the size of two fists, and telling me about how, yes, she would consider crossing over to politics like Trump did. "We're paying for these kids to go to war and die—hi, sweetie." Hilton breaks from explaining her platform to greet Bethenny Frankel, Skinnygirl mogul and one of Bravo's Real Housewives stars. Frankel asks after Nicky's baby. Hilton invites her to her DJ gig that night. Politics can wait for now.
This article appears in the September issue of Marie Claire, on newsstands now.
Celebrity news, beauty, fashion advice, and fascinating features, delivered straight to your inbox!