It's Time to Subscribe to Lily Aldridge
With a growing YouTube audience and a sustainable perfume line, Aldridge is a model making mogul moves.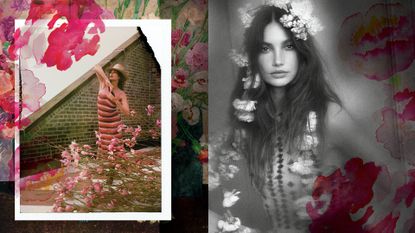 (Image credit: HELENA CHRISTENSEN)
Marie Claire newsletter
Celebrity news, beauty, fashion advice, and fascinating features, delivered straight to your inbox!
Thank you for signing up to . You will receive a verification email shortly.
There was a problem. Please refresh the page and try again.
It's almost a shame that Lily Aldridge spent the first decade of her career quietly stalking runways (opens in new tab) and posing for print campaigns because her brand of friendly—goofy, warm, enthusiastic, unselfconscious—translates exceptionally well to video, as anyone who subscribes to her YouTube channel knows. Her earliest videos on the platform are glossy, quick-cut compilations of beauty tips, bloopers, and behind-the-scenes footage from shoots for Bulgari (opens in new tab) and Ralph Lauren. The 34-year-old model has also taken viewers inside the Nashville home she shares with her husband, Kings of Leon frontman Caleb Followill, daughter Dixie, 7, and son Winston, 1. "[On YouTube] you get to narrate your own story and communicate with your fans in a whole new way. I think people really responded to it because it's a different side to me."
Her recent uploads are more revealing. In one vlog (opens in new tab) from February titled "Cancelled," she talks about the "literally hundreds and hundreds" of times she's lost jobs, like when she got fired as a teenager for having bad skin. When she discusses more recent setbacks, it's clear she has developed an enviable sense of confidence—aided immensely by a self-deprecating sense of humor. At one point, she pauses her storytelling to offer a message to haters: "If I wanted to fix my teeth, I would fix my teeth."
That's not to say Aldridge is immune to criticism. She's just at a point in her career where she's more concerned with helping others. "We live in a world where everything is put on YouTube and Instagram in the most beautiful light—highlight reels of our best moments," she says. "Not many people show the not-cool parts of their lives. I want to so young girls realize we all go through ups and downs."
But her subscribers aren't just girls struggling with insecurities; they're also women looking to her for career advice (opens in new tab). And they've picked a good role model in Aldridge, who was compelled by motherhood to start her own company, Lily Aldridge Parfums. "I got to work on it a lot while I was pregnant with my son, which was an amazing creative outlet. I think you just need to start putting it out there, being curious and willing to try new things."
She developed the line (opens in new tab), which has released two fragrances and has two more on the way, with sustainability in mind. The bottle caps are made of responsibly harvested wood, and the recycled-paper boxes double as the shipping cartons. "I think that's the way of the future. The way that brands will survive and be strong is by constantly growing and changing and evolving."
Her thoughtfulness as a business owner contrasts starkly with the culture at Victoria's Secret, a company she worked with for nine years. In February, a New York Times investigation (opens in new tab) revealed the brand's lengthy history of mistreating employees and models. (A spokesperson for Victoria's Secret's parent company, L Brands, did not deny the accusations. Less than a month later, L Brands sold a majority stake (opens in new tab) in Victoria's Secret to a private equity firm, and leadership changed as a result.) Aldridge, who ended her relationship with the label in 2018, says she believes it's the responsibility of Victoria's Secret—and smaller brands, like hers—to be accountable for what happens within the company. "It's important to always be involved in your business and care for the people who are working for you," she says. "It's about creating a good, safe team with strong people and checking in."
That philosophy will serve her well as she expands her brand. "I hope we can do more beauty products, and clothing, and kids' clothing," says Aldridge. "The possibilities are endless."
Lead Image: Top Left, Kate Spade Dress; Lack of Color hat. Top Right, Prada top.
This story appears in the May 2020 issue of Marie Claire.
subscribe here (opens in new tab)
RELATED STORY
Jennifer Goldstein is the former beauty & health director of Marie Claire and co-host of the award-winning beauty podcast Fat Mascara. In her quest to uncover the world's beauty secrets, she's gotten tattooed in New Zealand, dug up turmeric in India, harvested shea nuts in Ghana, and squeezed enzyme-rich eggs from salmon in Norway. She can pluck eyebrows like a pro and has read the FDA monograph on sunscreen labeling and effectiveness—but she still can't get liquid eyeliner to look the same on both eyes.