Exclusive Q&A with Marc Jacobs
The Louis Vuitton designer dishes about the new fall collection, his inspirations, and how he fares in high heels.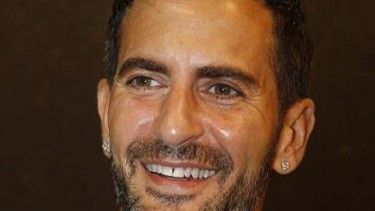 (Image credit: Eric Ryan/Getty Images)
Together, Marc Jacobs and Louis Vuitton are nuclear. But before their union, Jacobs was a bad-boy designer — he'd been fired from Perry Ellis for his now-legendary Grunge collection — and Vuitton was little more than a stodgy luggage company. All that changed in 1997 when Jacobs became Vuitton's creative director. In the decade that followed, he brought ready-to-wear, jewelry, and accessories to the French maison. Collaborations with artists Richard Prince, Stephen Sprouse, and Takashi Murakami reinvented the LV monogram as a pop-culture icon. A master of the unexpected, Jacobs sent buxom babes, from Laetitia Casta to Elle Macpherson, down Vuitton's fall runway instead of the usual waifs. "The criteria for the girls was that they just be gorgeous at every age and size," he says. We wouldn't have it any other way.
Marie Claire: What was on your mood boards for the fall 2010 collection?
Marc Jacobs: Oh God, once these things are over I can barely remember. I don't know that there was anything specific on the mood boards. We always start out in one way and then go through an evolution. It's not like we decide on a theme and it stays that way. During the course of putting the collection together, we're looking at fabrics and talking about silhouettes, ideas, and different moods and spirits.
MC: How do you distance yourself from your own collection to bring something new to Louis Vuitton each season?
MJ: The Vuitton show is after my collection. The last thing we want to do is have anything look too much like what we've done in New York. But a lot of the process at Vuitton comes from working very closely and hard on the bags. I started this whole thing with the bag team, working with the house's iconic Speedy bag that's been part of Vuitton for many, many years. For fall, I wanted to do a very sophisticated collection of handbags. That dictated the shoes and the unusual color combinations. Ultimately we got to this womanly point that was much more non-fashion in a way.
MC: What do you mean non-fashion? Some of the biggest names in modeling walked in the Vuitton show.
MJ: When I say non-fashion I mean, it wasn't one of those shows that I felt you had to be a fashion insider to get the innuendo. For example, I received an e-mail from a very good friend's brother who'd seen the show on Facebook or whatever. He said, "Oh my God, I know nothing about fashion but I've never seen so many beautiful women!" That was really the reaction that we wanted. It just felt graceful. When Laetitia Casta opened the show, there was just a stunning energy. And when Elle [Macpherson] came out, she was so charming — the way she moved and even smiled at the audience. None of that was planned. It was just the way the girls felt in the clothes that they were wearing.
MC: What does it feel like to be considered an oracle of fashion?
MJ: Well, first of all, I don't feel that way at all. I don't see myself as being as big of an influence as other people seem to think. It's funny. I was just on the Time 100 list and I thought, What in the world was the criteria for that? I talked to my shrink about it. He says I'm always putting myself down. I don't really think that I'm putting myself down. I probably do that sometimes. It isn't that I have a low opinion of myself. But there are so many people in the world of fashion who I admire. When I look at Alber Elbaz or Karl Lagerfeld, or when I think about Saint Laurent or Coco Chanel herself, and I think Stefano Pilati and Rei Kawakubo — there are so many people who are so brilliant and total in their vision. What they do, to me, looks so effortless and inspired that I feel like I'm just not in their league.
MC: How do you juggle three super-successful collections and still stay sane?
MJ: I don't know that I'm sane at all. But I'm blessed to work with great people. I collaborate with brilliant stylists both here and in Paris. I work with a great design team. I really allow everyone to bring their ideas. I almost rely on them to inspire me. When I'm nervous and insecure and doubting, I become very stimulated by the creative people around me. I'm useless at staring at a piece of white paper. But if you put a piece of white paper with a black line on it in front of me, I'll say no that black line should be red and it should go this way or that way. I need something to change. I'm not an inventor or someone who can just do it.
MC: You're not afraid to be a little outrageous — blue hair, man kilts. Do you have any new looks for yourself on the horizon? Man heels, perhaps?
MJ: Oh, I'm wearing them right now — a pair of boots from Saint Laurent. They have quite the high heel. But I'm short and I only wear high heels when I'm wearing jeans. I don't wear high heels with a skirt because that would just be too much. Although sometimes before the Vuitton show when we're doing the fittings I'll put on the heels from the show. I empathize with women in their high heels so I'll be there in my kilt and T-shirt and I'll walk around all day just to prove that if I can wear the shoes for 36 hours then certainly our customer can wear them. It's more of a joke than anything else. I'm certainly not running around in drag.
MC: What's something you hope to do that you haven't done yet?
MJ: I really dream of launching perfumes for Louis Vuitton someday. It's something I've pushed for for a long time and they've been a bit resistant. But I think now, they're ready. Vuitton's legacy has of course been in luggage but I can see it becoming a brand that's remembered as much for its ready-to-wear, fashion accessories, and, hopefully, its perfumes and everything else.