What We're Reading: An Unconventional Jackie O Biography
A new tome about Jacqueline Kennedy Onassis reveals a part of her life you probably never knew about.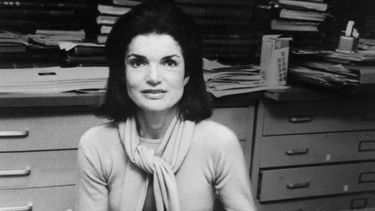 (Image credit: Courtesy of Doubleday)
You might think of Jacqueline Kennedy Onassis as a style icon, a gorgeous First Lady, and a patron of the arts, but here's something you might not have known: For many years toward the end of her life, Jackie O was a book editor. (I know, right?!) For two decades, she worked for Viking and then Doubleday, acquiring, editing, and championing books by such authors as Princess Grace of Monaco, Diana Vreeland, George Plimpton, and even Michael Jackson (she edited his 1988 autobiography, Moonwalk). A new tome explores Mrs. Kennedy's life through her books.

Reading Jackie: Her Autobiography in Books

Author: William Kuhn, a biographer and historian.

Genre: An autobiography by somebody else (trust us, it makes sense)

What Happens: Kuhn takes us through Jackie O's prolific editorial career and exposes a side of the former First Lady many people never knew existed.

Why Read It: Why not? One of the most fabulous women in history, books, what more do you need?

Details: Knopf Doubleday, $27.95, December 7