Mila Talks About Ashton, Her Baby, and Saying Yes
Mila Kunis has never shied away from speaking exactly what's on her mind (just one reason why we love her). And when the Jupiter Ascending star committed to saying yes to anything and everything that came her way for a year, her world opened up immensely. Now she's engaged, expecting, and, having the time of her life.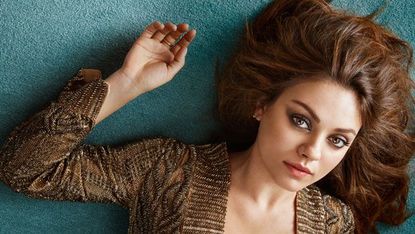 (Image credit: Archives)
Photo Credit: Tesh
Kunis is marveling at her breasts. "They're amazing!" she purrs with delight as she takes a seat at a table for lunch one afternoon in late March, opening her cardigan and tugging down her T-shirt to reveal newly developed cleavage. "They've tripled in size. I was a 34A; now I'm a 36C," she says. "I'm so excited! I'm telling everyone I know, 'Go ahead, touch them!'" Kunis leans forward and breaks into a wide, shameless grin: "Without being an asshole, I have to say, I love being pregnant."


Photo Credit: Tesh
Kunis, 30, couldn't be an asshole if she tried. She is not that girl. She is brassy, sassy, a throwback to the early days of Goldie Hawn and Barbra Streisand, when a comedienne could be both sexy and funny. She is, as her friend Channing Tatum describes her, a free spirit. "She has such an easygoing personality that she's probably the only girl on the planet where, if the world were coming to an end, she'd crack a joke and make me laugh," he says.
Even when playing selfish teen Jackie Burkhart for eight seasons on That '70s Show, Kunis remained appealing and magnetic, her character's insolence unable to eclipse Kunis' seductive earthiness. This accessibility comes through in every Kunis performance, from her witchy feline ballerina in Black Swan in 2010 to her latest lead as a toilet cleaner turned intergalactic warrior queen, opposite Tatum, in Andy and Lana Wachowski's sci-fi epic Jupiter Ascending, out July 18. Her bankability as both a dramatic and comedic actress (she also voices the Meg Griffin character on Family Guy) has led to an endorsement deal with ethical gemstone company Gemfields. No matter the role, Kunis reads as genuine, like someone you'd want to know. "I originally reached out to Mila to play the young mistress character," says writer/director Paul Haggis of his latest ensemble drama, Third Person, out this month. "She said she wanted to play the maid instead, and she said, 'Let me meet you,' so we met for lunch. She said, 'I can imagine what it would be like to lose everything. I can play this part.' It reminded me of when I cast Sandra Bullock against type in Crash," Haggis says of the demanding, complicated role. "Mila is going to surprise a lot of people."
Read the rest of the story in the Marie Claire July 2014 issue on stands June 24.
CHOICE WORDS
On giving birth: "Two people are allowed in my delivery room. My doctor and my significant other. And he is staying above the action. He'll be head to head. Not head to vag. Unless he wants to risk his life and see. But I wouldn't if I were him. I highly doubt he wants to see that being ripped apart and shredded. Because it will be shredded. It's just a matter of how badly."
On her friendship-turned-fiancée Ashton Kutcher: "One day, it just changed. All of a sudden, it wasn't the same. And I was really proud of myself for acknowledging that. The best day of my life so far was the proposal. I cried. I was a mess. Not to discredit any relationships in my past, but this relationship is different."


On her Year of Yes: "I was really good at saying no. I decided I was just going to say yes to any opportunity that came, no matter how crazy. And it changed my life."
On what she never wants to do: "I'll never have a clothing line. I promise you, that will never happen."
On her future children: "I just don't want my kids to be assholes. I feel like so many kids nowadays are. Both of us just want to have well-behaved, honest, nice children who people meet and say, 'That's a good kid.'"


Photo Credit: Tesh
Related:

Ashton Kutcher and Mila Kunis Throughout The Years


How to Make a Drink for Mila Kunis


Mila Kunis Gave an Amazing PSA On Men Saying "We're Pregnant"
Celebrity news, beauty, fashion advice, and fascinating features, delivered straight to your inbox!