Lizzie Olsen: Miss Independent
Mary-Kate and Ashley named half their label Elizabeth & James after her, but for her own success story, the little sister and rising film star relies on no one. Check out more pictures of Lizzie wearing all sorts of Chanel finery here.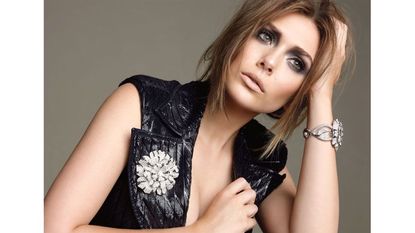 (Image credit: Tesh)
I'm the curvy one of the family." Kewpie eyes and nose aside, Lizzie Olsen's 5'7" frame and shapely figure belie her shared parentage with the famously petite Mary-Kate and Ashley. Yet "it's very clear that I'm the younger sister," she asserts. "My whole life they've been like women, while I've been trying to be a woman but still a kid."
All that changed at last year's Sundance Film Festival, where the 22-year-old's star turns in two very-adult indies — Silent House and Martha Marcy May Marlene — ignited a new Olsen fever. The youngest of four siblings, Olsen has been cultivating a sense of gravitas for years. "I've always had a complex about being taken seriously," she says over lunch of fava-bean salad and burrata. "I never wanted anyone to think that I would use my family name to get me anywhere." So she plunged into an ongoing study of her craft, spending summers at musical theater camp and attending the prestigious Atlantic Theater Company at NYU's Tisch School of the Arts — with a semester in Russia at the Moscow Art Theater School for good measure.
"I've always loved being a student," Olsen says. (She refused to read the Spy Kids script for her very first audition because "it was too big, and I had schoolwork.") But dorm living? Not so much. "That's the only time in my life I ever felt different for having sisters in the public eye," she says. "People would knock on my door and be like, 'I heard there was a party here,' just because they knew that I lived in that room. It was so weird."
She's since moved into a classic New York junior one-bedroom: "It's like a closet — I need to stop doing independent films so I don't have to live in 300 square feet." Her upcoming thriller, Red Lights, with Robert De Niro, Sigourney Weaver, and Cillian Murphy, may be just the ticket. There's also the holidays at home in L.A. to look forward to. So what does an Olsen family Christmas look like? "My sisters and I do most of the cooking because we love it. We jazz up the holidays with mashed cauliflower. It's so delicious; it's Mary-Kate's signature." A family of fashion designers, style icons, actresses, and chefs — it's an Olsen world, we just live in it.
Celebrity news, beauty, fashion advice, and fascinating features, delivered straight to your inbox!