Behind Chime for Change with Gucci Creative Director Frida Giannini
With her Chime for Change initiative, Gucci Creative Director Frida Giannini is not only sounding a clarion call to empower women around the world but also making philanthropy fashionable every season.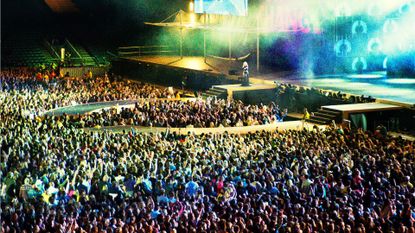 (Image credit: Pari Dukovic)
Singing in the shower is a pleasure best kept to yourself—unless you're Frida Giannini. About a year ago, Gucci's creative director found herself humming the '80s anthem "Do They Know It's Christmas?" by the musicians collectively known as Band Aid, who had come together to raise money for famine relief. Dripping wet, Giannini came up with an idea.
"I was Generation Live Aid—I was almost 13 when the concert [in 1985] happened," recalls Giannini, who's just landed in London from her home base of Rome. "I'll never forget Bono, Sting, George Michael, all onstage singing that song, joining forces for Africa. So I thought, Gucci has to do something like that. And we have to do it for women." A few hours from now, Twickenham Stadium, the world's largest rugby arena, will play host to a pantheon of glittering pop divas like Beyoncé, Madonna, Jennifer Lopez, Florence Welch, and Mary J. Blige who are headlining the Sound of Change Live concert.
Starting Chime for Change, the umbrella organization connecting nonprofit groups dedicated to revolutionizing women's education, justice, and health, is just Giannini's latest pursuit. She already oversees the design of more than 10 annual women's, men's, and children's collections; the creation of fragrances, each promoted by advertising campaigns she produces; and the development of retail concepts. She travels the world to christen new stores, which now number 432. She also, by the way, has just welcomed her first child, the now 6-month-old Greta, with partner and Gucci CEO and President Patrizio di Marco, a relationship she'd kept secret for two years before going public in 2011.
"I'm still on maternity leave technically," says Giannini, 40. "The flight to London was Greta's first flight, and I was so nervous. I've traveled the world but never with a baby stroller." She then confesses to being thrown by a telephone call that came moments ago. "I'd been practicing my speech in the mirror, and now I hear I won't be going first but last—introducing Beyoncé! Can you believe it? Public speaking is painful for me. I prefer behind the scenes."
Cool, blonde, and wearing a black tunic and loose pants from the resort collection, in a chintzy, Aubusson-carpeted hotel room at The Dorchester, Giannini looks like a rock diva who has wandered onto the set of a Puccini opera. As if anticipating any notion of a disconnect between the subject of helping disadvantaged women and chitchat about exotic-skin bags for fall, Giannini swiftly shuts down the misperception. "The exploitation of women is not a rich vs. poor problem. Every day a woman is killed or raped by someone she knows, even in wealthy, First World countries. Chime for Change is about changing laws and changing lives." And changing sobering worldwide statistics—like 800 women die each day during pregnancy and in childbirth, or 60 percent of children not in school are girls, or two-thirds of illiterate adults are female. If there was a revelatory moment for Giannini when she knew she would devote herself to women's causes, it came on a 2009 trip to Malawi for UNICEF. "I was in a maternity ward where there had never been an incubator," she recalls. "I met a 15-year-old whose baby had just been born prematurely. While I was there, the baby died. And you don't forget that." Charity is a priority for the house, which has introduced a host of philanthropic initiatives that include supporting UNICEF (the 2008 Tattoo Heart bags with ads featuring Rihanna, the launch of the children's collection in 2011); helping to save the Amazon rain forest (a line of eco-friendly handbags earlier this year); and building a children's medical center in Urumqi, China. "A brand like Gucci," Giannini says simply, "needs to set an example." (Integrity starts at home: The company insists on gender parity in hiring, so women make up half of the staff.)
The concert will end up drawing 1 billion viewers and raising more than $4 million for nonprofit organizations. Giannini's "speech" is more of a brief welcome. "Tonight we come together for every woman, every girl, everywhere," she says to the crowd of more than 50,000, before introducing Beyoncé with Salma Hayek Pinault. Now she makes good on her promise to kick back and enjoy the show. "Having an infant doesn't impact my everyday life," says Giannini, who left the baby at home this evening. "I've never been a big sleeper anyway. Greta doesn't affect my daily routine—I've never had one. We always have so much going on, every day is different." Much has been made of the fact that Beyoncé and Hayek Pinault—her friends and Chime for Change cofounders—have young daughters, too. "We didn't plan that," Giannini says, laughing. "And, no, we haven't set up playdates yet. Chime was in my mind before Greta was. But I certainly feel closer to the cause now."
"Frida's addicted to charity—you can feel the energy she puts into it," says James Franco, who produced the documentary The Director, which followed Giannini over the course of a year and premiered at the Tribeca Film Festival last spring. It took that long for his famously private subject to open up enough to have something to film. In between professional duties (presenting Gucci's first show in Shanghai, coaching a Mick Jagger–look-alike model for the spring 2013 men's collection), there are personal moments: cooking pasta and clams for her art historian mother and architect father at "The Cube," her ultramodern white beach house in the coastal town of Sabaudia, an hour south of Rome, once owned by film director Pier Paolo Pasolini. Running on the beach with her German shepherd, Gunner the IV. Talking about her relationship. "My love life is very good," she says on camera. "I don't always want to discuss business with Patrizio—I'd rather talk about dinner or a movie. But it's difficult. Sometimes I have to call his assistant to make an appointment with him. He does the same."
FRANCO, THE FACE OF two Gucci fragrances and Gucci sunglasses and something of the designer's Dauphin, sits ringside with a beaming Giannini as she holds court in the skybox, buzzing with the likes of Blake Lively, Jessica Chastain, Christopher Kane, Peaches Geldof (whose father, Bob Geldof, cofounded Band Aid), and Princesses Beatrice and Eugenie of York. Charlotte Casiraghi sings along to "Dog Days Are Over" by Florence + the Machine, whose lead singer, Welch, stops by after the rollicking performance. Over the deafening din, Net-a-Porter's Natalie Massenet shouts, "Frida rocks, doesn't she?" When Jennifer Lopez and Mary J. Blige electrify the house with a sexy rendition of "Come Together," Giannini gets up to dance, joining the rest of the audience already on their feet.
"There's a Greek word, kalokagathia, which combines two words, beauty and good," explains Giannini, a reminder that she studied the classics at the Italian equivalent of high school, Liceo Classico Luciana Manara, before taking up fashion at Rome's Accademia di Costume e di Moda. The ancient philosophers endlessly debated beauty's ability to contribute to the highest good and, she says, "That's what I'm after. I design beautiful products, but there has to be empowerment behind them." The unapologetic classicist is quick to identify as a Roman snob. "I adore traveling, but after a certain point, I'm missing Rome. I'm rooted there. I still have the same friends for 20 years, and that's who I want to have dinner with."
She has managed to intertwine her passions with her work. She's the cinephile who hired Drive's Danish art-house wunderkind Nicolas Winding Refn to direct Lively in the commercial promoting the new Gucci Première fragrance; the music fan (she owns 8,000 albums) who got her company to underwrite London's Victoria and Albert Museum exhibition "David Bowie Is"; and don't get her started on horses. "They're my escape, my real passion," she says dreamily. So much so that she designed a capsule collection inspired by the riding outfit she made for champion equestrienne Casiraghi, who appeared in Gucci's ad for its Flora silk scarves—a refashioning of the archive print the house founder's son Aldo Gucci commissioned for Casiraghi's grandmother Princess Grace of Monaco because he wanted to give her more than just a bouquet of flowers. "I've never ridden with Charlotte—her horses are too good," says Giannini. "I'm not convinced the customers who buy the collection are all riders, but jodhpurs are always chic. I really missed riding when I was pregnant. It's good exercise for the legs and posture and also for your confidence. I will love for Greta to start."
From the beginning, Giannini wasn't about having her name on a label or splashed across a billboard. After a stint designing accessories at Fendi, she was offered the same job at Gucci in 2004, then rose to creative director two years later when Tom Ford left. If Gucci under Ford was all aggressive sexuality, Giannini has softened the edges. The Flora scarves, for example, were her "breakaway from Tom's reign, my imprinting my femininity." While her motto is, "A great jacket and flat riding boots make a great wardrobe," she's being modest about how imaginative and subversive her spins on Gucci's greatest hits are—a horse-bit stiletto in jasmine python; a Jackie O. hobo in gray karung snakeskin; a jaguar-print, bamboo top-handle bag; a gold metallic GG iPad case. To celebrate the 60th anniversary of the iconic horse-bit loafer this year, Gucci is doing them in pony, patent leather, and pastel suede.
With so much going on, the question for Giannini isn't about how to have it all, but how to do it all. "Frida isn't the type to give up easily or abandon a project dear to her heart," says Mariane Pearl, the managing editor of Chime for Change, who is charged with curating inspiring stories of women from around the globe. "As her connection to women in the world deepens, so will her commitment." Indeed. A few weeks later, back in Rome, Giannini e-mails that she now has a new favorite shower song: Beyoncé's "Run the World [Girls]."
Celebrity news, beauty, fashion advice, and fascinating features, delivered straight to your inbox!