Star of 'Transformers' Nicola Peltz Talks Fashion, Beauty Secrets, and Acting
The star of this summer's 'Transformers: Age of Extinction' and 'Affluenza' flaunts high fashion in L.A.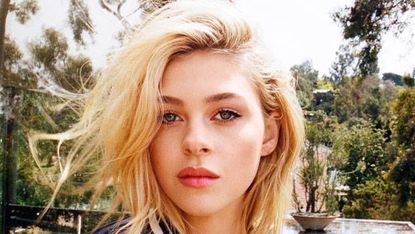 (Image credit: Emma Montalvan)
Sweater, $1,995, Balenciaga; (212) 206-0872. Skirt, $2,155, Balenciaga at Maxfield; (310) 274-8800. Rings, $205 each, Selin Kent; selinkent.com. Shoes, price upon request, Prada; prada.com. Earring, Peltz's own.
AGE: 19.
PROFESSION: Actress.
HOMETOWN: Westchester County, New York.
CURRENT RESIDENCE: NYC and Westchester County.
FREE TIME: I love spending time with my family, and I really like photography.
SENSE OF STYLE: Classy with an edge. I like to mix it up depending on my mood.
GO-TO LOOK: Ripped jeans, an oversize T-shirt, Isabel Marant sneakers, and a leather jacket.
FAVORITE DESIGNERS: Louis Vuitton, Balenciaga, and Alexander Wang.
FASHION MANTRA: Whatever you choose to wear, wear it with confidence—my mom taught me that.
TWITTER: @nicolaannepeltz
Jacket, $1,750, swimsuit top, $159.50, swimsuit bottoms, $120, Michael Kors; (866) 709-KORS.
"My Mom bought me this chair at Maison 24 in New York City, where everything is really modern and cool. It's usually tucked under my desk, but there's always stuff thrown over it!"
Jacket & skirt, prices upon request, MSGM; msgm.it. On right hand: Stud ring, $145 for set of two, TomTom Jewelry; tomtomjewelry.com. Smooth ring, $100, Jennifer Fisher x Stop It Right Now; jenniferfisherjewelry.com. On left hand: Rings, Peltz's own.
Chanel bag. Below: Pelt'z personal journal and bookmark from her younger cousin.
"I love Bioderma. I use it religiously. And, Tom Ford's Neroli Portofino is my favorite perfume."
Shirt, $2,150, skirt, $1,450, Gucci; gucci.com. Cuff, $250, Jennifer Fisher x Stop It Right Now; jenniferfisherjewelry.com. Ring, $295, Jennifer Fisher; jenniferfisherjewelry.com. Shoes, $490, Nicholas Kirkwood; (646) 559-5239.
"The ring on my pointer finger is half of a heart—my mom wears the other half."
"I grew up in Westchester county playing ice hockey with my six brothers, so I was definitely a tomboy until I convinced my mom to let me try acting."
Celebrity news, beauty, fashion advice, and fascinating features, delivered straight to your inbox!