Are Jennifer Lopez and Alex Rodriguez Engaged? Here Are All the Clues
Fans spotted a hint on J-Lo's Instagram.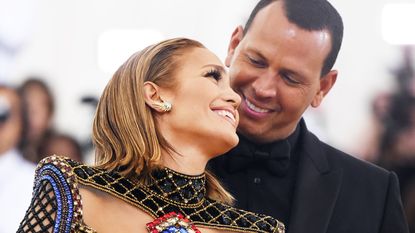 (Image credit: Getty Images)
No one does life quite like Jennifer Lopez and Alex Rodriguez (opens in new tab). While you and your plebeian friends celebrated Independence Day by firing up a few mediocre hotdogs on the barbecue, J-Rod were busy cozying up to each other on a picturesque beach looking hot as heck (literally and metaphorically speaking). To top it off, a close look at the couple's celebration via Instagram (opens in new tab) reveals that J. Lo is officially wearing a flashy ring on that finger.
"It's the lil quiet moments that matter the most...💕," Lopez captioned the photo in question. Shortly after posting the photo, the couple's fans promptly freaked the hell out and flooded the comments section with questions about the ring. "Is that a ring I spy?? 😉😍😍," one user commented (opens in new tab). "Wait. . I see a ring...," wrote another (opens in new tab)."
In the world of rapid fire celebrity relationships (Nick and Priyanka (opens in new tab)! Ariana and Pete (opens in new tab)!), engagement rumors are usually far off—but in this case, marriage might not be out of the question for Lopez and Rodriguez. In May, J-Lo's World of Dance co-stars told Entertainment Tonight that marriage is definitely in the couple's future (opens in new tab). "I mean, I'm sure that's happening," Jenna Dewan said (opens in new tab). "If you've ever seen the two of them together, it's pretty much the next step. They're, like, annoyingly cute," Ne-Yo added (opens in new tab).
Plus, Lopez might have even dropped her own hint that she's ready to take the next step with A-Rod. The singer's new song "El Anillo," (opens in new tab) literally translates to "The Ring," and it's lead fans to believe it's directed at Rodriguez.
I wouldn't be made if we see these two walk down the aisle in 2018—in fact, I'd encourage it. Fingers crossed for another royal wedding (opens in new tab)!
RELATED STORIES
Ruby was the beauty editor at Cosmopolitan, where she covered beauty across print and digital. Her work has appeared on The Zoe Report, Fashionista, and StyleCaster. Follow her on Instagram.