The Most Stylish Celebrity Sisters of All Time
The only thing better than one style icon? Two.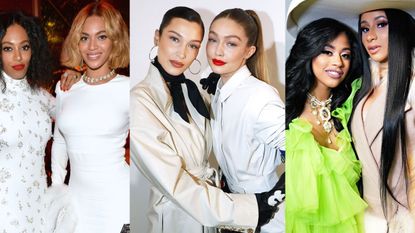 (Image credit: Getty Images)
There's no greater joy than having a sister. From the moment you meet there's an instant connection and camaraderie, no matter how much you may fight. And one of the best perks of having a sister? Getting to borrow their clothes, whether they like it or not. In honor of #NationalSistersDay, we've rounded up some of the most stylish sisters in history.
1/19
Beyoncé and Solange Knowles
These Houston natives have been stylish since birth. Their mother Tina made their costumes for years, and since then they've only continued to evolve their amazing style. You can guarantee a slay any time they show up. Beyoncé has been bringing her style to the masses for decades since she started House of Deréon, and now with activewear line Ivy Park. (She also has a sponsorship with Adidas.) Solange has site Saint Heron that is sure to inspire you for days.
2/19
Gigi and Bella Hadid
Model sisters Gigi and Bella have fashion in their blood. Their mom, Yolanda Hadid, was a model before becoming a Real Housewife and creating her little model prodigies. No matter what your style, the Hadid sisters have you covered. Gigi has partnered with Tommy Hilfiger, and recently with Reebok. We can't wait to see who Bella chooses to collaborate with.
3/19
Mary-Kate and Ashley Olsen
Mary-Kate and Ashley stole our hearts as Michelle Tanner, and have had an amazing glow up. They started with merchandise and clothing at Walmart, and soon evolved into one of the biggest forces in fashion. Today, they own fashion line The Row, founded in 2006, and are icons in the industry.
4/19
Kate and Pippa Middleton
UK-based sisters Kate and Pippa are constantly inspiring everyone with their looks. Anything Pippa wears is so functional and comfortable that we've been stalking her favorite brands. And since becoming royalty, Kate has inspired us with her designer digs and effortless everyday looks. It's no surprise everything they wear sells out immediately.
5/19
Paris and Nicky Hilton
Even before we were all saying "that's hot," the Hilton sisters were setting trends. Nicky used to have a fashion line called Nicholai, and recently teamed up with brand Tolani for Nicky Hilton x Tolani to bring vacation styles with her Passport Collection. Paris had a line with Boohoo once upon a time, and we're sure the Simple Life star will have a new collab soon.
6/19
Penélope and Mónica Cruz
The Spanish sisters have been in the spotlight for a while. Before Penélope was the face of Chanel and a muse to Karl Lagerfeld, she and sister Mónica had a line with Mango in 2007. There's no doubt the Cruz sisters will be inspiring us for years to come.
7/19
Kate and Lottie Moss
You can't think of Kate Moss and not think fashion. The supermodel changed the way we think about modeling, and she's inspired countless looks. She and little sister Lottie always look amazing and are frequently spotted at the front row during Fashion Weeks. Kate has done collections with Equipment and Topshop and is the face of Nikkie. while Lottie has teamed up with Pacsun for a festival-inspired collection. You can expect to be influenced by the Moss sisters for years to come.
8/19
Cara and Poppy Delavigne
Some people just exude fashion and style and confidence. Cara and Poppy are said people. Cara is known for her runway confidence and acting skills, and is single-handedly changing the way people think of dressing by refusing to conform to gender norms. Poppy lives her life as a style icon and muse, and we're here for it.
9/19
Kendall and Kylie Jenner
We've watched Kendall and Kylie grow up right before our eyes into little fashion icons. They have their Kendall & Kylie line with Pacsun as well as their own Kendall + Kylie line, and another collection with Revolve. Momma Kris put in work! You can catch Kendall strutting down the runway during most fashion weeks and get all your beauty needs from Kylie Cosmetics. Who run the world? Kendall and Kylie.
10/19
Sofia and Nicole Richie
When we first met Nicole, she was running around with Paris on The Simple Life; I remember loving these black boots that rolled up her leg. It was in that moment I knew she'd be a big deal in the fashion world. Flash forward to 2019 and she now owns House of Harlow 1960 and jewelry line Honey Minx. She also currently has a collab with Revolve. Sister Sofia has announced she has a line in the works called Sofia Stone that should be in stores in late 2019.
11/19
Laura and Kate Mulleavy
You may have not heard about Laura and Kate, but they're the duo behind fashion line Rodarte. Founded in 2005, their line bring a fun and vibrant vibe to fashion. The sisters' low-key aesthetic is great for everyday looks, while their gowns are all you need for a fancy night out.
12/19
Miley and Noah Cyrus
We know nobody's perfect, but these two are pretty freaking close. Miley and Noah can make anything, from a pair of jean shorts to a couture gown, look like you need it instantly. Miley started with a line at Walmart, then a partnership with Max Azria and Converse. Noah took a page out of her sister's book and sells apparel and accessories online.
13/19
Cardi B and Hennessy Carolina
Cardi B always comes through dripping, and her sister Hennessy Carolina is no exception. The two made waves at the Grammy Awards and have quickly become everyone's favorite Instagram follows. Since dropping on the scene, the Dominican sisters have been hard at work—Cardi with a line with FashionNova and endorsements with Reebok and Pepsi; Hennessy as a designer with a line set to come out with Boohoo.
14/19
Zsa Zsa, Eva, and Magda Gabor
Zsa Zsa was obviously the better known sister of this crew, but when she wasn't acting on screen she was performing alongside Eva and Magda. You could call them the first truly fashionable trio of Hollywood sisters. The Gabor sisters exude glamour and style.
15/19
Brie and Nikki Bella
The Bella twins have made a name for themselves in the world of WWE by shattering countless records, becoming Diva Champions, and breaking into the world of television and fashion. Their show Total Bellas on E! gave them exposure to share their fashion line BirdieBee and inspired more women to get excited about fitness. The sisters recently announced the release of their new Nicole + Brizee beauty line.
16/19
Chloe and Halle Bailey
The sisters behind Chloe x Halle are a force to be reckoned with. They opened up for Beyoncé and Jay Z on the On The Run II tour and quickly made a name for themselves. You can be sure to notice them on any red carpet because of their amazing style that always compliments the other. With Halle's casting as the new Ariel, we're guaranteed to be seeing lots more of these fashionistas.
17/19
Elle and Dakota Fanning
We've watched the Fanning sisters glow up right before our eyes. both of them are guaranteed to turn heads every time they hit a red carpet. The two have myriad endorsements in fashion and beauty, so you'll be feeling the Fanning effect for a while.
18/19
Jessica and Ashlee Simpson
Sisters Jessica and Ashlee first came into our lives with their music—and later via reality TV—thanks to MTV. We learned all about how Jessica didn't know tuna wasn't chicken, but what we'll really remember Jess for is her shoe and fashion empire. The Jessica Simpson brand is a household name that rakes in insane amounts of money and has products in pretty much every category. And if you're looking for some outfit inspo, Ashlee always looks amazing. Seriously, her new reality show Ashlee+Evan is basically just her looking fabulous all the time.
19/19
Kate and Rooney Mara
The Rooney sisters are guaranteed to turn heads whenever they make a red carpet appearance. They come from a sports family—they are great-granddaughters of the founders of both the New York Giants and the Pittsburgh Steelers—but chose to take a more creative approach to life. Kate has a passion for helping make fashion cruelty-free by supporting vegan designers.
Celebrity news, beauty, fashion advice, and fascinating features, delivered straight to your inbox!
Krystyna was the former Social Media Editor of Marie Claire where she oversaw all things social media and connected with MarieClaire.com readers. She came to Marie Claire from Racked.com, where she was the Community Manager. Before that, Krystyna was at Latina Mag and Cosmo for Latinas. She graduated with a Marketing major from Fordham University.