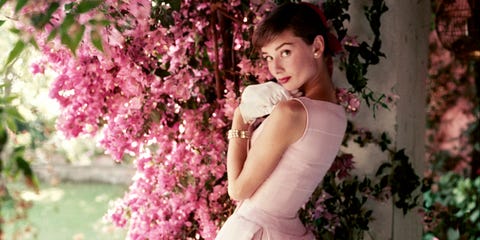 Backstage, on a beach, hugging a donkey–is there any place where celebrated British actress Audrey Hepburn doesn't shine? In the forthcoming photo book Always Audrey, devoted fans will have a glimpse of never-before-seen photographs of the Breakfast at Tiffany's star, captured by six different photographers. The body of work also spans Hepburn's epochal career, from prancing around Broadway stages as the free-spirited Gigi to shifting towards a role of humanitarianism and advocacy. Scroll through to get a preview of the book.
Hepburn shines in pink on the Always Audrey cover.
Hepburn expertly balances herself on a rock.
Hepburn wears a red checkered shirt tucked into hot-red trousers.
Hepburn adjusts her neck scarf while sitting in a convertible.
Hepburn looks at the camera while posing in a straw hat.
Hepburn photographed inside a taxi in Broadway in 1951, during the time she starred as Gigi in the Broadway production of the same name in New York City.
Hepburn prepares for her Broadway debut in the play Gigi, written by Colette and Anita Loos, at the Fulton Theatre in New York City in 1952.
Hepburn wears the costume for her Broadway debut in the play Gigi written by Colette and Anita Loos, photographed in 1952.
Hepburn during a photoshoot for Vogue, January 1952.
The Belgian-born British actress wears a Givenchy afternoon cocktail dress from the Spring/Summer 1955 collection.
Hepburn and Bimba the donkey photographed at Villa Rolli, South of Rome, during the filming of King Vidor's War and Peace.
Hepburn photographed wearing Givenchy for Glamour in June 1955, in Rome, Italy.
Hepburn at the Studio de Boulogne, during the making of How to Steal a Million in Paris, November 1965.
Hepburn on the set of a scene from the crime caper How to Steal a Million.
Hepburn plays cricket on the beach during a break from filming Stanley Donen's Two for the Road in 1966.
Hepburn relaxing by a pool during filming for Two For The Road in St. Tropez.
Dressed in white, the actress and humanitarian shines in a field of flowers.
•••
For more stories like this, including celebrity news, beauty and fashion advice, savvy political commentary, and fascinating features, sign up for the Marie Claire newsletter.