The Ultimate Guide to Meghan Markle's Hair Evolution
Has she ever had a bad hair day?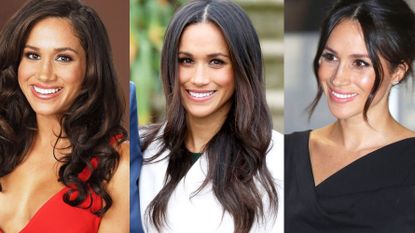 (Image credit: Getty)
When you've been in the public eye for as long as Meghan Markle has, you're bound to have gone through some changes. Sure, some of those don't involve falling in love with someone in the royal family, getting married, and having an adorable son together, but life happens! Anyway, since her early days on the game show Deal or No Deal, Markle has changed up her look in a big way. It's about time we gave some credit to the queen of the low bun and beachy waves; when we're not raving about her beauty routine, all we can ever think about is how gorgeous her hair is in, like, every single freaking hairstyle. We rounded up all of Meghan's looks over the years, from her celebrity life all the way up to the royal styles she graced us with as a duchess. You might want to bookmark this page so you can take one of these looks to your stylist.
1/40
September 5, 2006
For the season two Deal or No Deal promos, Markle wore a side part with big, luscious curls I'm forever envious of, and introduced a style we would see in years to come.
2/40
August 26, 2010
Serving us Blue Crush realness! I would've thought Markle was rolling with the female surfer crew, given how straight her layered haircut is.
3/40
October 11, 2011
Markle's pre-Suits hair was full-on California girl. Here it is on full display at an awards dinner held at The Beverly Hilton hotel. Her chestnut highlights and light curls would soon become a staple.
4/40
February 15, 2012
So perhaps the dark brown hair wasn't always her signature! Here, she's photographed with reddish curls that bring out the gorgeous color in her eyes.
5/40
June 12, 2012
Ah, the start of the iconic signature hairstyle that would become known (at least to me) as the Meghan Markle Power Pony. The style allows her gorgeous face to take center stage.
6/40
September 11, 2012
At the 2012 Toronto International Film Festival, Markle proved that when blowout is done correctly, it can give you crazy amounts of volume.
7/40
November 13, 2012
This wavy middle part hairstyle accentuates her face beautifully. It was the look for practically every actress in Hollywood during 2012, and it's easy to see why.
8/40
January 13, 2013
Ah, the first bun of many on this list, so get ready. At the 2013 Golden Globes after-party, Markle gave her bun some oomph with a slight bouffant to create a fuller effect.
9/40
June 16, 2013
Here, the straightest hair moment from Markle you'll probably ever see. This shiny blunt cut gives her a sleek edge that I'd love to see her recreate in the present day.
10/40
September 10, 2013
Markle served us some retro Hollywood glam with this side part and dramatic curls at the Novak Djokovic Foundation New York dinner in 2013.
11/40
October 2, 2013
Here, Markle's hair is sweat up. Her whole look screams poised and elegant for a gala in New York City.
12/40
February 8, 2014
The first of many buns that would feature two pieces of hair falling down the front. With a face shape as pretty as Markle's, it's no wonder this style would evolve into a signature look.
13/40
May 15, 2014
Speaking of signature hairstyles, may I introduce you to this gorgeous effortlessness? The classic center part with soft waves is one of Markle's rotating hairstyles we still see now.
14/40
June 2, 2015
Markle's slicked and straight hair, here, isn't a signature look, but one that says strong woman who means business nonetheless.
15/40
June 24, 2015
Look at all those beach waves accompanied by a deep side part! The amount of volume this photo exudes is unreal.
16/40
January 21, 2016
At the season five premiere of Suits in Los Angeles, Markle sported a heavy side-banged updo that looks chic and not stuffy, which is always the goal.
17/40
March 17, 2016
This deep, dramatic part with very loose waves was a red carpet first for Markle and proved you don't need insane volume to have a good hair day.
18/40
September 25, 2017
This was Markle's first public appearance with Prince Harry, and her hair did not disappoint. Here's hoping I look this cool on the sidelines of a sporting event one day.
19/40
November 27, 2017
For the announcement of Markle and Prince Harry's engagement after one year of dating, she went with her signature style: middle part with layered light waves. I wouldn't have it any other way, TBH.
20/40
January 9, 2018
It's the first royal bun, and a trend is born! All buttoned up and cozy, Markle proves that when you're wearing layers, the last thing you want to do is deal with your hair.
21/40
March 8, 2018
The not-so-centered part of this hairstyle gives the illusion Markle has some serious bang action going on, instead of the long layers she's known to rock.
22/40
April 19, 2018
Another day, another bun. In order to get the same look as Markle, make sure you leave two short pieces of hair out, grab your curling wand, and lightly wrap the strands around it for a few seconds. Tada, hair like a royal!
23/40
May 19, 2018
On her wedding day, Markle served some low-bun realness with a middle part that directs the eye right to that tiara. Iconic!
24/40
June 9, 2018
We don't know what we love more about this picture from Trooping The Colour in 2018: that sophisticated hat or the Duchess of Sussex's voluminous shoulder-length curls.
25/40
September 6, 2018
As an avid Markle hair fan, I always notice when she switches up her part. This part gave us double the drama and all the style.
26/40
September 24, 2018
Markle's hair looks perfectly straight, but her shorter layers scream blowout. It's the crossover of my hair dreams, and one of my favorite styles.
27/40
January 31, 2019
The bun of all buns, the top knots of all top knots, the textbook definition of simple elegance.
28/40
February 12, 2019
This screams '60s screen siren. From the perfectly clipped bangs behind her ear to the small bump at the crown that gives it that extra je ne sais quoi, this look is everything.
29/40
February 25, 2019
While on their royal visit to Morocco, Markle opted for a no-fuss, fun ponytail that gave structure to her outfit and complemented her earrings.
30/40
March 8, 2019
When you're attending a panel to mark International Women's Day, the obvious choice is a low chignon that shows how much of a girl boss she is.
31/40
July 10, 2019
Off-duty mom looks are my favorite. Look how long these tresses are! Reminds us of another princess: Rapunzel.
32/40
July 14, 2019
This smooth and neat bun Markle wore is perfect for the office or a wedding. Or, if you're a royal, The Lion King European premiere, where you'll run into Beyoncé and Jay-Z.
33/40
September 12, 2019
When launching her Smart Works capsule collection, Markle wore her hair loose with just a hint of waves.
34/40
September 23, 2019
Middle-part ponytails for the win. No matter the face shape, this style looks good on anyone and gives you a sculpted style that will last all day.
35/40
September 24, 2019
Markle's side part during her royal visit to South Africa is legendary. Her hair is parted differently, allowing her side-swept tendrils to rest softly on her shoulder.
36/40
October 22, 2019
Meghan '70s waves are a nice homage to her California cool-girl background. Paired with a high neck purple dress, it feels like we went back in time to younger Markle.
37/40
November 7, 2019
Usually, when Markle wears hats, she keep her hair up. This curly 'do she donned at the 91st Field of Remembrance at Westminster Abbey was a nice switch-up.
38/40
January 7, 2020
Markle's waves, worn here to a visit to Canada House, remind me of the waves I get when I sleep in braids. Which begs the question: Does she sleep in braids?
39/40
March 5, 2020
This low ultra-sleek ponytail secured at the nape of her neck is everything I've ever wanted and more. That smile shows Markle knows she looks good, and we agree.
40/40
March 9, 2020
At Markle's last royal engagement, her soft chignon was the perfect low-key hairstyle for her and Harry's fashionable send-off at the 2020 Commonwealth Day Service.
Bianca Rodriguez is the Fashion & Luxury Commerce Manager at Hearst Magazines, covering fashion, beauty, and more for Cosmopolitan, Elle, Esquire, Harper's BAZAAR, and Town & Country. She likes lounging about with a good book and thinks a closet without platform sneakers is a travesty.