The Photos You May Have Missed From Harry and Meghan's Wedding
I'm nostalgic, okay?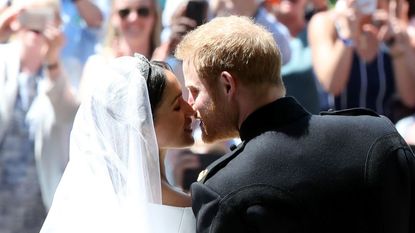 (Image credit: Getty Images)
Maybe you woke up before the crack of dawn, or maybe you rolled out of bed just in time to witness the magic. Either way, Prince Harry and Meghan Markle's wedding was an unforgettable day. Now, two years after they said "I do," a lot of things are different for the couple. As royal fans know, Harry and Meghan are exactly royals anymore. In January, they announced they would be stepping back from their senior royal duties to focus more on themselves and their son Archie. The change was a surprise to everyone; even the Queen wasn't expecting it. Now, settling into their new lives in Los Angeles and doing plenty of charity work, they're taking it easy for a while.
But now that Harry and Meghan aren't royals anymore, we'e even more nostalgic. To celebrate one of our favorite couples, we found some of the cutest photos you may have missed when they tied the knot on May 19, 2018. Prepare to shed a tear (or five).
1/38
Cracking Jokes
Jokes from siblings are the best kind of jokes.
2/38
The Arrival
Meghan arrives at the chapel for her big day!
3/38
When the Lighting Is Your Best Friend
The way the lighting hits Meghan (and a tiny bit of the priest's head) while walking down the aisle is lovely.
4/38
Frameworthy
The stained-glass windows, the alignment of the seats, Meghan's majestic veil...everything is perfect.
5/38
The Angle of Our Dreams
If Harry and Meghan still had their own personal Instagram accounts, this photo would bring in all the likes.
6/38
Runs in the Family
Doria Ragland, Meghan's mother, already had the royal wave down.
7/38
Major Bling
The jewels from her tiara are still blinding me!
8/38
Lost in Thought
Unsure what Harry and William were thinking about here.
9/38
A Little PDA
Small moments between the couple like this? I live for them.
10/38
Cuteness Overload
Still not over the children in the back, TBH.
11/38
Perfectly Timed
The fact that both of them turned back to look at their parents at the same time is *chef's kiss.*
12/38
Fancy Hats Everywhere
I'm getting a lot of hat inspiration from this photo. Eugenie and Beatrice, where you at?
13/38
Secret Looks
I feel like this isn't the first time Harry was given this look.
14/38
Right Before the Big Moment
Imagine the nerves Meghan probably felt as she was about to walk into the chapel by herself?
15/38
All Smiles
This glance between these two brings me a new kind of peace.
16/38
Up Close and Personal
What an angle!
17/38
So Picturesque
Green and white is my new favorite color combination.
18/38
The Moment Before Their First Public Kiss
A flower arch worth swooning over.
19/38
Prince William and Kate Middleton
Prince William and Kate Middleton are seen chatting it up in the chapel.
20/38
Cheeky Glances
That look towards the priest! Perhaps right before Meg is about to say "I do?!"
21/38
The Ring Moment
The moment we were all waiting for...now in a zoomed-in photo.
22/38
23/38
Right Before They Enter the Crowd
This picture belongs in a movie.
24/38
Pointing Fingers
Harry, who did you spot in the crowd?!
25/38
The Carriage Procession Crowds
A rare glimpse at the crowd during Harry and Meghan's carriage procession.
26/38
A Lot of Happy Onlookers
I like to think some of the people in the crowd have a similar photo as their screensaver.
27/38
That First Glance
Prince Harry lifting Meghan's veil is everything.
28/38
Perfectly Aligned
Was it luck or purposeful that both boys were the exact same height? Regardless, I'm here for it.
29/38
All Smiles
The look they're giving each other here is everything.
30/38
Pearly Whites
Harry and Meghan are cheesin'...hard.
31/38
A Bird's Eye View
My dislike for public hand-holding ended when I saw this iconic photo. You've likely seen it before, but it's worth re-sharing.
32/38
Riding in the Carriage
Oh, to have a side profile as angelic as both of them.
33/38
Side Commentary From the Newlyweds
We want in on the joke, Harry and Meg.
34/38
The Page Boys
Meghan's page boys, the sons of her good pal Jessica Mulroney, love the attention from the crowd.
35/38
Suns Out, Tongues Out
Alright, this photo isn't of Meghan or Harry, and it would have been a sin for you to miss it, but we all know this shot of Princess Charlotte is trés funny.
36/38
The Sneeze
...And the sneeze! Happens to the best of us.
37/38
Prince George Being Prince George
A whole mood.
38/38
Relationship Goals
You saw them in the car post-wedding, but did you see them getting into the car? Chivalry isn't dead, people!
•••
For more celebrity news, beauty and fashion advice, savvy political commentary, and fascinating features, sign up for the Marie Claire newsletter.
Celebrity news, beauty, fashion advice, and fascinating features, delivered straight to your inbox!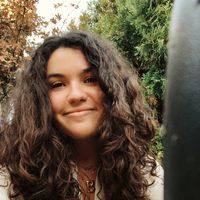 Bianca Rodriguez is the Fashion & Luxury Commerce Manager at Hearst Magazines, covering fashion, beauty, and more for Cosmopolitan, Elle, Esquire, Harper's BAZAAR, and Town & Country. She likes lounging about with a good book and thinks a closet without platform sneakers is a travesty.