Taylor Swift's New Song Is Full of Secret Meanings—Here's a Breakdown of Each One
If all you noticed was the Kimye shade, you're missing the real point.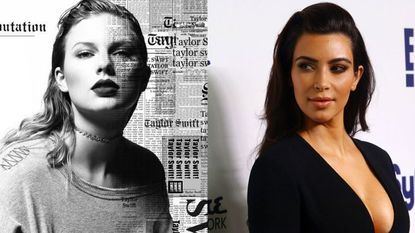 (Image credit: Getty Images)
Marie Claire Newsletter
Celebrity news, beauty, fashion advice, and fascinating features, delivered straight to your inbox!
Thank you for signing up to Marie Claire. You will receive a verification email shortly.
There was a problem. Please refresh the page and try again.
She's not sorry.She's not finished.The old Taylor is dead.
When Taylor Swift deleted her entire social media footprint, it was pretty obvious that her new album would represent a reinvention or "rebirth" of some kind. Judging by the first single, it definitely does.
Taylor dropped "Look What You Made Me Do" Thursday night, and to anyone familiar with her turbulent year in the media before her hiatus, it's fairly clear what it's about—even if she never comes right out and says it. Let's dig right in, shall we?
RELATED STORY
What's it about?
Kim Kardashian and Kanye West, almost certainly. For context, on February 11, 2016, Kanye first played his song "Famous" for the public during his Yeezy Season 3 show at New York Fashion Week. The song contained a now infamous line about Taylor Swift ("I think me and Taylor might still have sex / Why? I made that b*tch famous").
Five days later, Taylor accepted the Grammy for Album of the Year for 1989, and used her speech as an opportunity to not-so-subtly call Kanye out for taking credit for her fame.
In June 2016, Kim Kardashian West gave a bombshell interview to GQ in which she disclosed that Kanye had called Taylor for permission to rap about her on the track and that she had given it. "She totally approved ["Famous"]," Kim said. "She totally knew that that was coming out. She wanted to all of a sudden act like she didn't. I swear, my husband gets so much shit for things [when] he really was doing proper protocol and even called to get it approved. What rapper would call a girl that he was rapping a line about to get approval?"
Kim then went on to accuse Taylor of playing the victim in the situation.
"I don't know why she just, you know, flipped all of a sudden.…It was funny because [on the call with Kanye, Taylor] said, 'When I get on the Grammy red carpet, all the media is going to think that I'm so against this, and I'll just laugh and say, 'The joke's on you, guys. I was in on it the whole time.' And I'm like, wait, but [in] your Grammy speech, you completely dissed my husband just to play the victim again," Kim said.
Kim also claimed that Taylor's team had somehow become aware that the call was recorded as part of a documentary being filmed, and that they had reached out telling Kim and Kanye to destroy the footage. In July, Kim released the footage on Snapchat and Kimye fans took aim at Taylor, spamming her Instagram comments with the snake emoji (which is important to remember as we analyze the song and its lyric video).
What's the meaning behind all the snake symbolism?
After Taylor was labeled a snake through the power of social media, she took a conscious break from the spotlight. She finished out her existing commitments and, after her pre-Super Bowl performance in February, she basically disappeared. Then, on August 18, she deleted everything from all of her social media accounts—and when she started posting again on August 21, she started with a creepy video of a snake:
Then, in her lyric video for "Look What You Made Me Do," she showered the song's chorus in snake imagery:
What does this mean though? Is Taylor embracing her snake title? Is she referencing the way snake's shed their skin (you know, like how a human can shed their entire social media history)? The most interesting snake imagery in the video comes in the beginning of the chorus, when a series of snakes eat their own tails:
This doesn't just look cool; it's a reference to the Ouroboros, the symbol of a snake (or serpent or dragon) eating its own tail. The Ouroboros is incredibly symbolic. It's often interpreted as representing the infinite cycle of life and death, but it can also symbolize introspection and the recreating of oneself.
Great, right? Taylor is reinventing herself. She's looking within—BUT WAIT. Because later in the lyric video, the same image of snakes eating their own tails is shattered. WHAT ARE YOU TRYING TO TELL US, Taylor?
What do the lyrics mean?
"Look What You Made Me Do" is, without a doubt, one of Taylor's angriest and most direct songs. She's not beating around the bush or lamenting lost "mad love," this time around—she's hurt and she's expressing that, full-on.
There are a few main lyrical takeaways that are important here:
She's not sorry.
"Look What You Made Me Do" is not an apology song in any way, shape, or form. If Taylor feels any responsibility or remorse about what went down, she's not expressing it here. She might feel those things (or she might not, who knows, really), but this song hones in on a very specific set of feelings—mostly anger and betrayal.
She's not finished.
It's not totally clear what Taylor was "made to do." Is she referring to the Grammy speech? To the song itself? To something else that we don't know about yet? Something that hasn't happened yet? Whatever the chorus refers to, it's clear that Taylor sees this story as unfinished. The evidence?
I've got a list of names and yours is in red underlined.
STILL UNDERLINED. STILL ON HER LIST.
And then the world moves on, but one thing's for sure.
Maybe I got mine, but you'll all get yours.
Whoever this is about (because as much as it appears to be Kim and Kanye, we can never truly be 100% sure unless Taylor confirms it), has not gotten theirs yet.
I don't trust nobody and nobody trusts me.
I'll be the actress, starring in your bad dreams.
Yikes.
The old Taylor is dead.
This part isn't something we need to infer. She says it, really directly:
"I'm sorry, the old Taylor can't come to the phone right now."
"Why?"
"Oh 'cause she's dead!"
Of course, some of the lyrics are easier to interpret, like her dislike of tilted stages:
Feel free to spend the rest of August cooling off in the shade of this song.
Follow Marie Claire on Facebook for the latest celeb news, beauty tips, fascinating reads, livestream video, and more.
Celebrity news, beauty, fashion advice, and fascinating features, delivered straight to your inbox!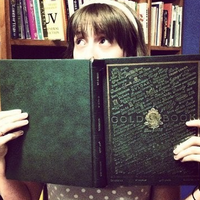 Kayleigh Roberts is a freelance writer and editor with more than 10 years of professional experience. Her byline has appeared in Marie Claire, Cosmopolitan, ELLE, Harper's Bazaar, The Atlantic, Allure, Entertainment Weekly, MTV, Bustle, Refinery29, Girls' Life Magazine, Just Jared, and Tiger Beat, among other publications. She's a graduate of the Medill School of Journalism at Northwestern University.