War of Words Between Miley and Sinead O'Connor Heats Up
Check out what is happening between Miley Cyrus and Sinead O'Connor.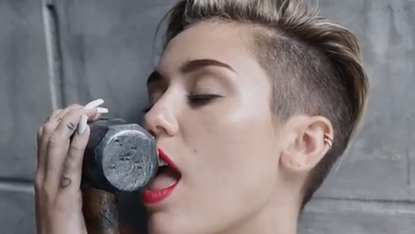 (Image credit: Archives)
It all started with Miley saying Sinead O'Connor's iconic music video "Nothing Compares 2 U" was part of the inspiration for "Wrecking Ball" in an interview with Rolling Stone magazine. Yesterday Sinead responded with an open letter to Miley on her website after being contacted for comment by numerous media outlets.
O'Connor's lengthy and pointed letter, which claimed to come from a place of "motherliness and love," advised Cyrus to reign in her sexual antics to avoid being "pimped" by the music industry. O'Connor's words were strong and she made sure to let Cyrus know her recent behavior was sending "the message that you are to be valued (even by you) more for your sexual appeal than your obvious talent."
Miley fired back by mocking Sinead's mental breakdown, which happened publicly on twitter two years ago, and taking shots at O'Connor's career. After posting screenshots of tweets O'Connor made during her mental break, Cyrus was again addressed by O'Connor on Facebook, where she claimed Miley was mocking her mental health and being a bully.
Miley then for tweeted: "Sinead. I don't have time to write you an open letter cause Im hosting & performing on SNL this week." Ouch! O'Connor replied that her lawyers would be in contact with Cyrus' over the reposting of her tweets. Sinead closed by saying: "Soon it will be you who will be the media 'crazy'...and you will not enjoy it...and you will appreciate people (like myself) standing up for you. Which I will be happy to do...if you earn my respect today by apologising publicly." While O'Connor's open letter was certainly unsolicited advice, Miley's response was insensitive. Who do you think owes an apology? Let us know in the comments!