Remember When 'Fifty Shades' Star Jamie Dornan Was Keira Knightley's Boyfriend and Wore JNCOs?
Never forget.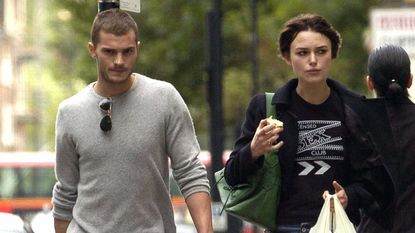 (Image credit: Getty Images)
Marie Claire Newsletter
Celebrity news, beauty, fashion advice, and fascinating features, delivered straight to your inbox!
Thank you for signing up to Marie Claire. You will receive a verification email shortly.
There was a problem. Please refresh the page and try again.
Jamie Dornan and Keira Knightley dated for nearly two years in the early aughts. If you didn't already know that, your head has probably just exploded and you are no longer reading this post due to death. But I trust that you did know it, because Fifty Shades of Grey is upon us and Jamie Dornan trivia isn't going to learn itself. (Do your homework.)
The pair started dating in 2003, after shooting an ad campaign for the English jeweler Asprey. They were a mostly low-key couple, but they were tabloid and paparazzi targets nonetheless. Keira was just off the heels of her blockbuster Pirates of the Caribbean; Jamie, though a rising model, had yet to be dubbed The Golden Torso and was the decidedly less famous of the two.
"There is a big pressure when you go out with someone such as Keira," Jamie told the Daily Mirror in 2006, after the split. "The man is meant to be the alpha in the relationship on the money and power front, and clearly I was not. You feel like you have to be dominant in other areas and that causes problems ... " Or you feel subconsciously inspired to play pop culture's most famous dominant, Christian Grey.
Now, for some photos:
1. Make fun of his baggy jeans and the seat belt holding them up all you want — this is my favorite pic of Jamie Dornan. He looks like an amalgam of every guy I wanted to bang in high school. I never said I had good taste.
2. Here he's wearing jeans that are neither baggy nor fitted — just the dreaded "loose."
3. Where's a tie when you need one?
4. All black everything: a look every couple should try at least once.
5. Mr. Grey will see you now (because his eyes are popping out of his head).
6. The jeans and the belt have returned! Even though this photo was taken a full four months later. He was probably too broke for new clothes, which makes his success story that much more of a turn-on.
7. Frosted lipstick, AKA the kiss of death.
8. His hat. Her belt.
9. Is that Steven Soderbergh behind them? Getty has not identified him.
10. Young love/hot faces.
Note: Dornan and Knightley both attended the Golden Globes this weekend, but they were not photographed together. That doesn't necessarily mean they were "avoiding" each other, as some tabloids have reported. Their split was supposedly amicable — "they remain completely committed to each other as friends and will continue to see each other in this capacity," Dornan's then-rep said in a statement at the time — and they are now both married.
That said, Knightley did seem inclined to dodge questions about her ex on a red carpet 10 years later, even if she did concede that he was cute. Can you blame her?
You should also check out:
The New 'Fifty Shades of Grey' Trailer Is Here
Celebrity news, beauty, fashion advice, and fascinating features, delivered straight to your inbox!
Patti Greco is a freelance writer and editor based in Brooklyn. She was formerly the entertainment director of Cosmopolitan.com and a staff editor at New York Magazine and Vulture.